First Hildring House Project Completed
Four months and many many dollars later… the laundry room is "finished"…. well, as finished as anything ever gets with me around. [This is Dan – I'll be chiming in occasionally. Just can't help myself, you know. I have to agree – "finished" is euphemistic for "reasonably satisfied for the moment but don't get too used to it."] So here is a long overdue laundry room post – with some good pictures by Trey Freeze.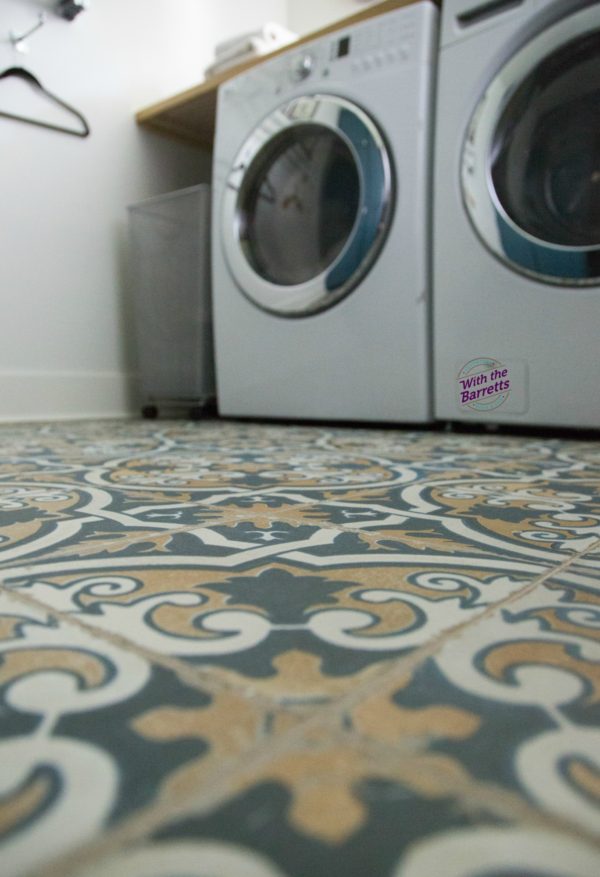 Back to Before
When we originally looked at Hildring House, it had a few serious problems. A major one was a hallway that caused me some serious depression. We'll talk more about that hallway in a later post and see some before and interim photos…. it may be a while before we get to the "after." I've had enough drywall dust for one year.
The point is, if that hallway situation couldn't be improved, I couldn't live there. Also, the laundry situation was completely unworkable.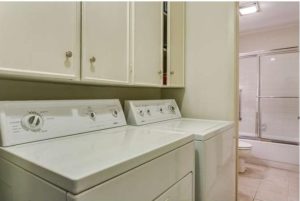 This is a pic of the laundry facilities before. It's in a hallway that is five feet wide [measuring from the back of the washer and dryer] and only eight and half feet long. With FOUR doors into the space from the guest bath [which you can see in the background], the garage, the guest room ["Debra's domain" if you've been following our progress], and a storage closet. It was claustrophobic to say the least. And not conducive to happy laundry days.
But the house had FIVE bedrooms. The two of us don't need five bedrooms. So, I started re-imagining the space. Luckily, the smallest bedroom was at the start of that loooong hallway. So, I figured I could take a few feet off the side to enlarge the hall, make a laundry room and – while we're at it – since none of the existing baths are very accessible for guests, let's have a little powder bath.
Here's the bedroom we started with:
Not horrible, but nothing special.
The Solution
We got Shawn [Shawn Cowdin – our go-to contractor] over to talk about our options and he initially came up with this: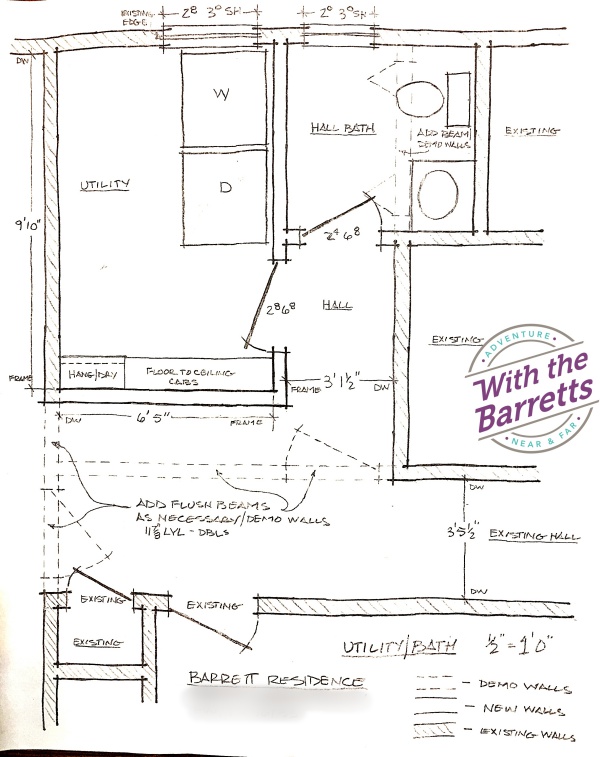 And it's pretty close to the final product. I flipped the washer/dryer to the outside wall, and I'm glad I did. The room doesn't feel cramped at all. I also removed the drying portion on the far left of the cabinet and instead created this wonderful, fabulous, gorgeousness: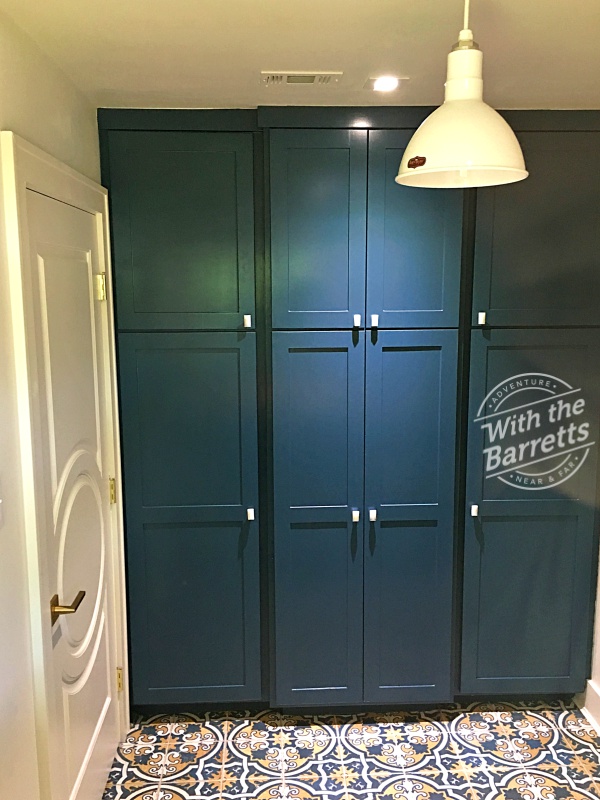 I can't tell you how much I love these cabinets! Not only are they the most beautiful shade of blue – new providence navy by Benjamin Moore– but they hold SO MUCH STUFF. Yes, I'm totally yelling because I really needed a place to put ALL THOSE THINGS!  It holds trays, the hand vac (with a PLUG! I know!), vases, and other miscellany that need a home. If it were neat and tidy, I'd open it up and show you … but it's not, and I won't.
Did you notice the entry door? Is it not the prettiest? And I love the brass handles from Emtek.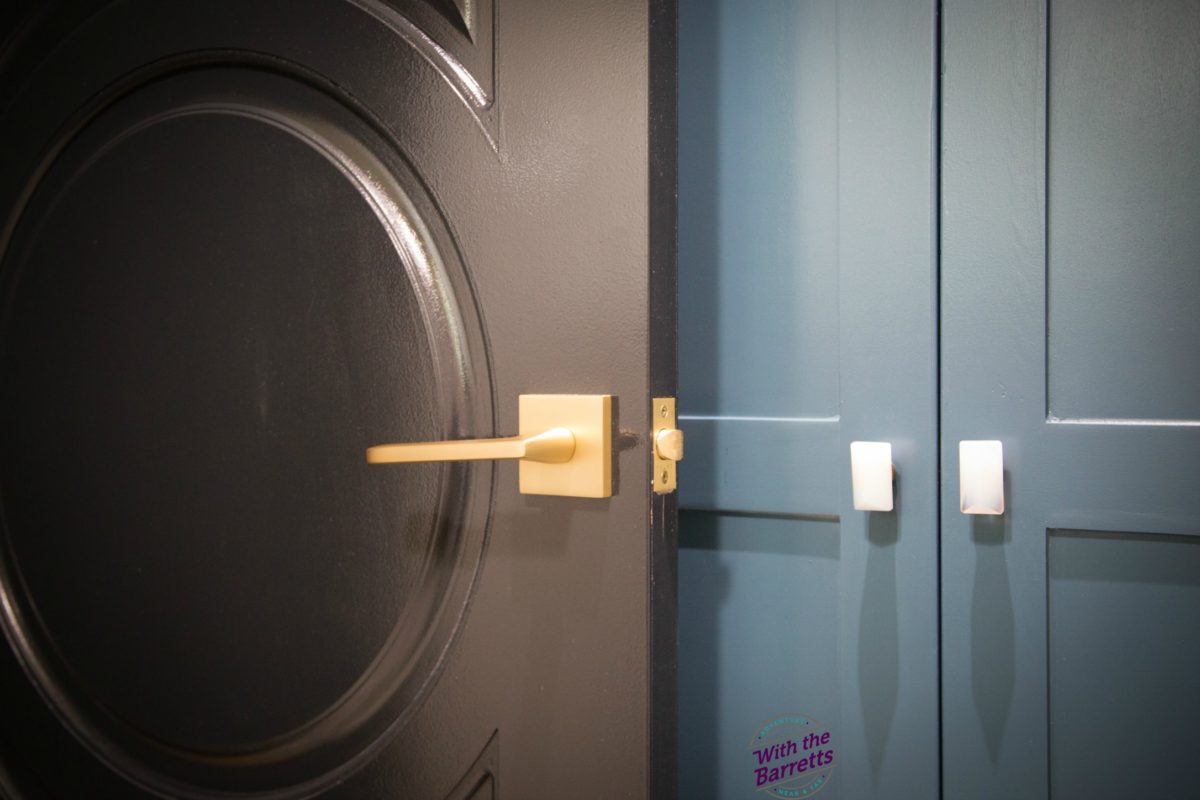 So lovely. The cabinet hardware is from Anthropologie- I'm thinking Dan may have talked about it in a prior post (he maybe got a little impatient for me to get to the finish …)[not impatient, much; it was just a progress post – and you can see it here].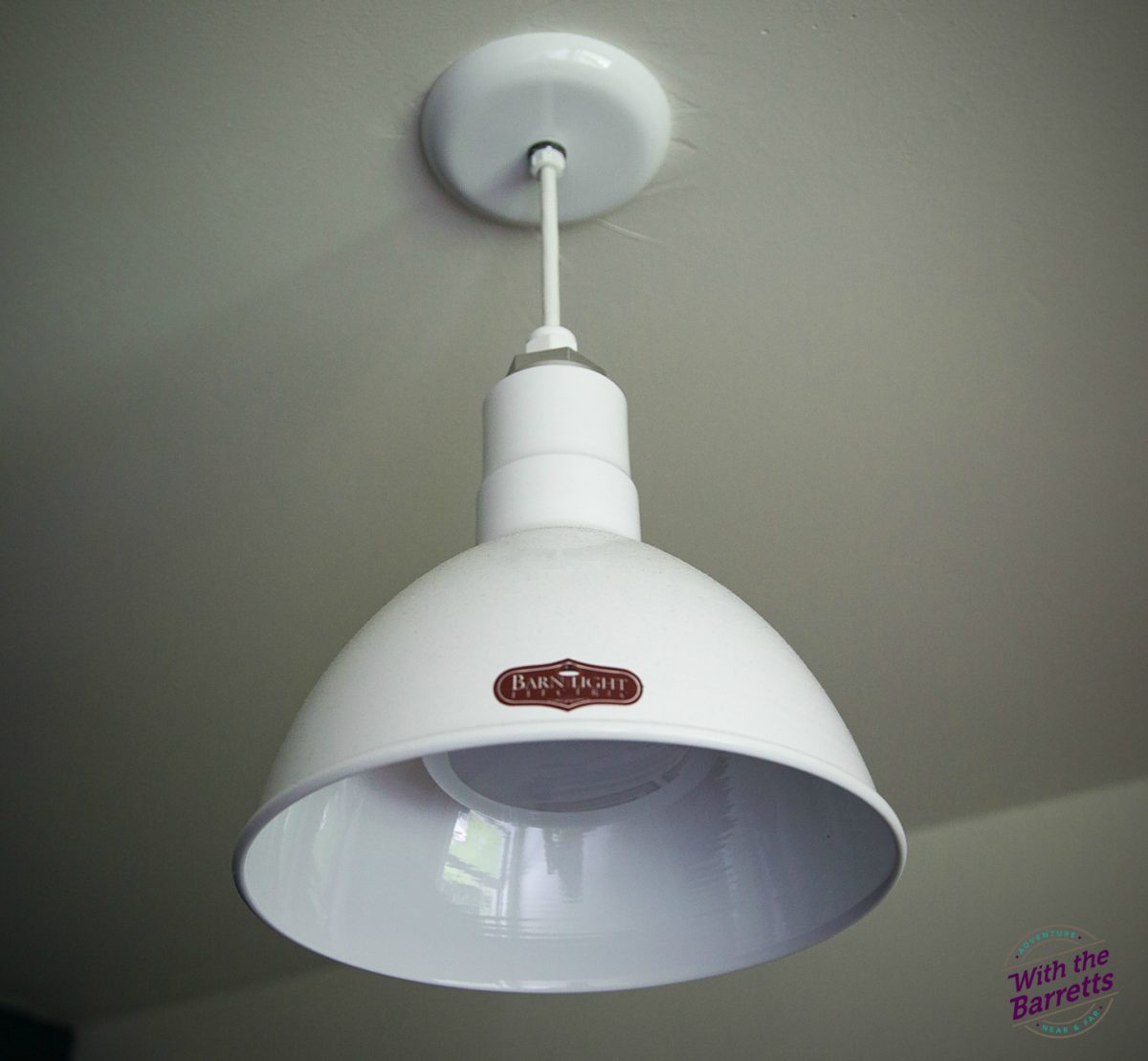 The pretty light from Barn Light Electric. Dan mentioned in a prior post my search for a pendant [actually, that was an earlier guest post by Debra – you can see it here], and they reached out with a recommendation for this one. I really like it – a lot. Of course, I was so excited when I placed the order that I got the wrong canopy (black). That caused a brief installation delay while they so sweetly sent me the correct one.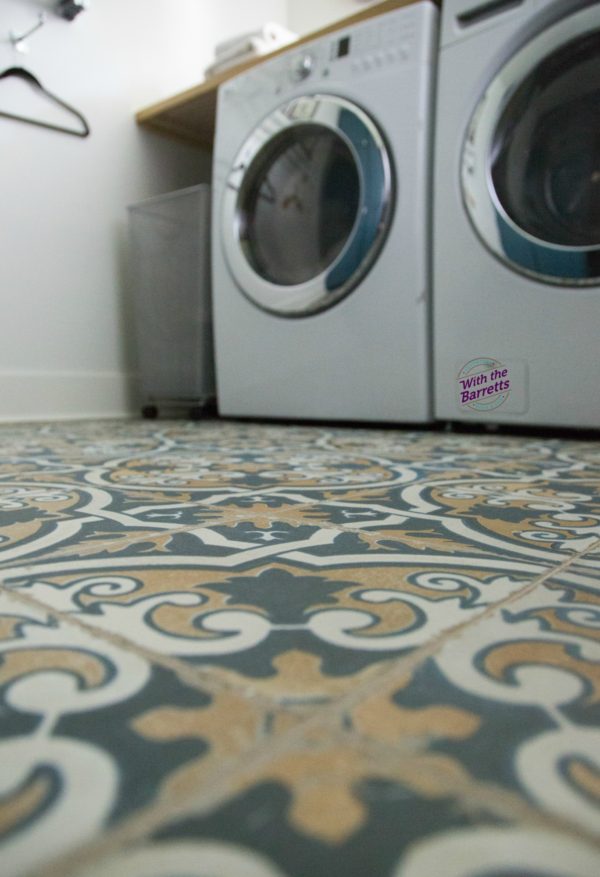 This pretty floor tile is from The Tile Shop – I had fallen in love with another that I found on line, but the shipping was more than the cost of the tile … which made it a serious budget buster. So a local search ensued and this works quite nicely. Also, the people at The Tile Shop are wonderful; I loved working with them.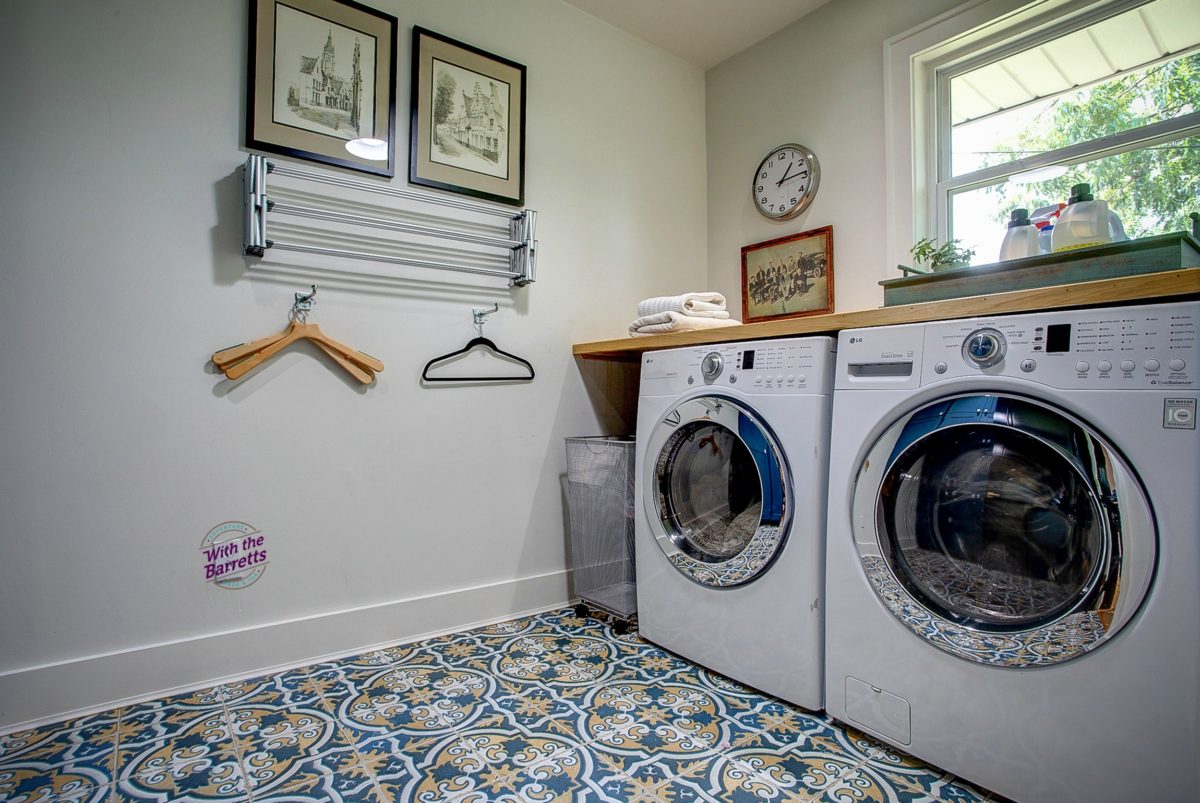 In this photo, you can see the window that was added. I love windows and I am so happy to have a light, bright working space. It has a nice view out out to the backyard trees which doesn't hurt, either.
One major functional thing: that pull out drying rack. I searched and searched to find a wall mounted one – it's not all that pretty, but it holds a lot of sweaters. I have been without a drying rack for a couple of houses, so I'm really appreciating this one. The washer and dryer have been with us through quite a few moves and I'm hoping they hold on for while; I've been really happy with them.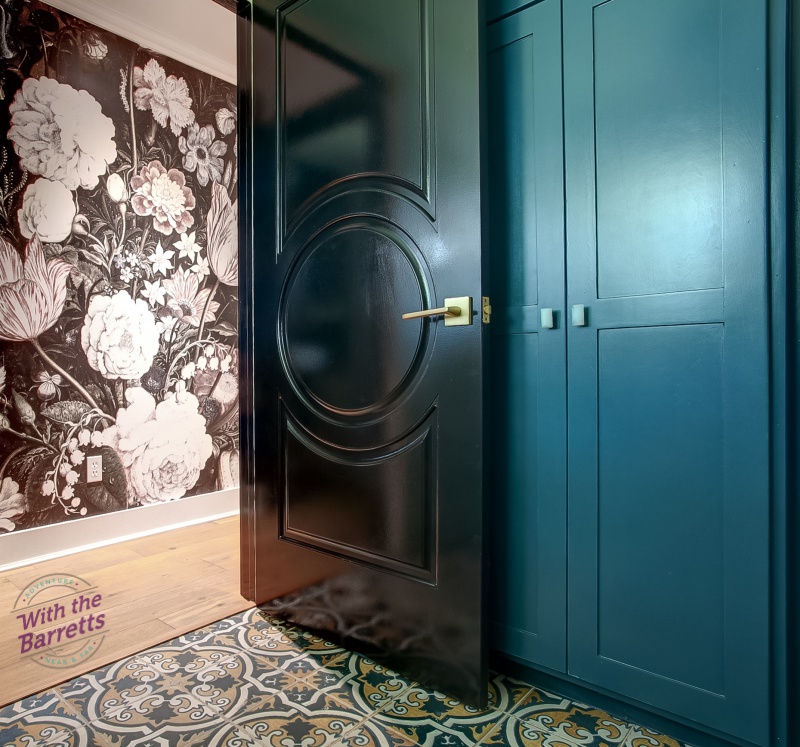 This is looking out to the new hallway which we'll talk about in another post.
So … that's it for the long overdue laundry room post. Bye for now- I hope your laundry days are as happy as mine!
XO-
Debra
[Lots of Hildring House updates to come. Plus some travel posts and, as always, lagniappe for a little extra spice.
Thanks for reading – you're the reason we do this!
Dan]