Such a late post- we sold Hildring House a couple of months ago, (Dan here; you know I can't resist commenting. It has been more than a couple. But the Hildring House Debra's Domain Transformation was one of the highlights of the adventure, so it's worth looking back.) and we have moved on to a new adventure – "the Cottage on the Corner," which we will talk about soon. At least I hope there will be something in some state of at-least-partial-completion that we can talk about.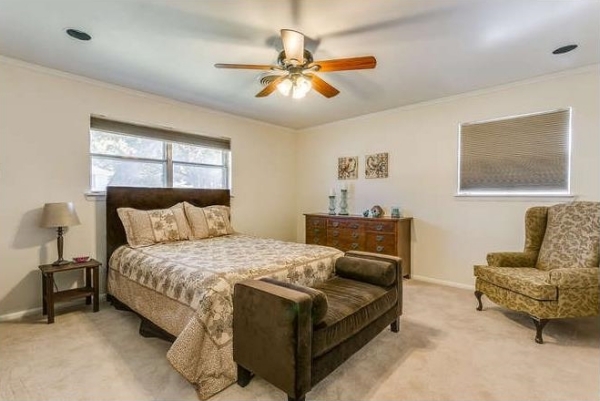 This is the pre-purchase, MLS listing photo.
Not horrible, but not at all my style.
The first thing that happened was the closet. Mr WTB very wisely insisted that the guest room (aka Debra's domain) have a closet installed STAT. The before closet was a 1950's 3×3, not adequate even for a clothing minimalist. Luckily, there was a closet in the garage which backed up to the guest room. We had it flipped, installed some pretty mirrored doors, and then Container Store came and did magic. Voila! a functional, pretty closet space.
Dan again – you can see the post where we talked about doing this closet HERE. You might also remember the post about re-fitting the 3×3 closet that she mentions. You can find that one HERE.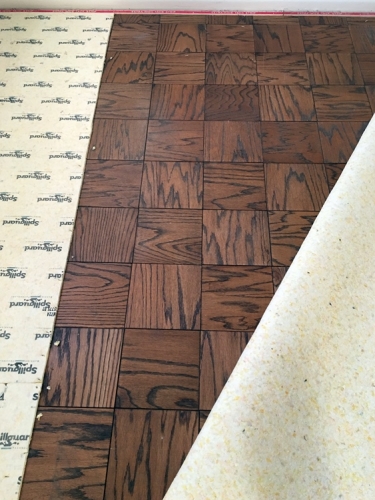 Before we moved in, we had all the carpets and cracked parquet floors removed and replaced with a gorgeous, oiled oak floor (thank you @vintage floors). However, when they pulled up the carpet in the guest room, they found a very unattractive wood floor. It was going to cost extra to pull it up- and I've always wanted to paint a wood floor- seemed like the perfect opportunity.
I lived with the ugly wood for a while – rugs are so helpful. but eventually, the renovation reached Debra's Domain. I decided it could be a bit different from the rest of the house – it is pretty separate from everything else.
First decision- wall color.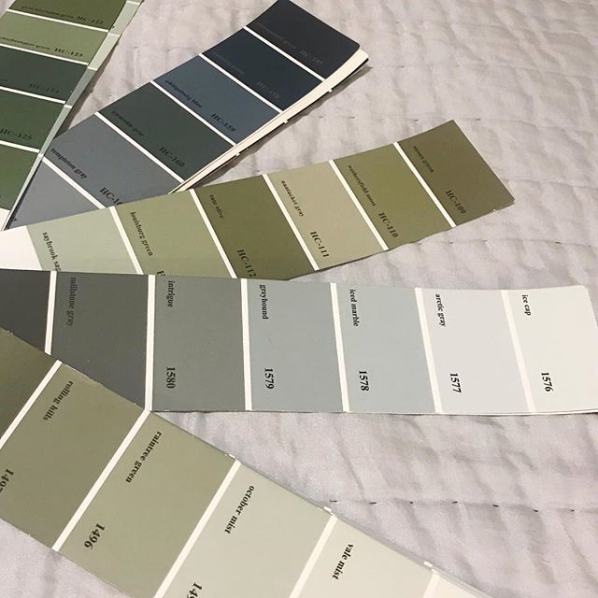 All the pretty colors…it's so hard to choose! The winner was Benjamin Moore "intrigue." I mean, how could I resist that name?! So everything moved out into the dining/family room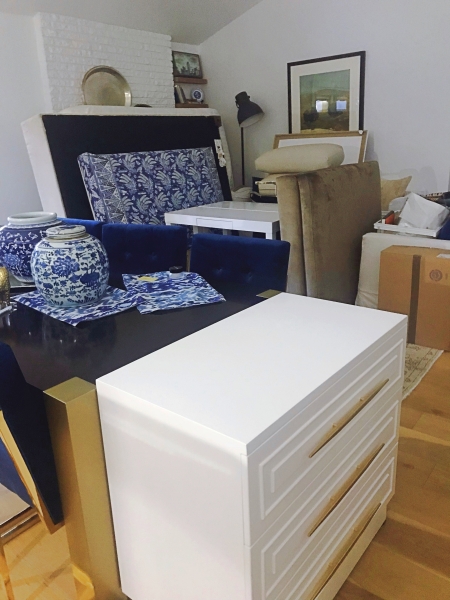 and the painting began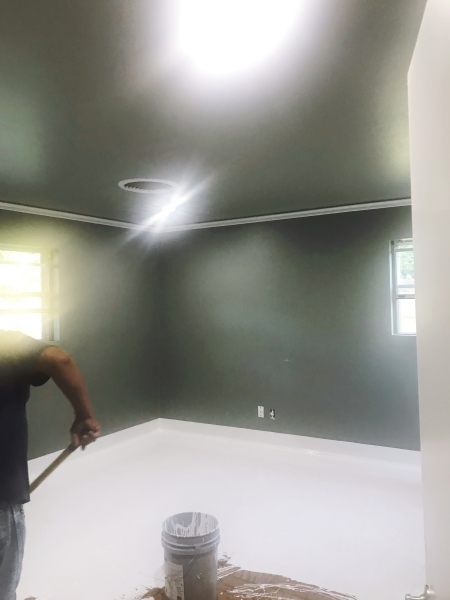 I chose to paint the floor the same as the trim and it was super smelly paint- we went on a trip while it dried.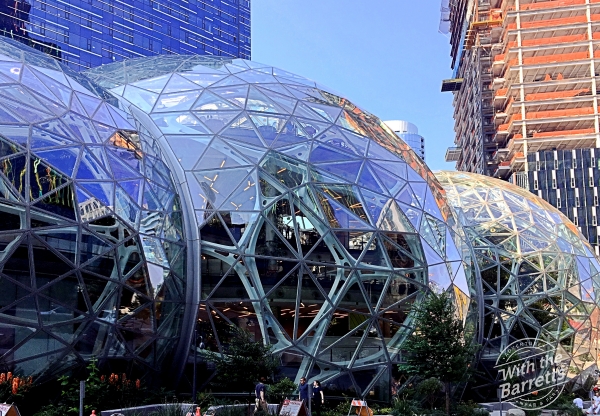 Then we came home and Mr WTB wired my hanging lantern.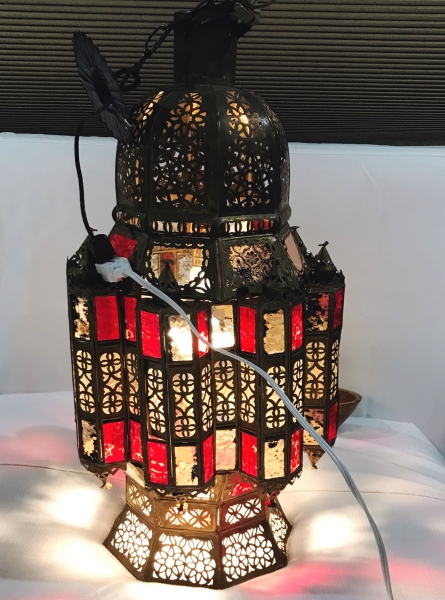 I LOVE this thing- we bought it a couple of years ago at the Old Home Supply . I didn't have a spot for it then, but I loved it so I carried it around for a while.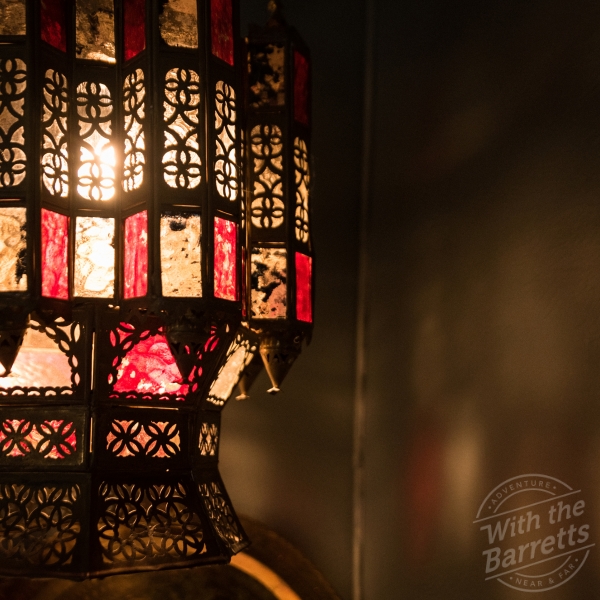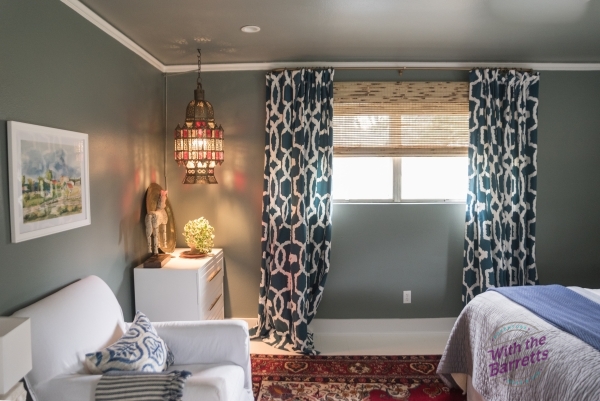 It took a little while to get everything together – I found those drapes on Amazon. I know, right?! And they were nice, heavy, lined drapes. Narrow panels, so I bought 4 and I had intended to get the panels sewn together to make two wide ones… but I never got that bit finished.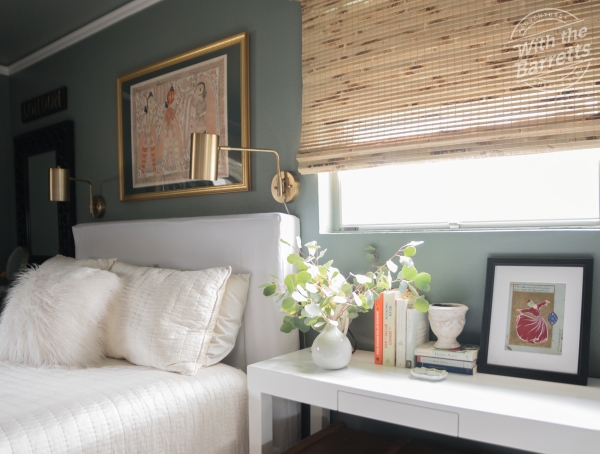 In this shot on the bedside table vignette, there is a vintage Dervish print that we bought at a book fair in Istanbul, which is one of my favorite things.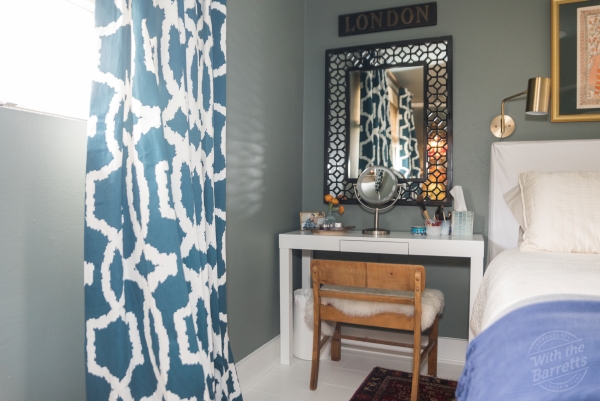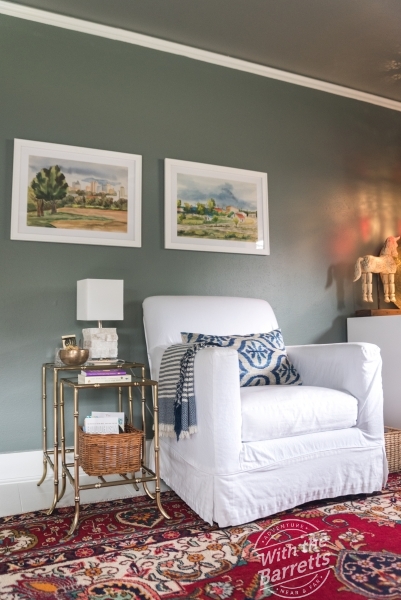 All the pretty pictures are from my talented and amazing friend Amber Shumake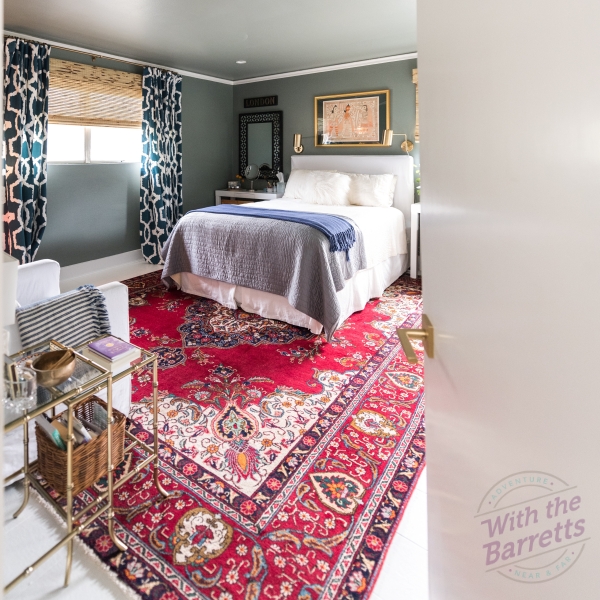 So, with the transformation of Debra's Domain, we say goodbye to Hildring House – it has lovely new owners and I hope they are enjoying it as much as we did.
-xo
Debra
Debra's Domain was such a wonderful space at Hildring House. Appropriately, it also was the room that most embodied Debra's personal style and sensibility. It was bright, energetic, cozy, serene, spiritual, luxurious, and comfortable – all in a relatively small area. I thought she did such a wonderful job on it that I chose the paint color for my office in the Cottage on the Corner. But that's a completely different adventure and the subject of many future posts.
Until then, thanks for reading. And let us know what you think – we'd love to hear from you.
Best –
Dan