Debra says: Some changes improve the look of your house. And some  increase the value of your house. But some make your life better – every single day. This post is about one of the last kind: a small closet adventure with a big impact at Hildring House.
Before
You may remember that about a year ago, I mentioned that the mother-in-law suite at Hildring House would become Debra's Domain (you can find that post here, if you're interested – it's really all about demo, so it's pretty messy). Well, Debra's Domain is a thing now. It has two closets – one big one that we "stole" from the garage, and one smaller one that was the only original closet in the space. (You can find that process in the middle of this post.)
Since we built the larger one pretty much from scratch, it's pretty nice: well-organized, new fixtures, etc.
The smaller one was the problem.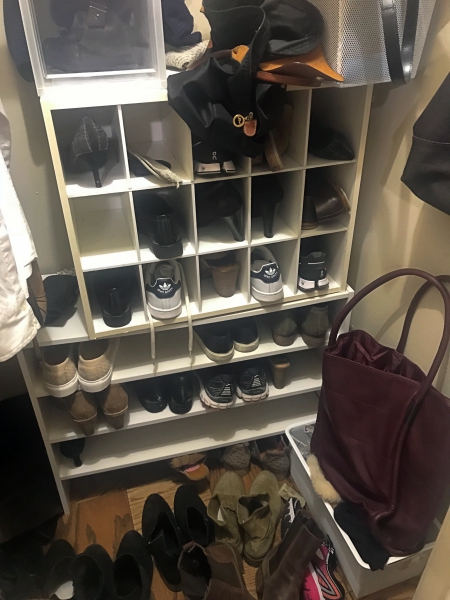 See what I mean?
The larger closet is outfitted for the hanging clothes; Debra intended the smaller one for shoes, handbags, and belts. The old shelves and cubbies just didn't do the trick.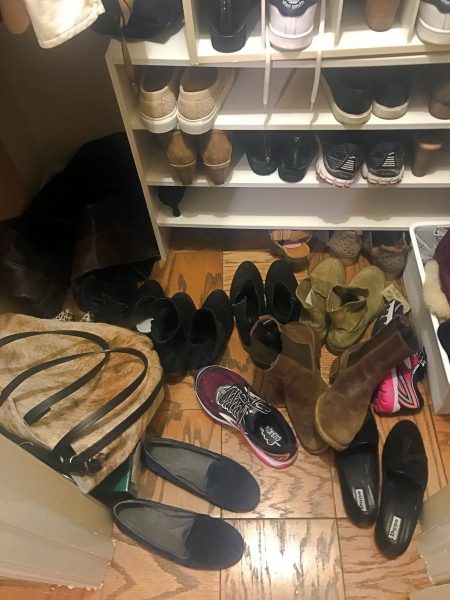 And the shelves overhead weren't very efficient.
So … the Container Store to the rescue.
After
They were running one of their periodic specials on elfa materials. If "elfa" makes you think only of the open wire shelving, like you see at the top in the picture above, you really need to go have a look at the newer options.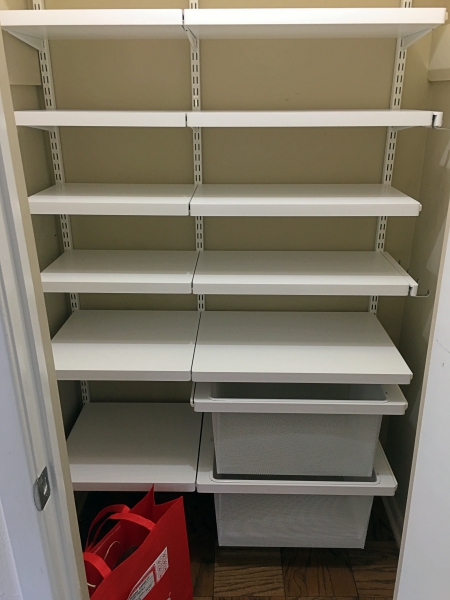 Like I said, Debra wanted storage for shoes, belts, and handbags. The solid shelves are for shoes, the drawers for handbags, and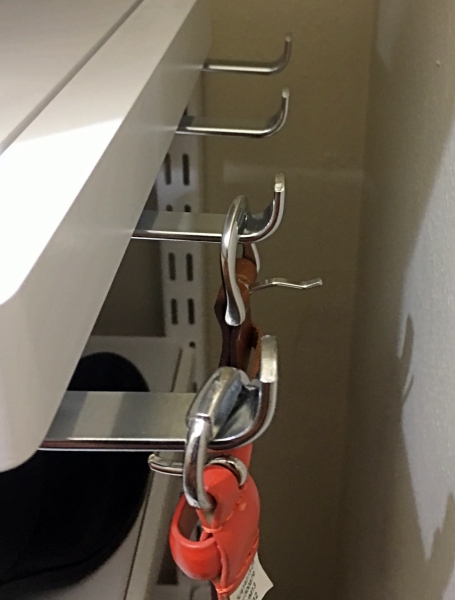 belt hooks for belts.
I don't want you to think that here at With the Barretts we're some kind of regimented order-freaks (I have been accused of a certain anal-retentiveness but that's the subject of a different post). But we do love all things beautiful. And when things in a home are straight and neat and tidy, they are much lovelier than when they're jumbled, chaotic, and sty-like.
Just compare the first two pictures, above, to the next two.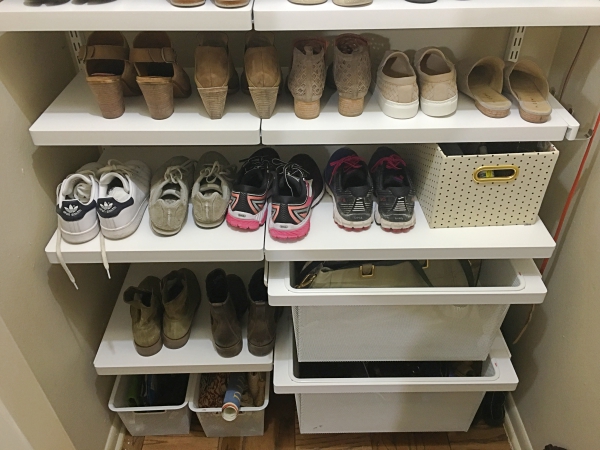 Not only is it much easier on the eyes, but Debra can actually see all of her shoes.
Closet (all home, for that matter) organization is a HUGE industry, and with good reason. Making your space uncluttered and functional also makes it more attractive – just all-around a nicer place to live. This small closet adventure has a big impact – it's one of those changes that makes your life better, every single day.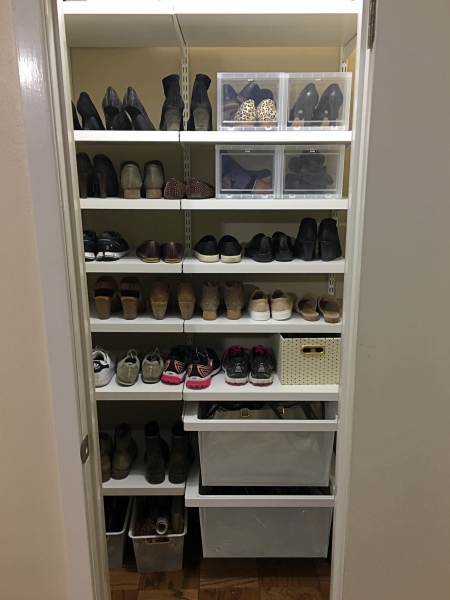 We hope that coming along With the Barretts will help make your life better, whether by giving you ideas for home improvement or travel – or by seeing our mistakes and avoiding similar problems. And we really enjoy the company!
I suspect – although I can never be sure – that our next stop at Hildring House will be outside. The exterior changes continue, and the weather here in north Texas shows signs of improvement.
So … until then, enjoy your adventures – and thanks for sharing ours!
Best –
Dan