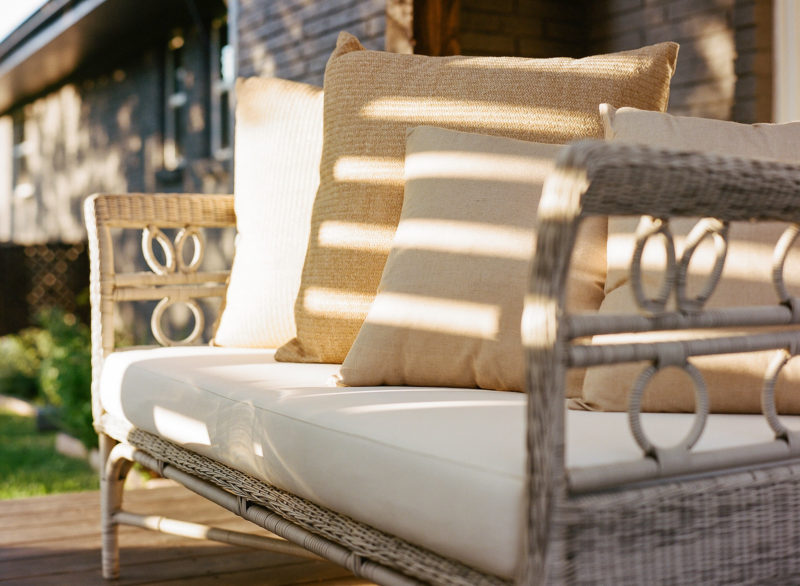 Welcome to my looooong overdue post about the deck. I'm not gonna lie, I thought this deck was overkill …. a lot of $$$ …. would it really add that much to the value of the house …. etc etc.
Luckily, it was Mr WTB's turn to win and so onward we went with the OTT plan. (Dan here. Notice how when it's my plan, it's over the top? Just wait until the post about the new 35 square foot bath in Debra's Domain!)
Let's start at the beginning, shall we?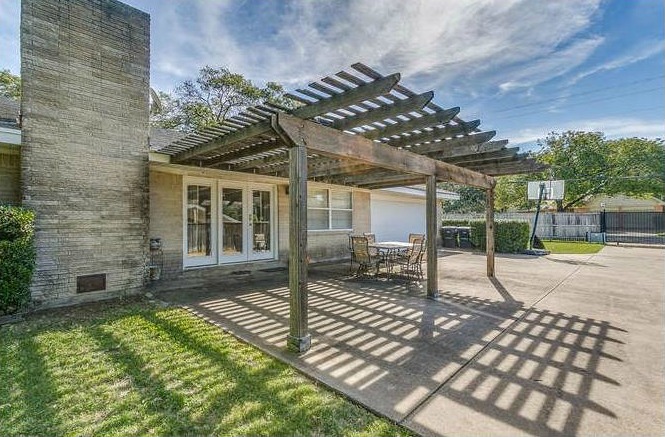 This is the listing photo— that pergola was quite wobbly, there was a large 'step down' from the house to the patio.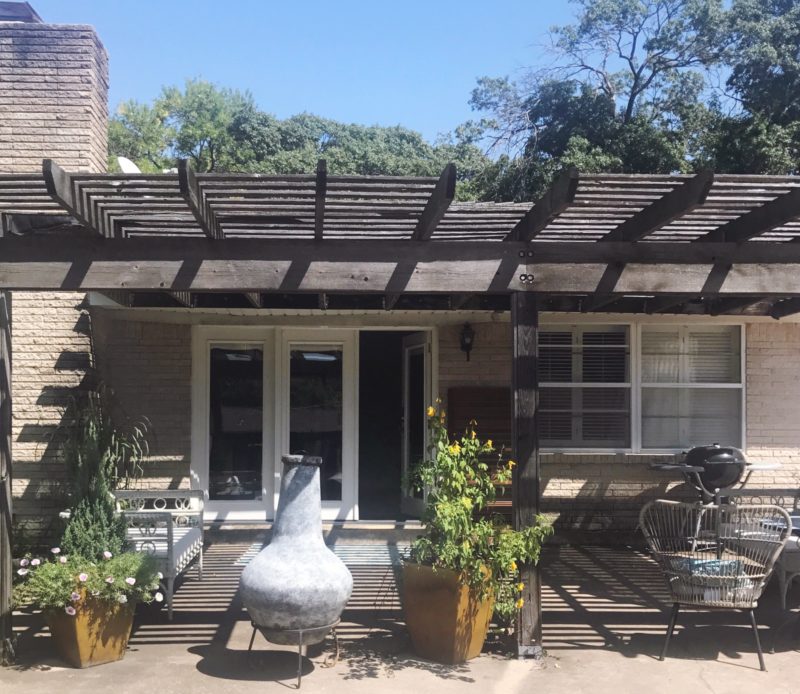 After move in- here you can see the missing bits from the Pergola. This is south facing, so the shade from the pergola was necessary.
As part of our overall exterior revamp, we decided to give this area some love. I wanted to add the deck to come up to the door level (and besides, it's just prettier than a cracked concrete slab!), the Mister wanted a covered parking spot (he keeps "stuff" in his garage spot) (well, tools have to live somewhere, right?), and we both agreed that we would like a waterproof cover so we could enjoy the oh-so-rare summer rain.
First came  paint: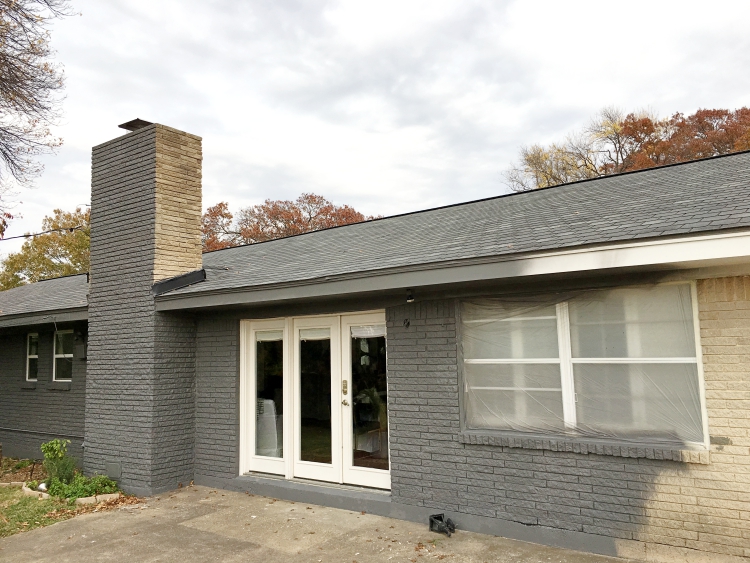 Then the deck construction began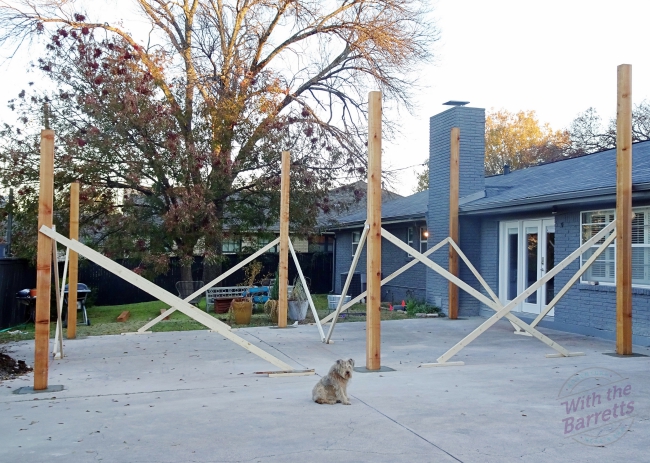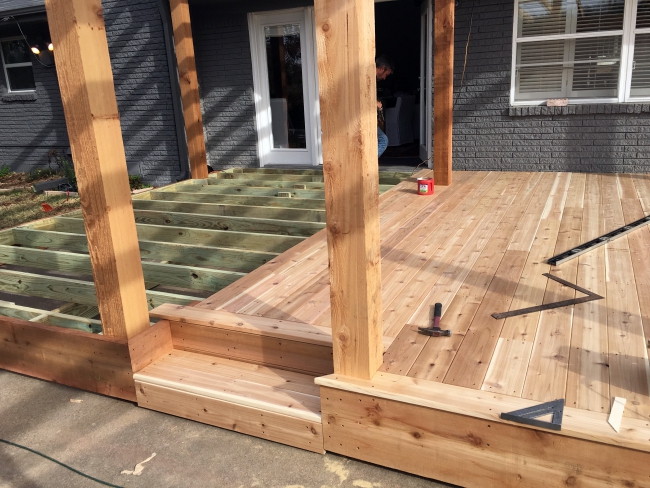 then the pergola.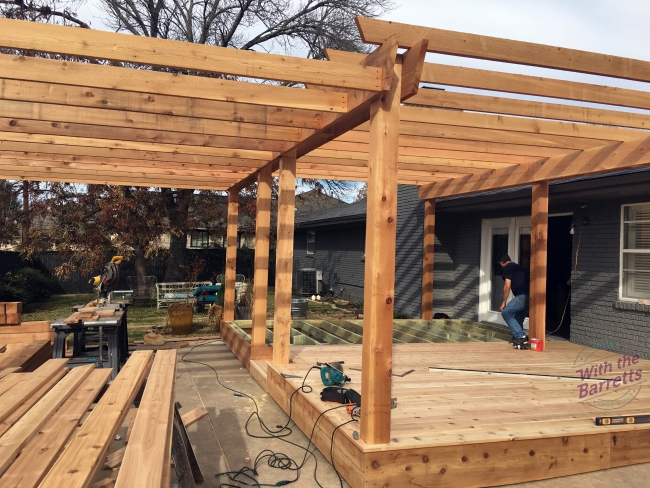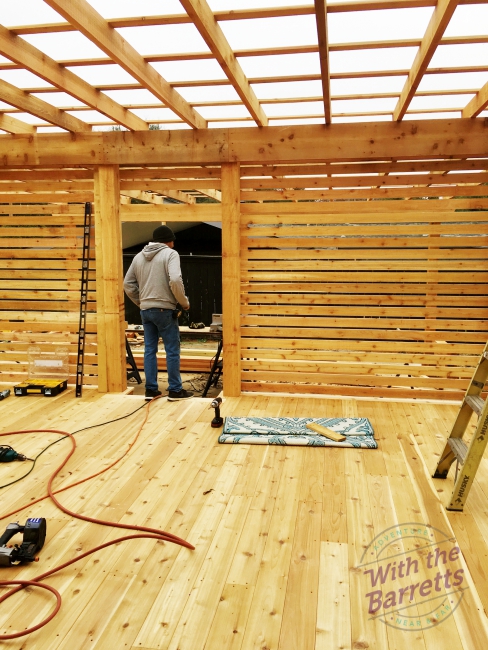 And, voila, after several months and many thousands of dollars: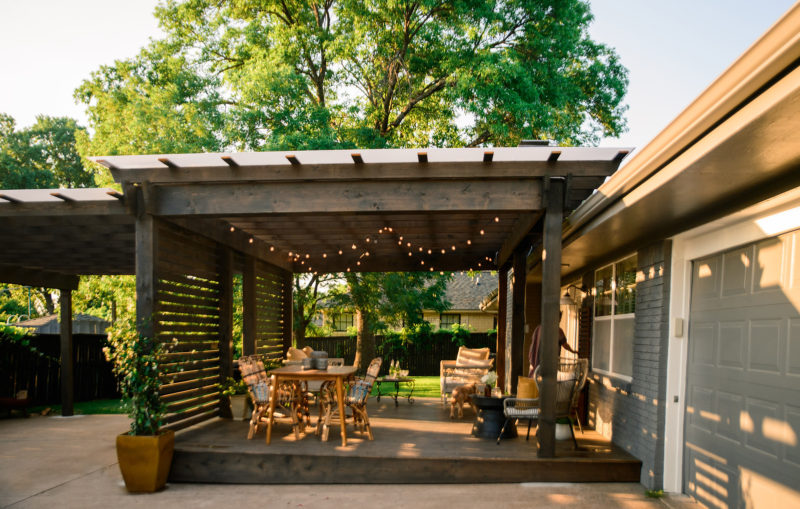 We threw a party right away! A wedding shower for a sweet young couple: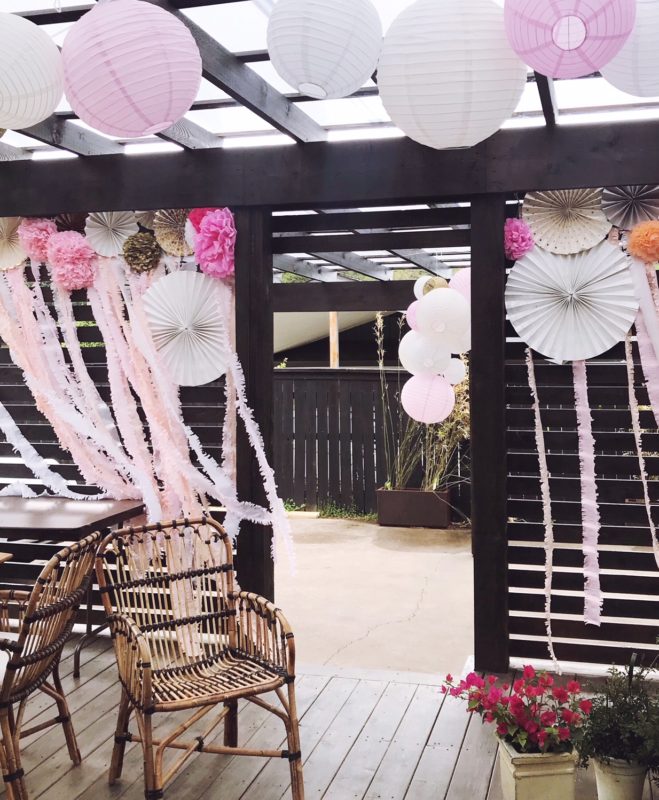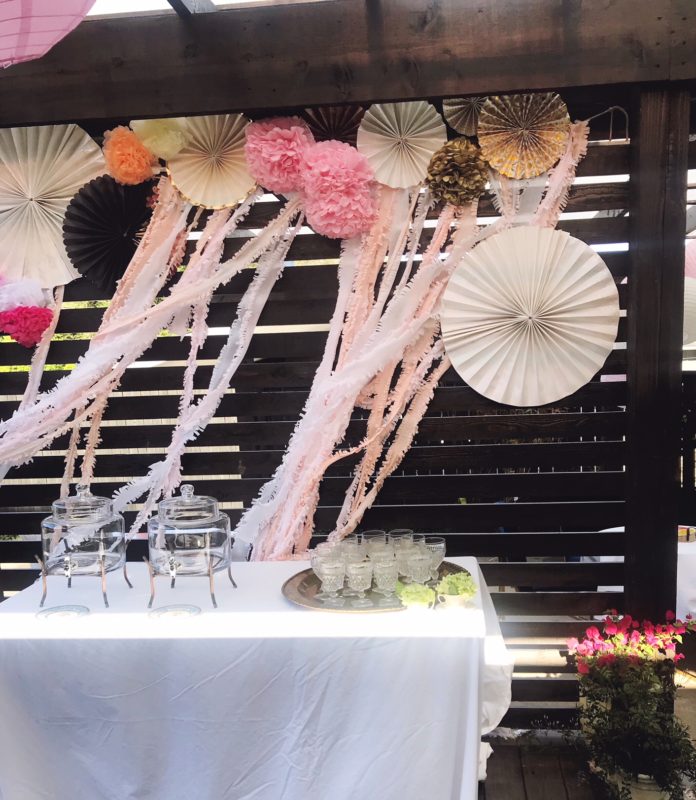 It rained really hard right after we finished with the streamers – which is why they look a little rough. The cover protects from most rain, but not the wind-driven sideways rain that came down that day!
Luckily, it was lovely for the party. I don't have a good shot of the "parking" area, but we filled it with tables and paper lanterns, it added a great deal of area to the party.
We are loving this spot- even now when it's SO HOT, we sit out here in the early mornings with our coffee.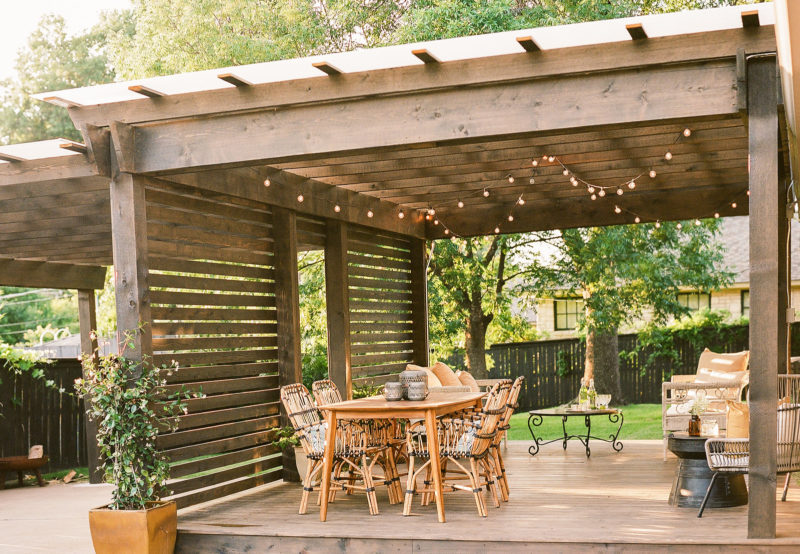 A Photo Tour of the New Deck
We asked dear friend Amber Shumake to take some photos. She really caught the mood and lent her special touch to Hildring House. I hope you enjoy them as much as we do: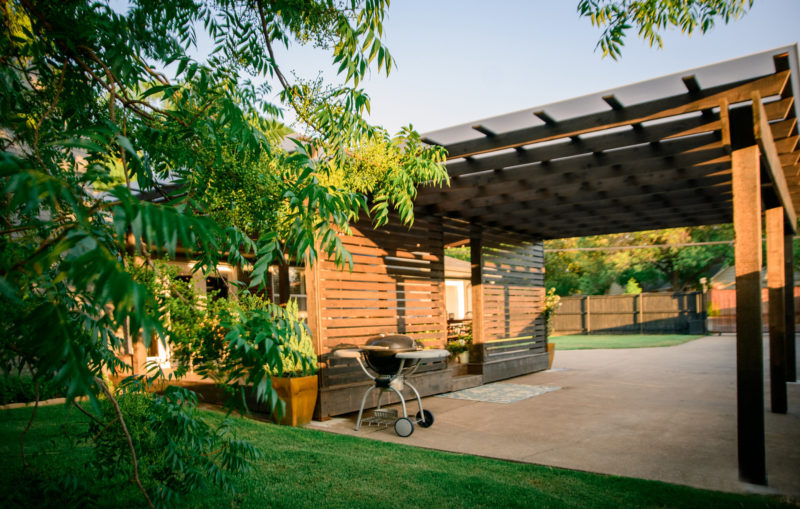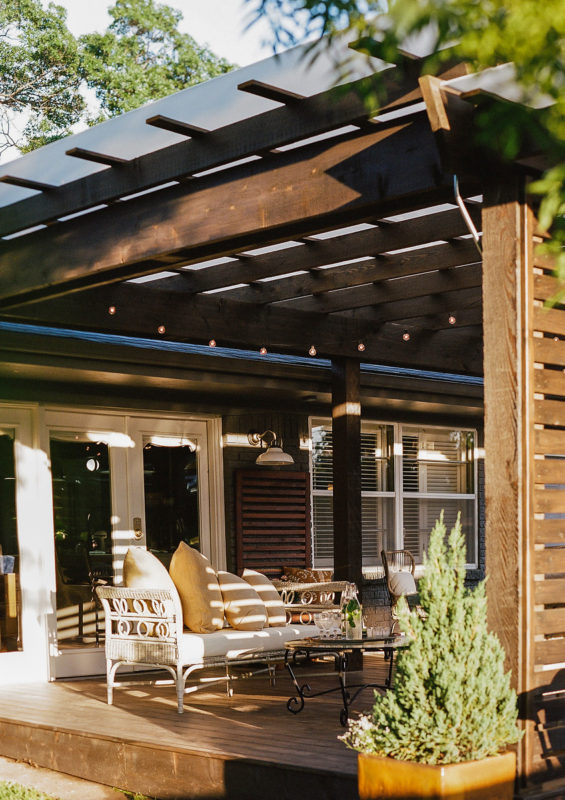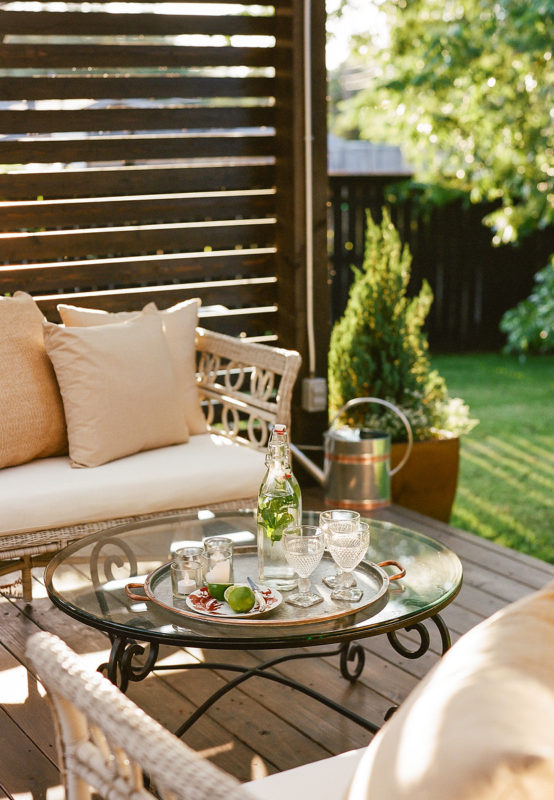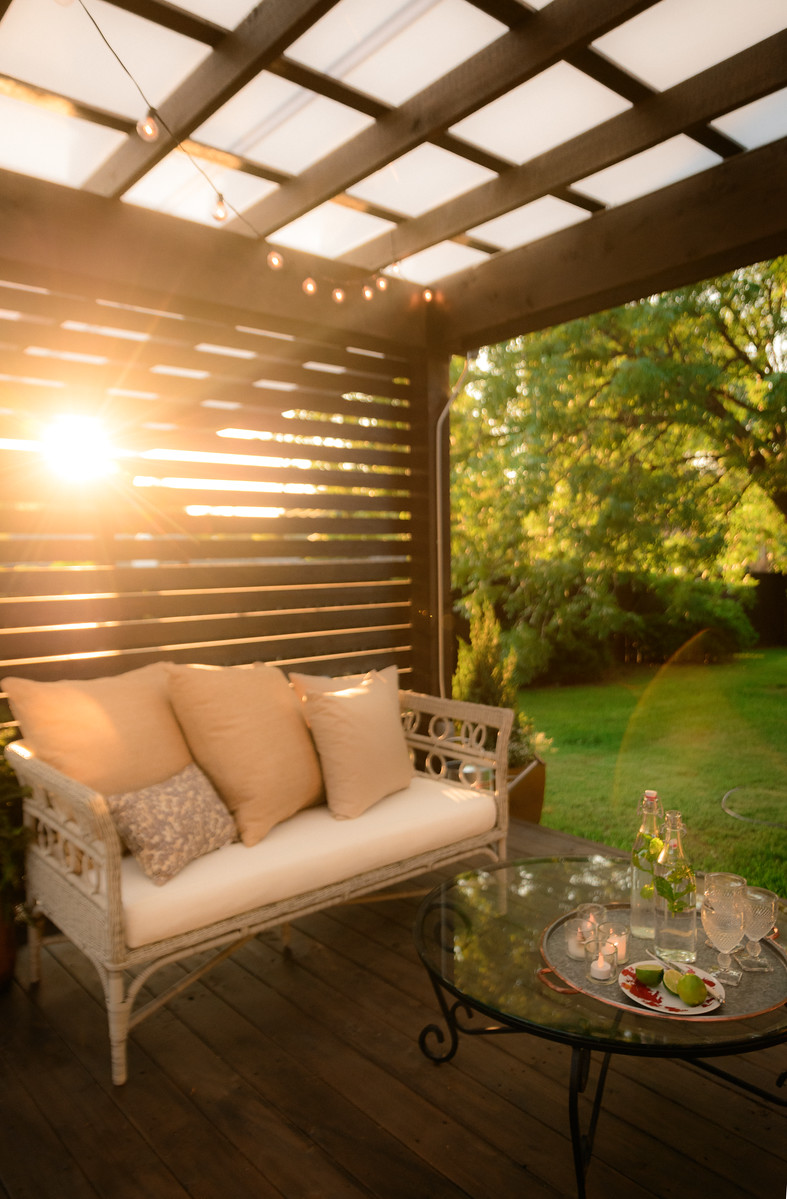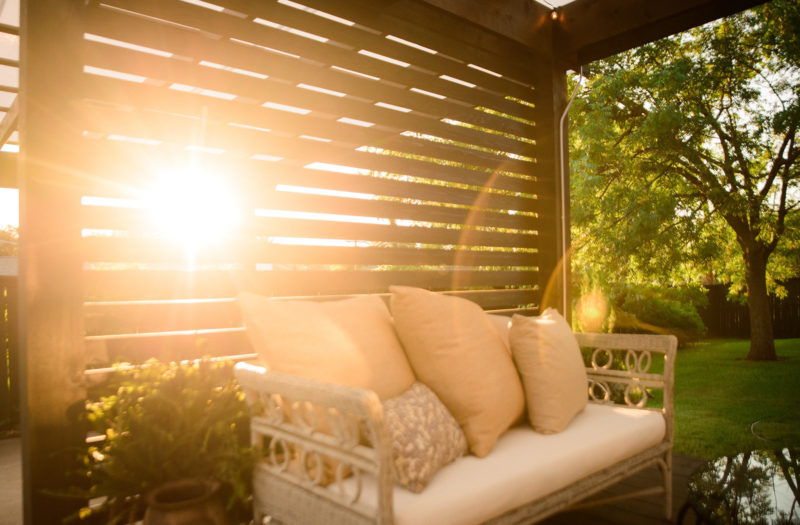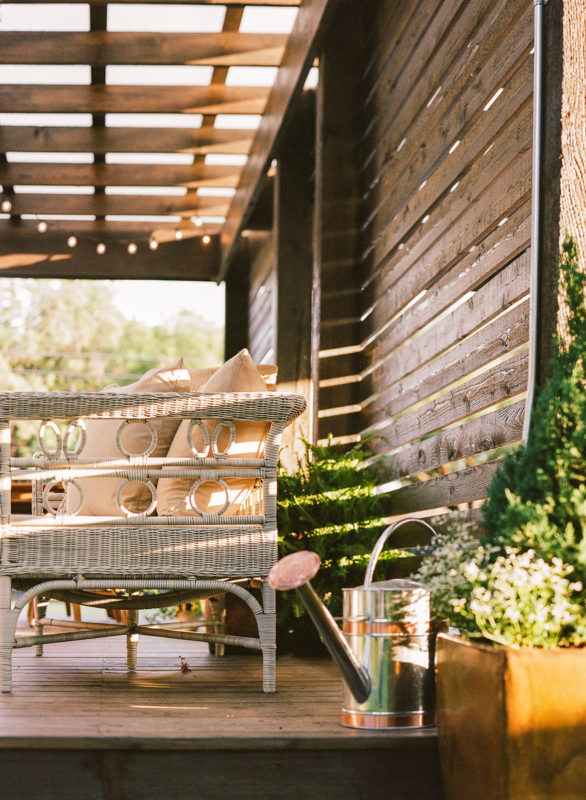 It was worth every cent! (I do so love it when I'm right!)
Our wonderful contractor, Shawn Cowdin, really outdid himself. (Shawn's brother, Justin, was the carpenter on this job. He has done other projects for us, as well, and we've never been disappointed. His work truly is masterful.)
Well, there you have it. I know it has been quite some time since we updated the progress of the Hildring House adventure. But, sometimes, life intervenes. Hopefully, we'll be more prompt with future updates.
In the meantime, we hope your lives are full of love and laughter – the best kind of adventures!
Please share with friends, family, or complete strangers – we love the company.