Faro – Our First Stop in Portugal
Debra and I decided that it was past time that we took a trip to Portugal. So, in March 2018, we did just that. We spent the first week of the trip in the lovely, small Algarve-region town of Faro.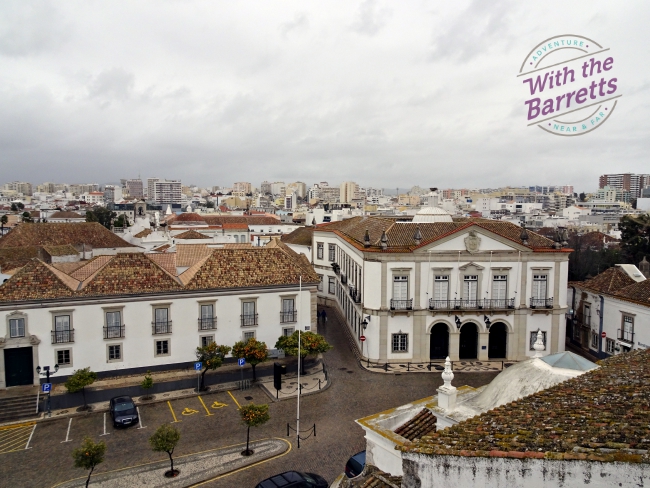 The Algarve region is enormously popular in the summer months, notably with British tourists anxious to trade cold drizzle for drenching sunshine. Like I mentioned, we were there in March – well before the throngs hit the beaches. Which suits us just fine. We're not really beach people (although many of our closest friends are) and we like the weather when we travel to be what some consider cool. Eighteen to 20 Celsius (64-68 Fahrenheit) is ideal.
It was a touch cooler than that most of the time we were in Faro – and we had steadily pounding rain all of one day – but we didn't mind. Besides, we had the place practically to ourselves – from a tourist standpoint. Which is better than fine with us, particularly as the Portuguese people are almost universally pleasant and accommodating. (I even managed to think of the pickpocket who lifted my wallet in Lisbon as a nice fellow – remember? If you missed that post, you can find it here.)
So we spent much of the week strolling and exploring. This post is dedicated to some of the shots we took doing that – things you probably won't see in the Algarve promotional material for tourists.
So, come along, won't you?
Let's Begin our Stroll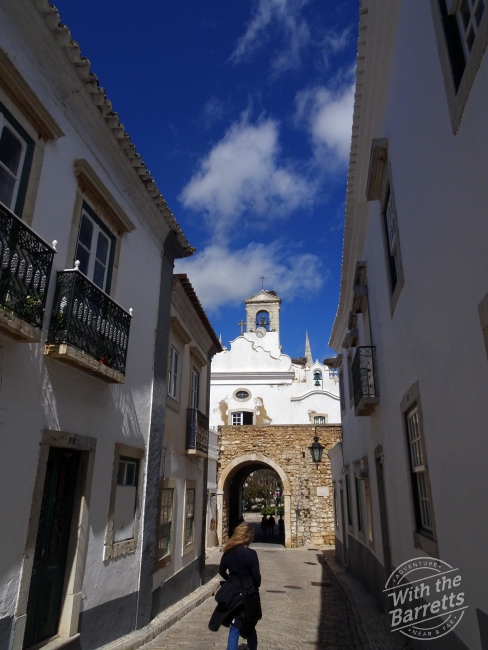 Our apartment – which was spectacular, by the way, and quite affordable – was located in Old Town, a section of Faro completely enclosed behind a (as I recall) 12th Century stone wall. Our stroll with take us throughout Old Town, as well as outside the wall.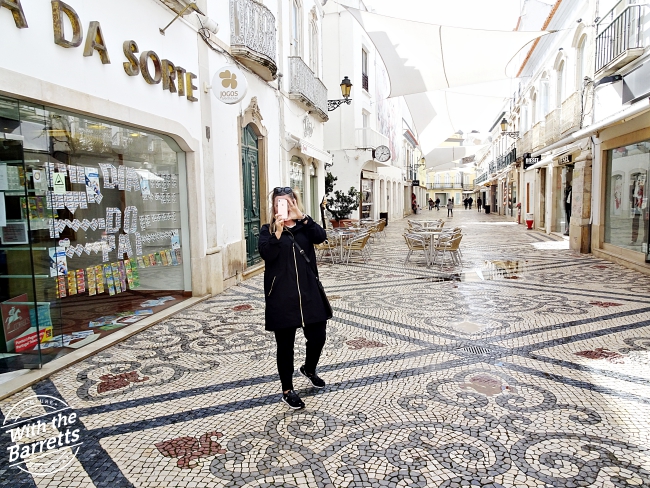 This is just outside the wall to Old Town and is a fairly large (by Faro standards) pedestrian area with shops and restaurants. The small black and white cobbles, ubiquitous in Portugal and Portuguese colonies, were laid in elaborate designs.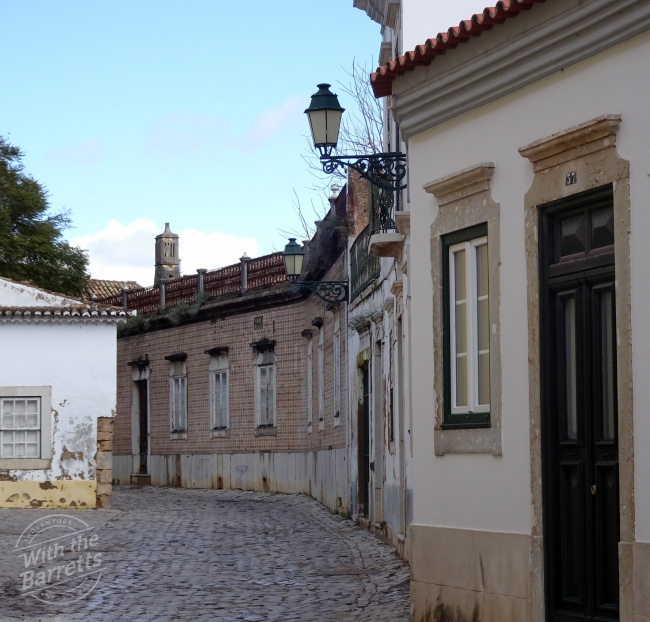 The street cobbles inside Old Town were quite rough. I'm sure that they're much more durable than our more "modern" asphalt paving, though.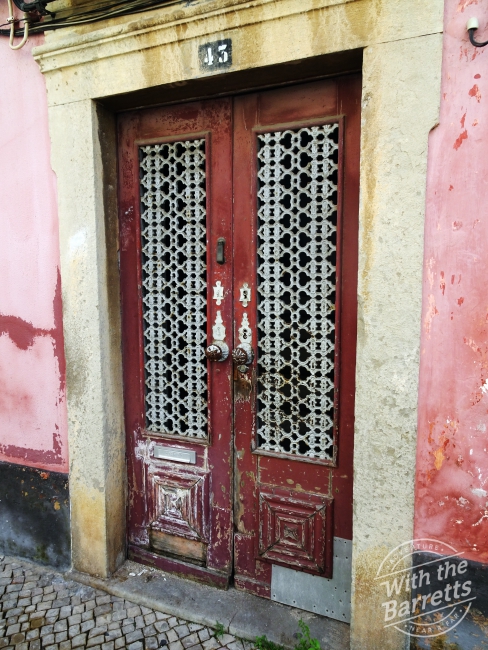 If you're familiar with our travel posts, you'll know that I'm fond of doors. Faro presented numerous opportunities for door photography. I promise that I'll only inflict a few on you.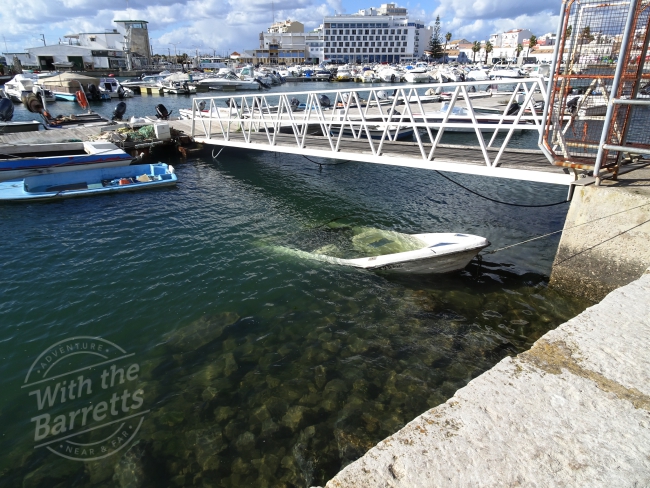 The main gate from Old Town puts you right out onto a marina area with fishing, tour, and pleasure boats. This one seemed a bit neglected. But not so much so as one we'll pass by a bit later.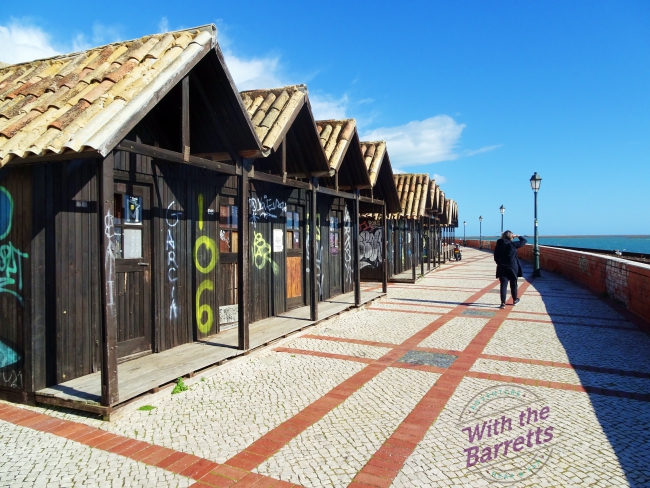 These kiosks apparently are used during high season by tour providers. Boat trips are quite popular from Faro. There were even a couple of them operating while we were there but on this particular morning, it was quite windy with a temperature in the high 40s/low 50s. Not exactly prime boating weather.
The Wall Around Faro Old Town
I'm always fascinated by the tenacity of life. Old stone structures, in particular, present opportunities for vegetation to take hold.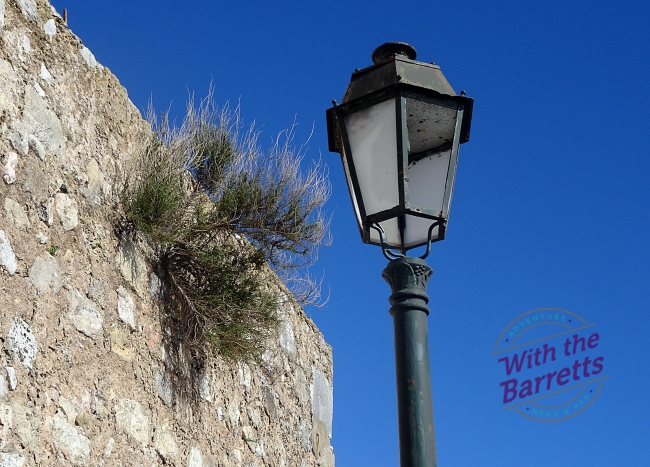 And the sea constantly strives to take back things built or installed in its vicinity. The light post sort of illustrated that entropy. Or, maybe it's just a light post with a broken-out pane.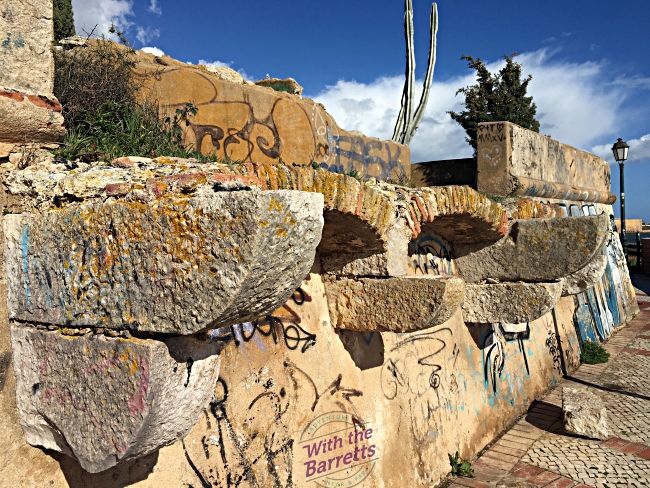 The local graffiti artists weren't impressed with the age of this section of the wall. I was, however. If my memory serves, there was a sign in the area that said this portion of the wall dated to the 9th Century.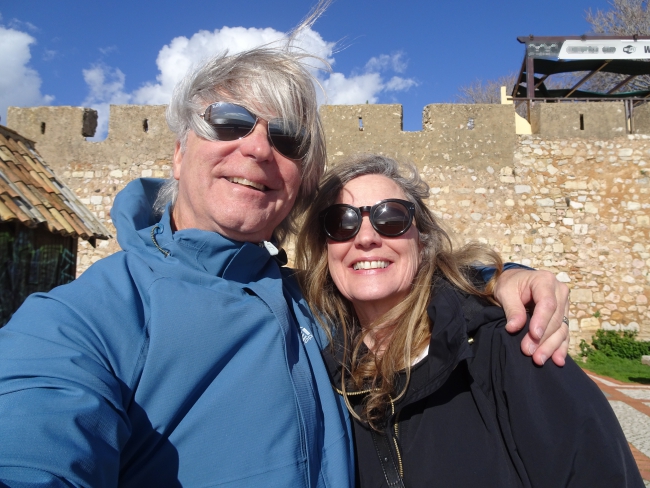 We saw the charming fellow in the picture below several times, always lounging in a doorway about a five-minute walk from our apartment.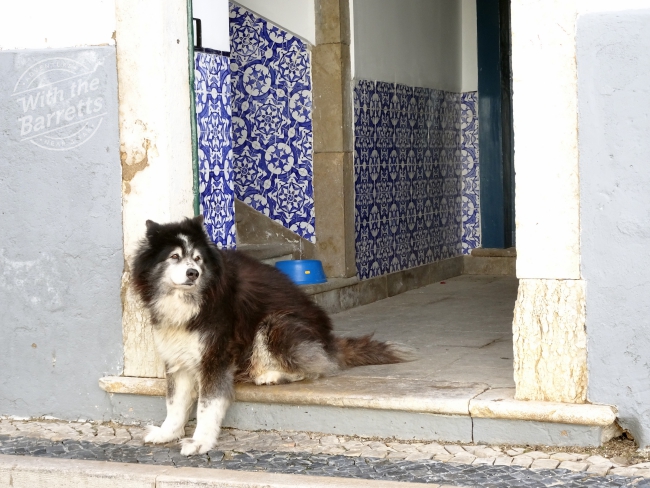 Notice the tile work in the foyer of the building in the picture above. Portugal is rightly famous for its tile work and the exteriors of many buildings are completely clad in colorful tile. In the picture below, Debra is speculating on how much it would cost to repair the window ledge. But you can see how tile is used in place of exterior paint.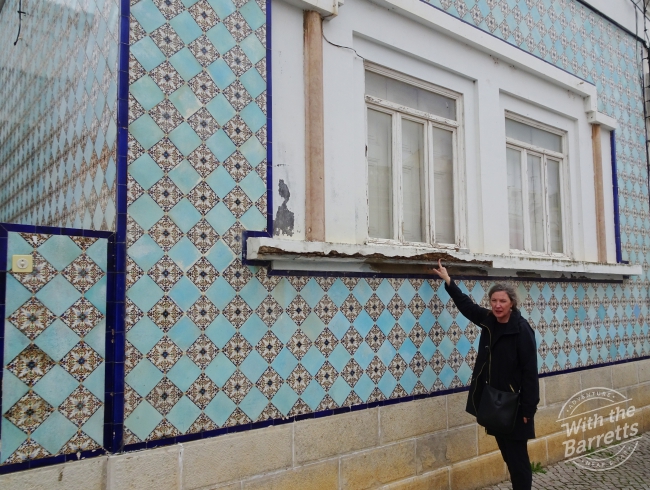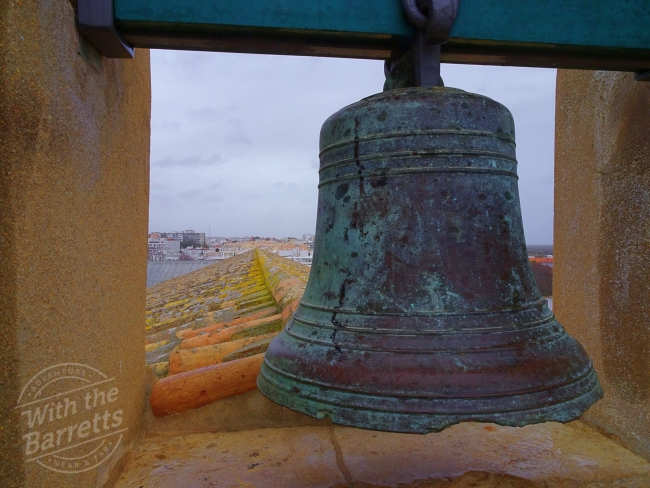 The cathedral inside Old Town – about a half-block from our apartment – had several bells in its tower. One of our travel mottos is "If there is a tower, we probably have to climb it."
We did, and were treated to this view, as well as the one at the beginning of the post.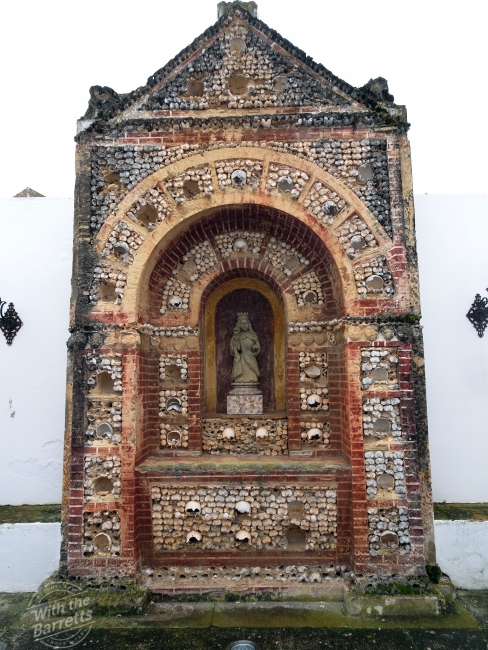 This interesting shrine is just off of the courtyard inside the cathedral. Notice the skulls and remnants of skulls in the rock work. I didn't see a sign explaining the relics but it was curious, nonetheless.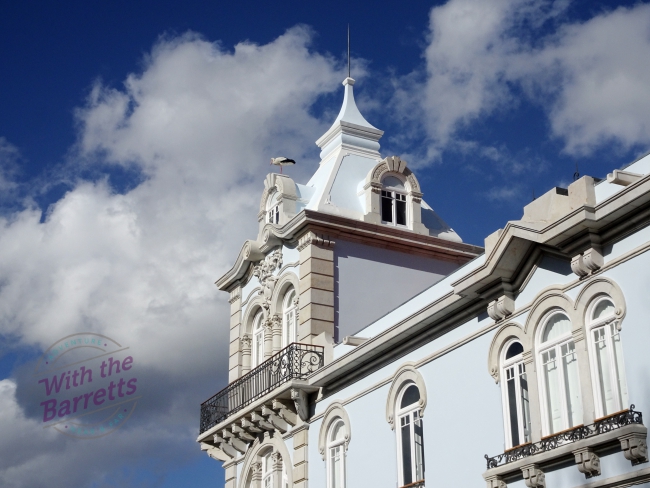 The stork on the roof of this lovely building had a proprietary air – as if he were guarding the door.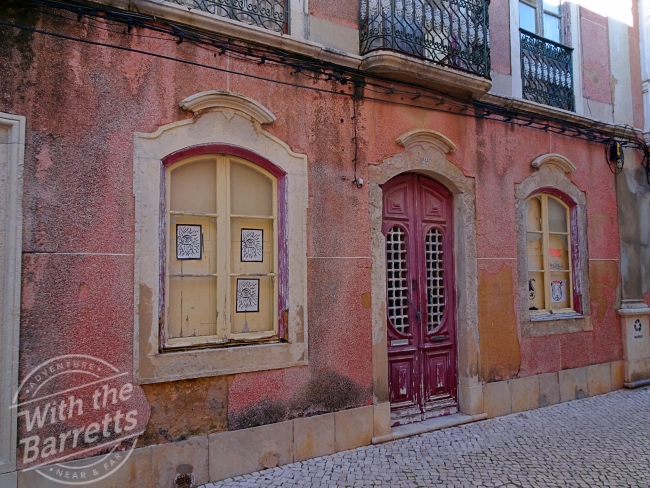 Speaking of doors, here is another one, quite similar to the first one. I'll keep my promise – only one more, a bit later.
Remember me talking about seaside entropy? This boat – the one I promised earlier – really seemed a testament to it.
Out and Away from Old Town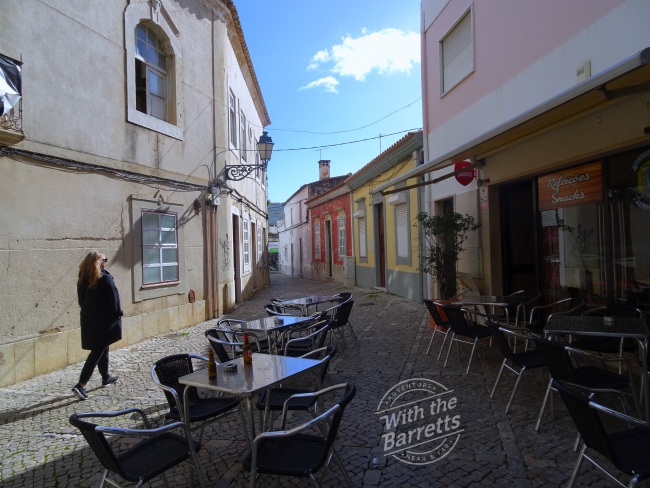 As we continue our stroll, we leave Faro Old Town and head out into the city, proper. But we don't leave the charm behind completely.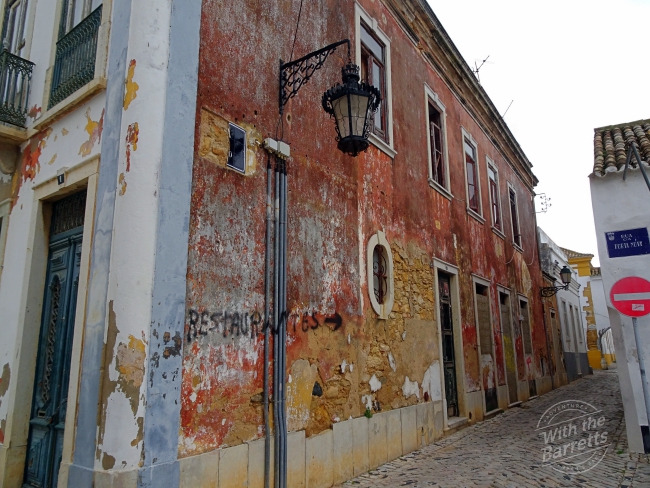 And, along the way, there were some things that I just couldn't explain. Some of the wonders of cultural differences.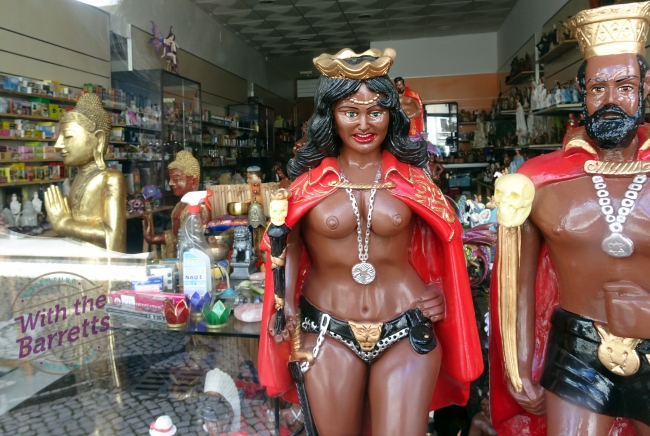 We love flea markets and tend to search them out. This one wasn't very large, but it was fun, nonetheless. It was as much fresh produce as curios and trinkets.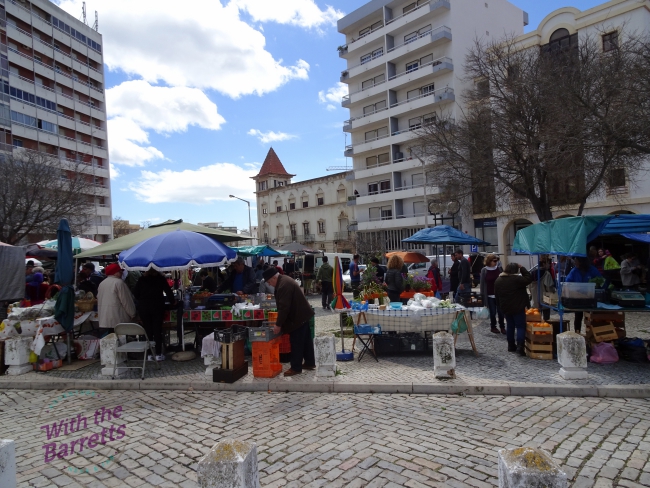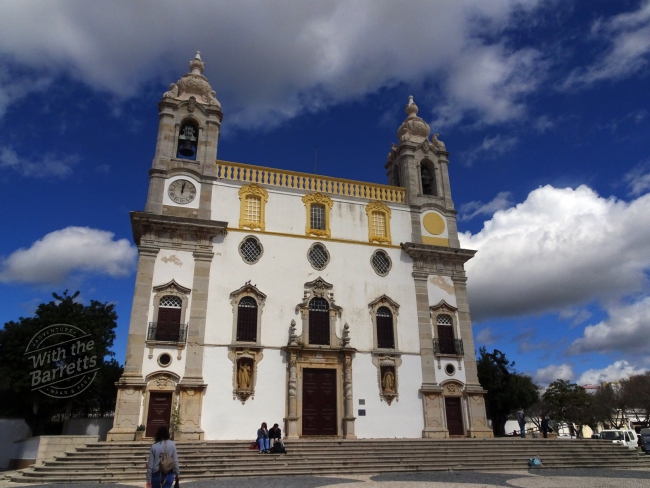 There is graffiti and there are street murals. I think this one qualifies as the latter: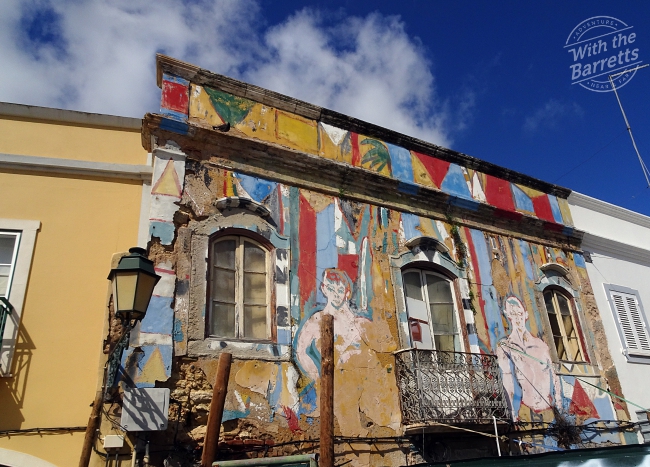 Obviously, it had seen better days.
Here is the third and final door for this post: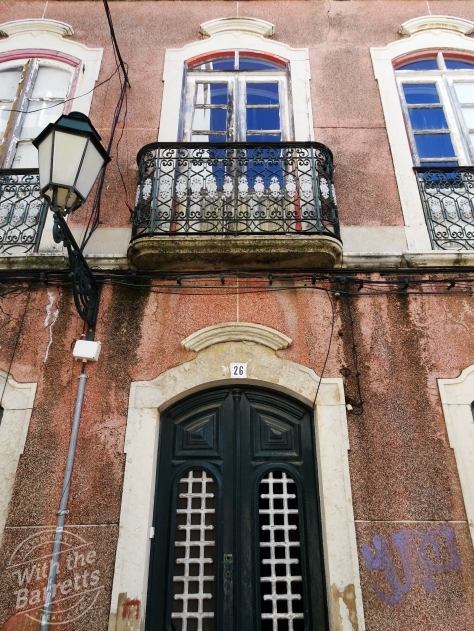 And a colorful building just oozing character: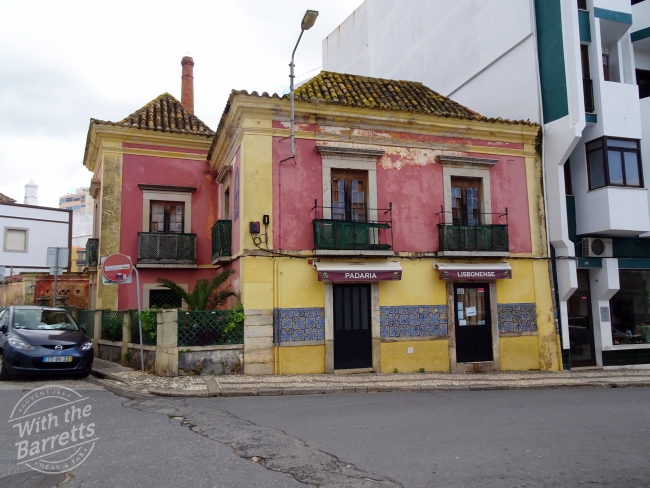 Notice the ultra-modern structure right next door? It's not unusual to see this kind of juxtaposition in Faro, outside of Old Town.
Another thing that is typical in Faro – and in Europe, in general, for that matter – lovely courtyards behind the street facade of a residence. Here is an example:
A Final Thought
We'll end our stroll through Faro with a bit of graffiti wisdom: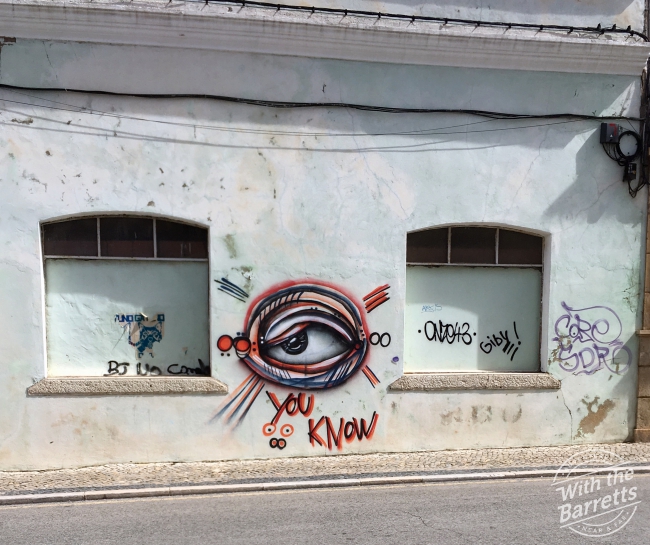 Faro was a delight, as was the whole of Portugal. In later posts, we'll tour around Lisbon and the fantastic town of Sintra, as well as go to the "end of the world." We hope you join us!
Thanks for being a part of our adventures here With the Barretts. Please share them with your friends, family, and fellow travelers – and, if you haven't already, sign up for updates! We wouldn't want to miss a single day with you.
Best –
Dan