I am wishing I had some pretty pictures of Hildring House to show you today … but sadly, nothing new is "finished." sigh. So let's look at some pretty pictures not Hildring House.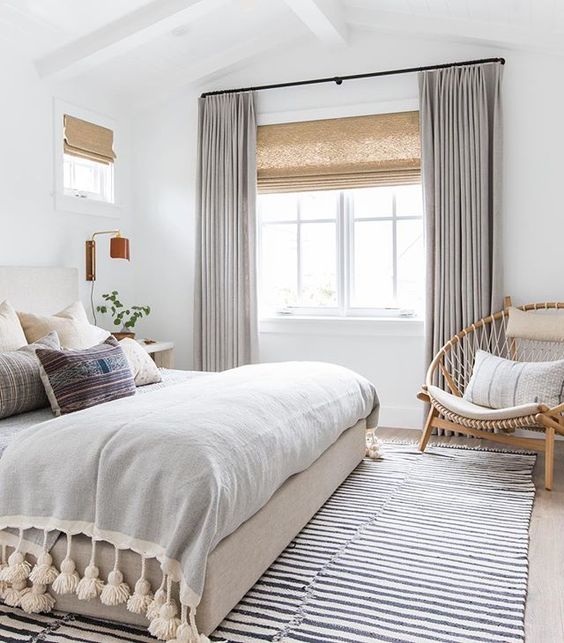 Design ADHD
One of the things I love about blogging is the fact that I am encouraged to 'finish' things. It's my deepest darkest secret- I have design ADHD. I get 80 percent finished with a project and in my mind, I can see it as completed. So I just move on to the next thing. Since my "minds eye" does not photograph well, I'm forced to finish things for real if I want to share them with you. This is, in Dan's opinion, much better than my prior solution of "just sell the house." That's how, in the past, I forced myself to finish things: sell the house. That's pretty motivating.
Dan here – the "sell the house" solution was a great motivator. Debra is a dynamite realtor and she knows what will, in fact, sell the house. The problem – besides moving all the time – is that she would finish things beautifully and we would get to enjoy them for about 10 minutes. My goal for Hildring House is to be able to bask for a while in the comfort of a completed project. Keep following along and root for me, won't you?
The Mid Century Ranch- an Example of Design ADHD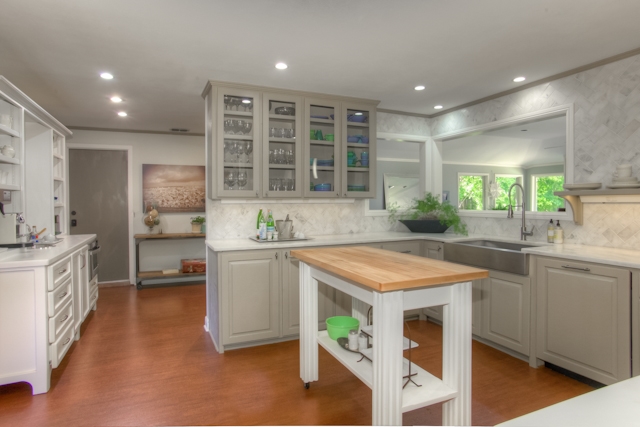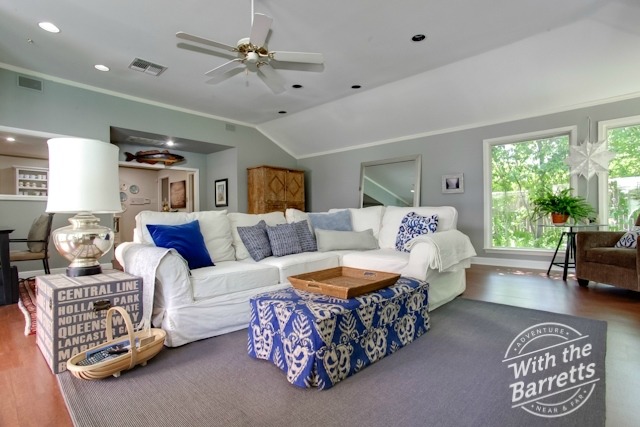 The two pictures above are house-selling photos of the Mid Century Ranch. Eleventy-seven projects finished 5 minutes before listing photos were taken. This was the first project covered in the blog. While many of those posts don't display properly – my fault, entirely – you can find a slideshow of the transformation here. 

Pretty Pictures not Hildring House – Master Bedroom Problem
I have LOTS of IDEAS and PLANS and GOALS … none of which will photograph until they're COMPLETED. SO, on to the pretty pictures that other wonderful people have made to inspire us.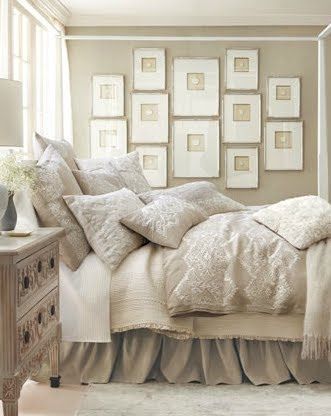 The newest project at Hildring House is the master bedroom (what – you may ask – what happened to finishing the living spaces? Well …. anyway, onward. You have to be kind of nimble to live at Hildring House.)
The master bedroom at Hildring House is small. Only 15 x 12 with limited closet space and old windows that are weirdly placed – just sort of haphazard openings in the walls. At the moment, there are random bits of unpacked things littering the floors – Mr WTB has them neatly stacked against the walls, so he no longer notices them – as long as things are neatly stacked, he's okay with them. She just said that there is limited closet space, right? Should I rise to my own defense here? Oh, alright. Never mind.
But every time I walk into the room, I cringe and my mind starts screaming "fix that, paint that, throw that away"— not exactly a restful experience.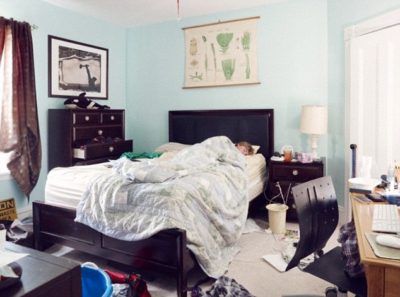 Inspiration for the Solution
So. First order of business – fix the window situation. I called our window guy, Jay Stallons, and he got everything measured out for us. We are going to move the existing window over a few inches, and add a matching one on the other side of the wall. At some point in the future, the other original window – on the adjoining, outside wall – will become an exterior door. (Which will require another project – do something outside that door so you don't step out into a mud hole… see how projects pile up?!)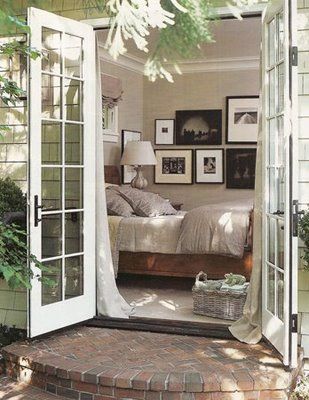 Wouldn't it be nice to have doors leading out to a pretty spot like this?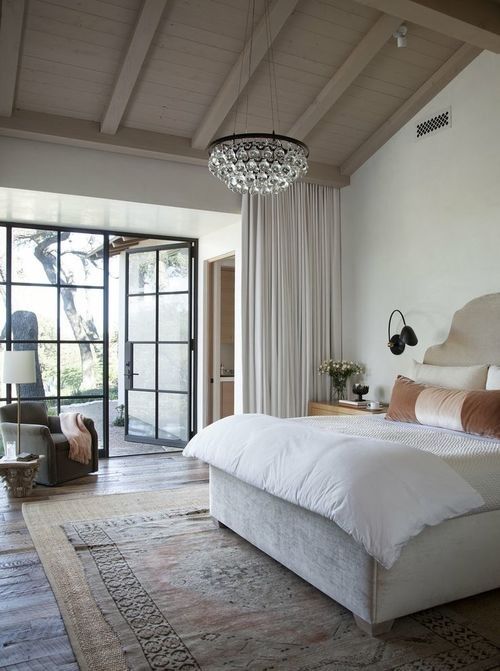 Ooooohhh, these doors! Of course, then I'd need to change all the rest of the doors on the house…… So, that's not happening. Whew! And the ceiling in this room- isn't it wonderful?
If you really look closely at a lot of the dreamy photos in magazines and on the internet, you'll notice that even before the fantastic furniture and fittings go in, there is a lot of great architecture happening. That is not the case in the Hildring House master bedroom. It's a basic box with 8 foot ceilings. I would love to raise the ceiling and if we truly stay in this house more than 2 years (it could happen) – it will be on my "second-wave-of-renovations" list of things to do.
Hildring House Master – Where We Started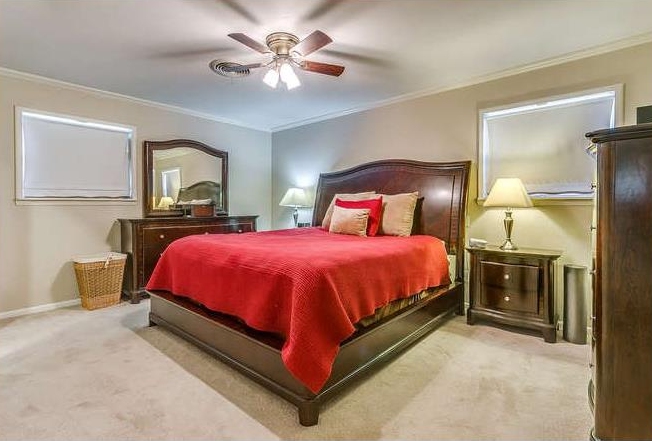 We have replaced the carpet with the pretty wood floors used in the main living areas and that's a big improvement. (You can see the post about those going in here.) But then we just threw in a bunch of random stuff, so it's not very pretty.
You'll notice in the MLS picture, above, that there is a ceiling fan in this room. I hate hate hate ceiling fans. Mr. WTB loves them. I do love them, but not all of them. This one is not very attractive, I'll admit. So, as a compromise, I agree to have one in the bedroom. Only. But it cannot have a light kit. Fortheloveofallthat'spretty, please get this fan out of my house. STAT. (If you have this fan in your house and love it, I'm not judging. Much.)
In reality, the "before" looks better than our "current." (Did I mention Mr WTB's ability to overlook his own personal clutter? 57 pairs of reading glasses and no I am NOT exaggerating. Yes, she is. And, I might add, judging. I just like to have a pair of readers wherever I might need them.).
One thing that the MLS picture doesn't show is the offensive bifold closet doors that won't close completely. (It also doesn't really show the weird window placement – kudos to the photographer.) I searched the whole internet and couldn't find one as ugly as ours. So you are spared the ugly closet door photo. You're welcome.
Pretty Pictures not Hildring House – Closet Inspiration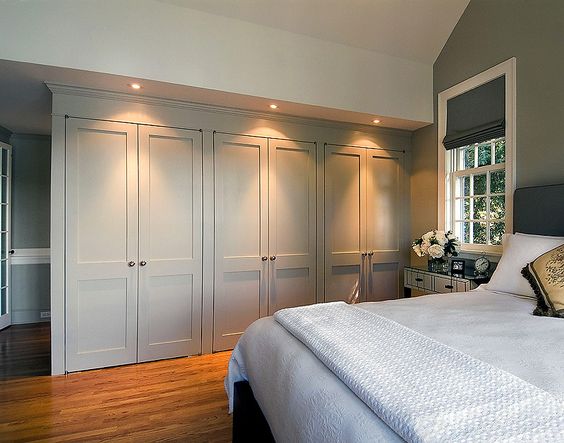 Closet door goals- of course, we only have about 6′ of closet….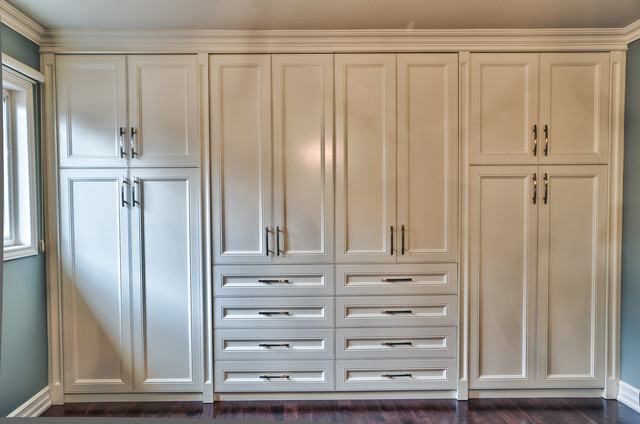 This would be wonderful- I'd like to rip out the closet and replace it with a built in wardrobe cupboard in the British style. (I'm sure that wouldn't be expensive). Might be worth it, though. That's a spectacular closet.
So, there are the "goals." If this were HGTV, I'd show you a few "process" photos this week and do the final reveal next Friday (under budget, too! on TV they can completely gut and renovate a kitchen – with new top-of-the-line appliances and stone counter tops – for 10 grand). But this is real life, with a real budget (or lack thereof). So you'll be getting the occasional – "hey, we finished one tiny part of the bedroom" post. And perhaps a semi-final reveal next year.
Because of course, nothing is really "final" until the day it goes on the market if you live With the Barretts.
xo
Debra