Debra here – I am hosting a small gathering at our house in the next few weeks (Canasta Club – yay!) and so, of course, I am dreaming of completed dining space….. This is truly just a dream at this point – I doubt if we will have dining room finished before Christmas 2018. But here are a some  photos of future dining room inspiration, plus a couple of our past dining rooms:
Inspiration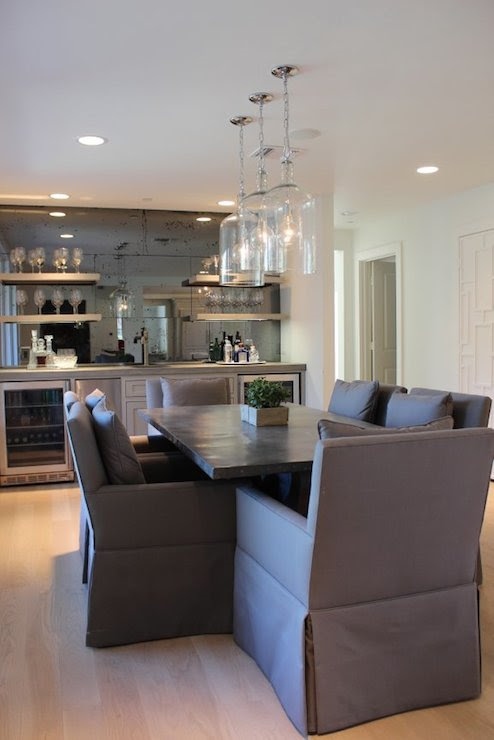 This one from Decorpad is inspiration for Hildring House. I am planning a coffee bar in our dining room- with sink, and maybe even a fridge drawer? (ah, I can dream, right?) We will need more storage than this- has Dan told you about my dish collection problem? (No, I haven't. Some problems are best kept private, don't you think?)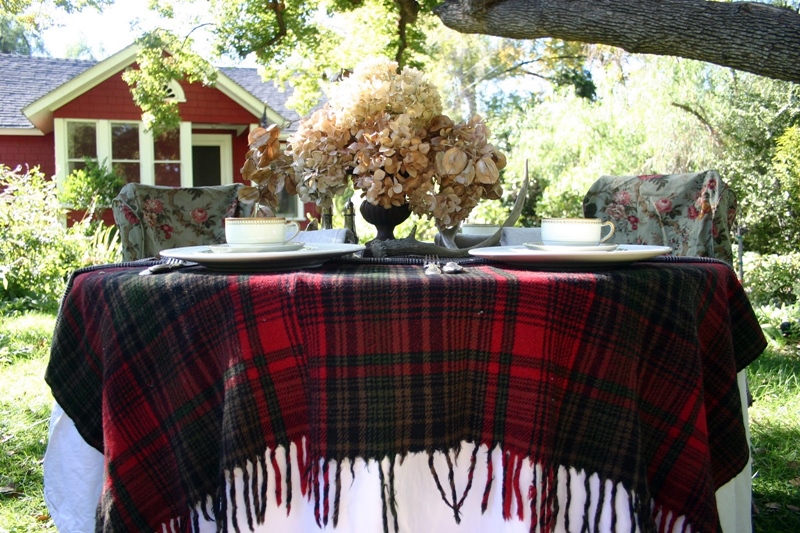 Love this outdoor table from one of my favorite blogs- The Gardener's Cottage. It's a fall/holiday table, but could easily translate to spring with a different cloth. Of course, my garden is not yet ready for visitors either (sigh).
A Look into the Past
Below is our dining room from a couple of houses ago- the mid century ranch. (The photo was for staging purposes; that's why it's a little bare in there. We had more stuff for living.) I loved having this huge space for entertaining, and that table! It could go from a 4 top, to a dinner party for 14. It's still available at Wisteria.  It didn't really work with the style of our current house, so I sold it a few weeks ago. I picked up a sleeker one from Craigslist, but who knows if it will get to stay long term?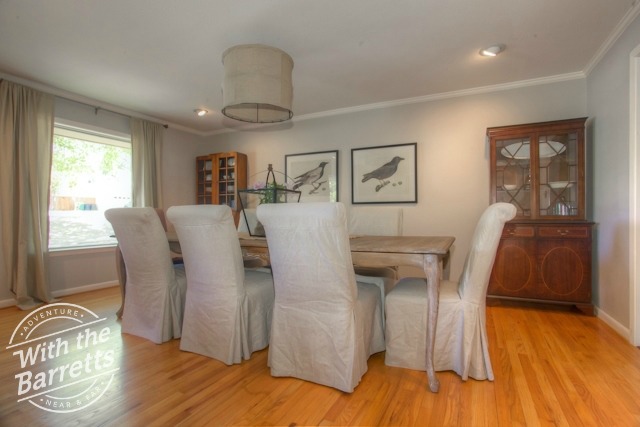 The problem with this room, and I think a problem many people have with dining rooms, is that it only got used when we had parties. I love a dedicated dining space. But I also believe that we should use all of our home, so I am trying for a dedicated dining space that also gets daily use (wish me luck!).
More Inspiration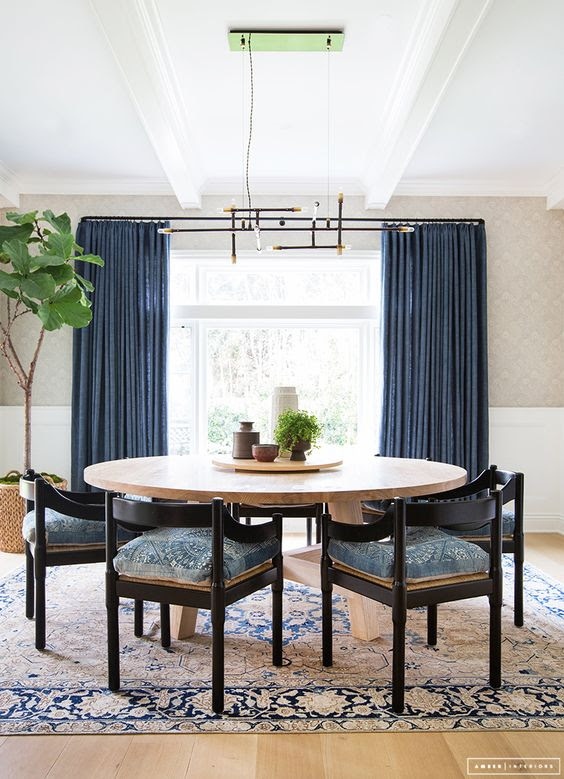 This one is from Amber Interiors- I love everything she does. And I'd really love to have a round table, but I also want to be able to seat 12…. so if I can find an expandable round table (you know, within budget), I might scrap the Craigslist find. (Tables and sofas tend to live precariously at our homes.)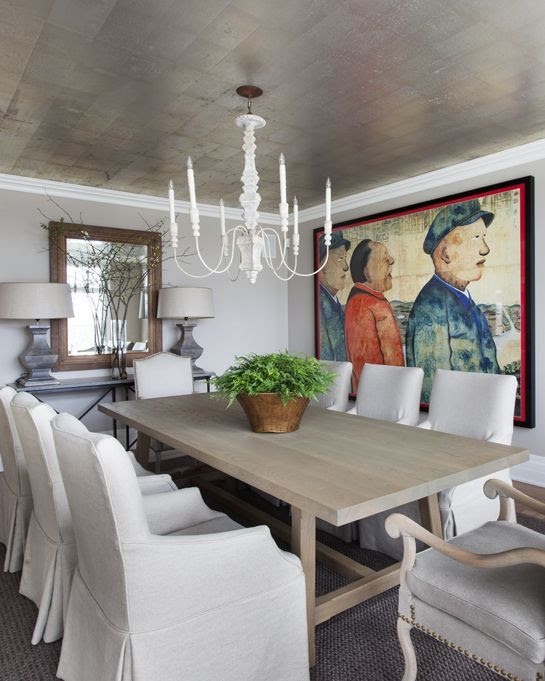 This one is via roughluxelifestyle blog. Overall, this room is a bit traditional for my taste, but I love the giant artwork, and the chairs look comfortable- I want people to linger, so comfy chairs are a must. The ceiling treatment is fantastic, too.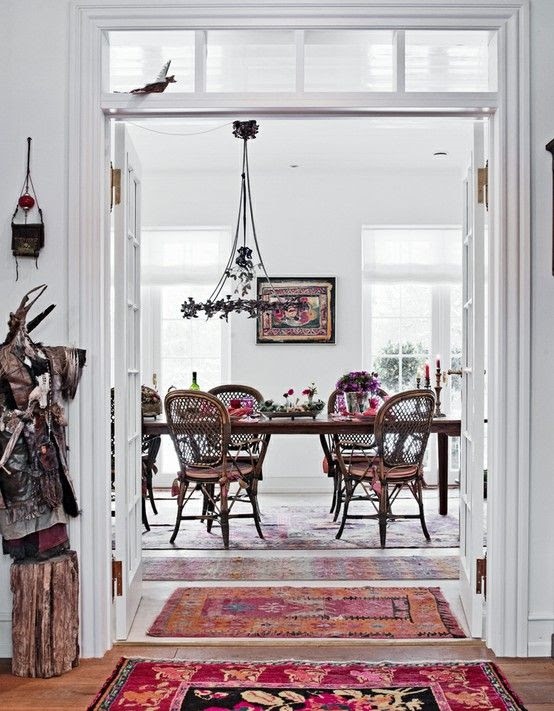 This one from maisonboheme makes me so happy. The rugs, the light… sigh. But the chairs don't look comfortable, and  very few of us have ceiling height like this.
Another Glance Back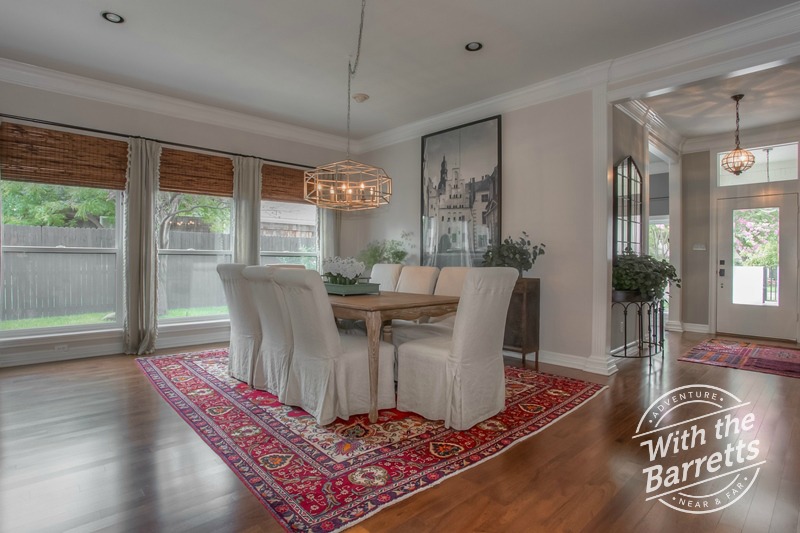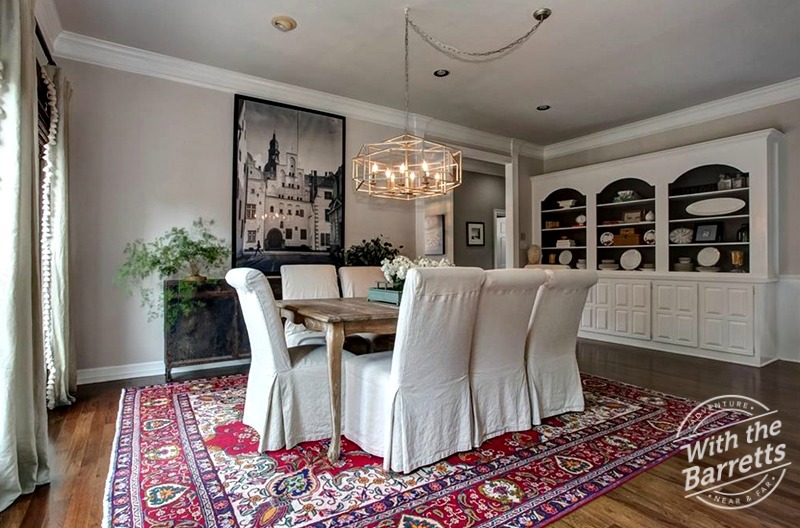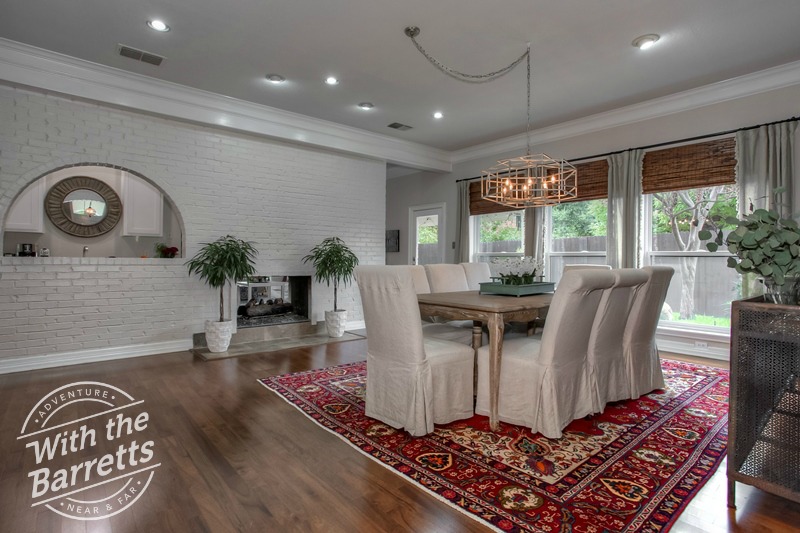 These are from the SoMoToHo – it was so great to have a fireplace in the dining room, and the bar area (coffee bar for us) was also a huge plus… we had great ceiling height here. We had some wonderful  parties  in this room.
Back to the Future
Our current dining situation is a mess- although we did have Easter with the family there.  It's stacks of boxes and no lighting and odd bits of furniture thrown together. But the chairs are comfortable and it has good windows and natural light, so I have high hopes – and expensive plans (so, what else is new?) And you're all invited for the final reveal ….. someday far in the future.
Thanks, so much for following along on our Hildring House adventure! Please "like" and "share" and all of that stuff – we love the company!