Debra is back with another guest post – this one dealing with the unfitted kitchen that occupied quite a bit of the last post. As always, if I have comments (and you know I won't be able to help myself), they'll be in italics.  –Dan
Hello Everyone- Debra here. So Dan comes home today and tells me that no one has ever heard of an unfitted kitchen! I had to do a quick web check to be certain I had not accidentally made it up (I do suffer from the occasional bout of making things up –occasional?). But luckily, this time I have not done so!
Here's how our unfitted kitchen came about- in addition to being a remodeloholic, I'm also an anglophile. I fell in love many years ago with British decor and I have long paid ridiculous amounts of money to get the British decorating magazines. Which is how I became familiar with the term and the concept of an "unfitted kitchen."
The term 'unfitted' means freestanding or independent and is an English term that contrasts to the term 'fitted kitchen' which refers to a kitchen that is created with continuous bands of cabinetry and counter tops. Fitted kitchens are far more common in the US.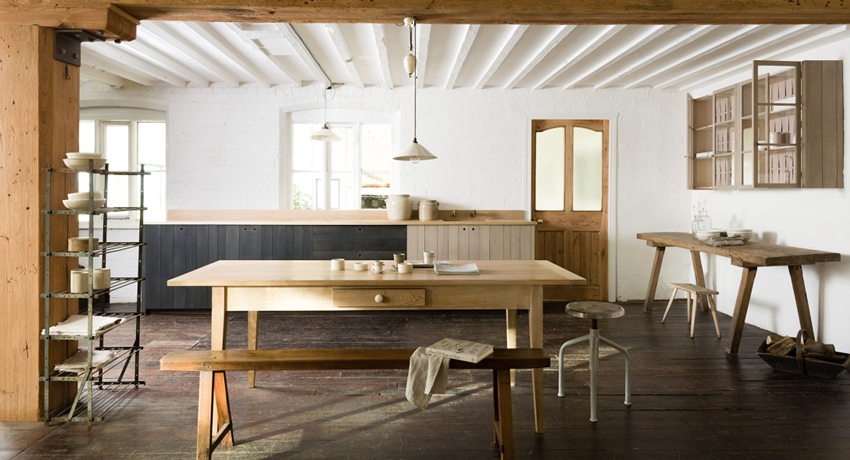 This one is more like ours – a "partially fitted" kitchen. From a cabinet maker in the UK – check out their website (devolkitchens.co.uk) – they make lovely things …. and I'm sure they'd ship for a small (right) fee.
When we were making design decisions on Hildring House, we knew that we had to replace all of the flooring. So anything that would involve flooring change (moving walls, widening doorways, etc) had to be done at the beginning. So, even though we had not budgeted for the kitchen renovation in the initial work, we had to take down the wall and put in the island before the floor could go in (remember all that lovely dirt piled inside our house while they re-ran the plumbing lines– ick).
I had initially planned to leave the back wall of the kitchen intact – but it looked like this: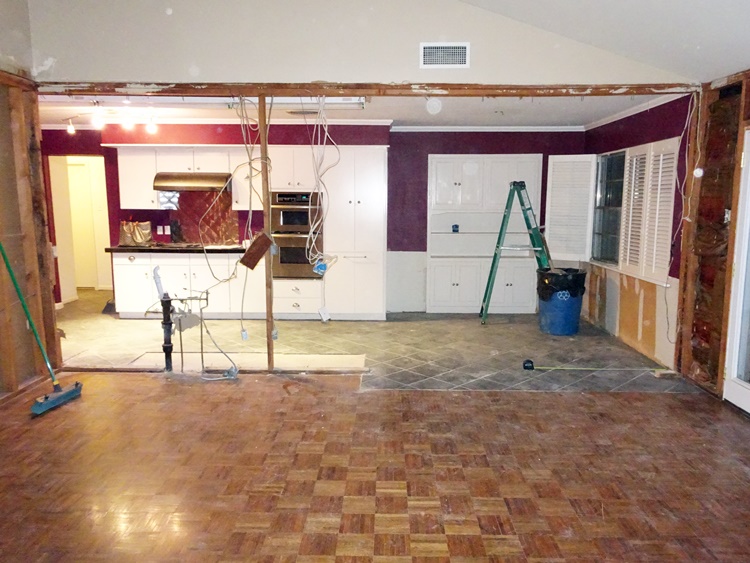 One day I came home and started talking with Shawn (which gets expensive sometimes – we share similar design sensibility). And I realized that all of the family room would be new, the island would be new, then we'd still have that back wall ….. and I would hate it. So we decided to take it down. With no plan for replacement. …. Yeah, that was Dan's reaction also (true). But I knew I could make it okay in the short term and he (mostly) trusts me (actually, I trust her implicitly; it's just the financial consequences of decisions like these that sometimes give me pause).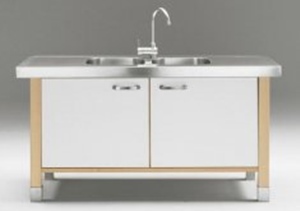 We could've even done a freestanding sink!
Initially our plan was to use this cool old cabinet that we had in storage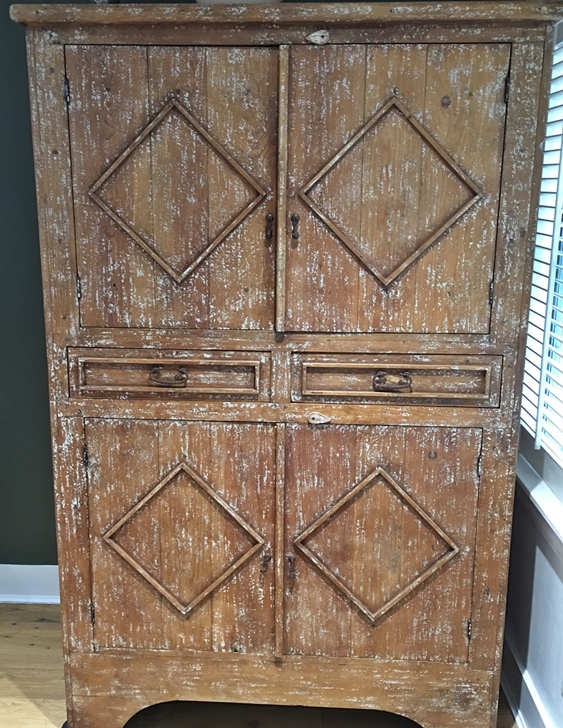 and outfit with drawers for the pantry,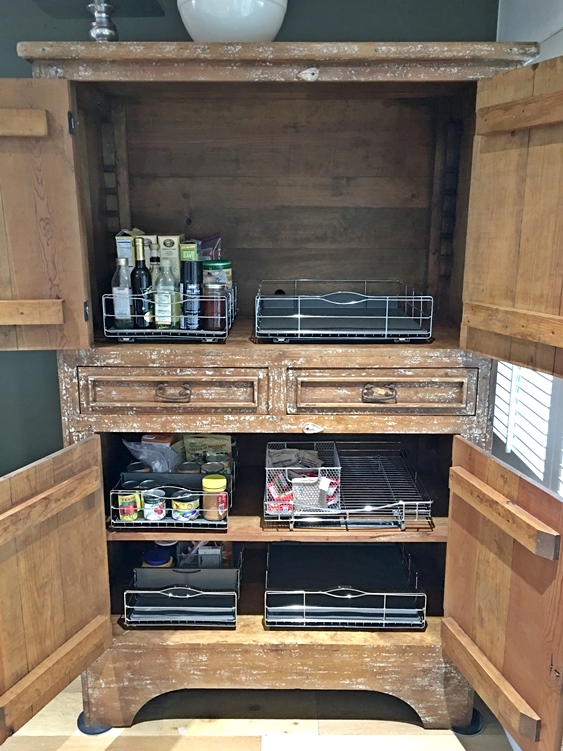 then just get a couple of stainless steel restaurant tables to go next to the stove. This was supposed to be a temporary measure until our budget would allow for additional custom cabinetry. But once we got started, we realized we really love it – and we are making it permanent (for now, at least). (If you've followed us at all, you realize that "permanent" is a relative term. But we are quite happy with it and see no reason to change it in anything like the immediate future.)
Here is a lovely unit from Smallbone in the UK: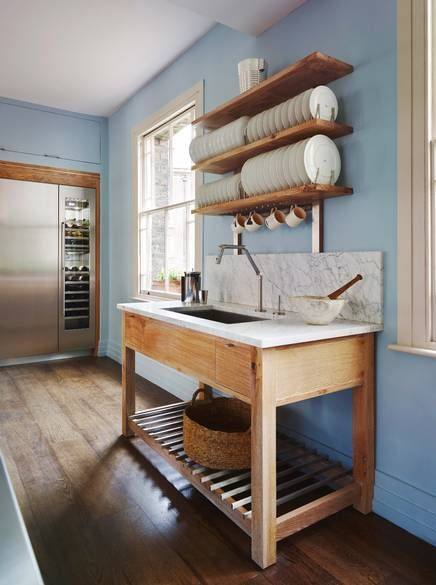 And another from The Visual Vamp: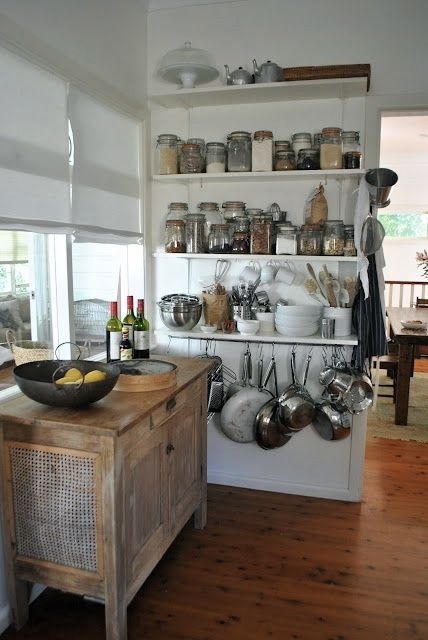 I would love to do another unfitted kitchen and find a cool old piece of furniture to use as the sink base – and I love these simple shelves. We used a stainless shelving unit. It's great because we can move things around and change them if we want. We can always add cabinets someday if we get tired of this look. I like change, can ya tell? (Life is never boring with Debra. And almost always fun. But never boring.)
Here's something similar to ours from desiretoinspire.net – is that a marble back wall? ooooh, great idea!
Here's a cool one from bloodandchampagne.com: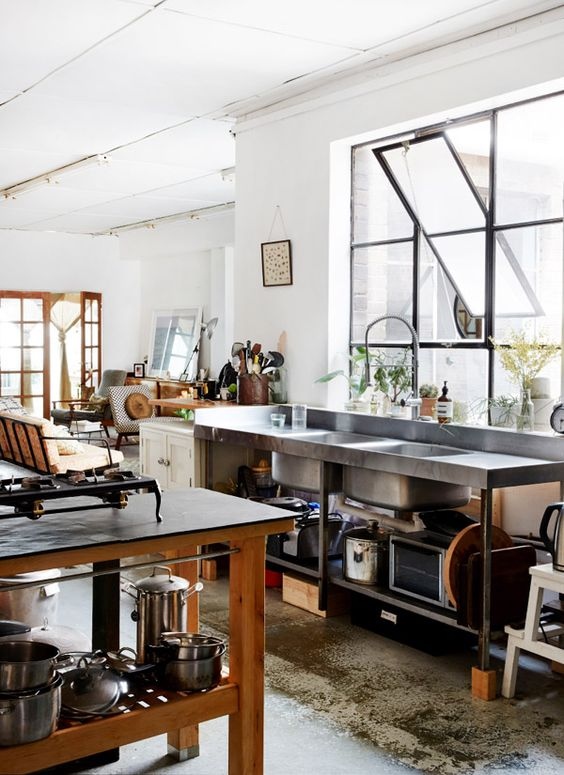 Ikea calls this next one a 'modular kitchen' – I think it would work really well in a very small apartment or guest house.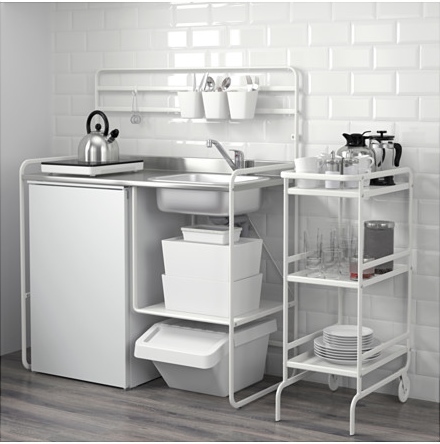 That's the wrap – more photos of our "finished" unfitted kitchen will be coming soon. If any of you have decided you'd like an unfitted kitchen, please call me – I have too many ideas now and I can't use them all at Hildring House. (Seriously. She loves doing this stuff.)