Remodeling & Design Progress Continues
It's the beginning of summer and that brings with it a lot of family activities. You might think that would mean that progress comes to a halt on the remodeling & design efforts at Hildring House. Nope. They've slowed, somewhat, but certainly haven't stopped. A lot of what is going on now involves tweaking, though. You remember the shelves in the library. We're still rearranging but I think they're looking quite nice, don't you?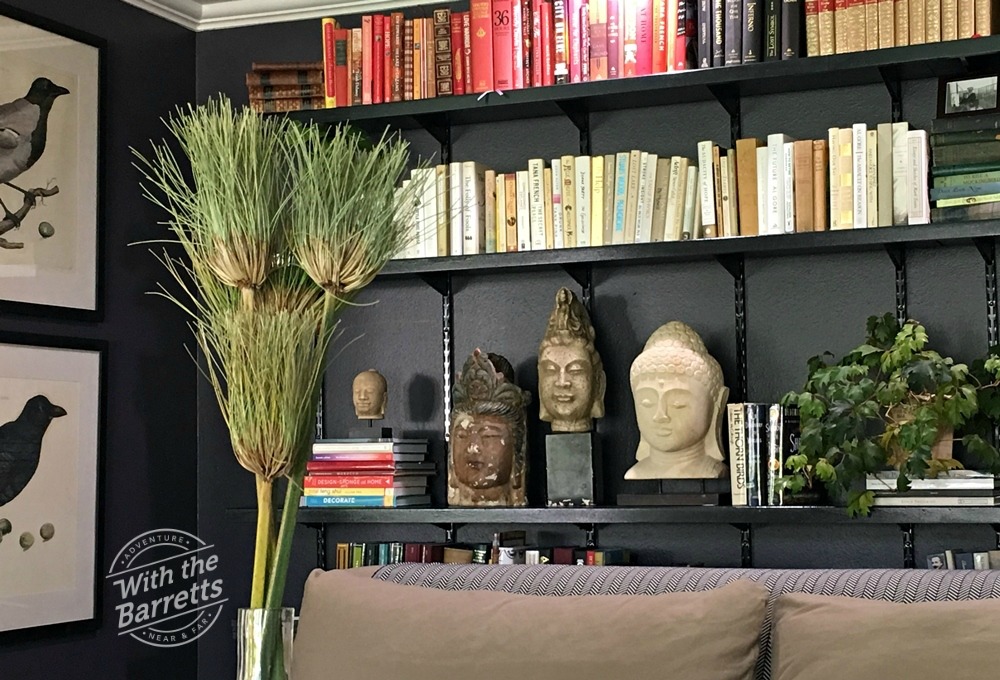 Of course, one of the things that has to happen in any room to help it feel finished is window treatments. In the dining/library space, Debra decided that we needed to keep the open, light feel, particularly with the dark wall opposite the windows. She couldn't find any curtain rods that matched what she was thinking for less than a whole bunch of money, so she opted for a little DIY. The idea and tutorial came from A Storied Style and can be found here.  She found the brackets she wanted, ordered some lucite rods and some rings and helped me put them up.
Easy-peasy, simple and lovely.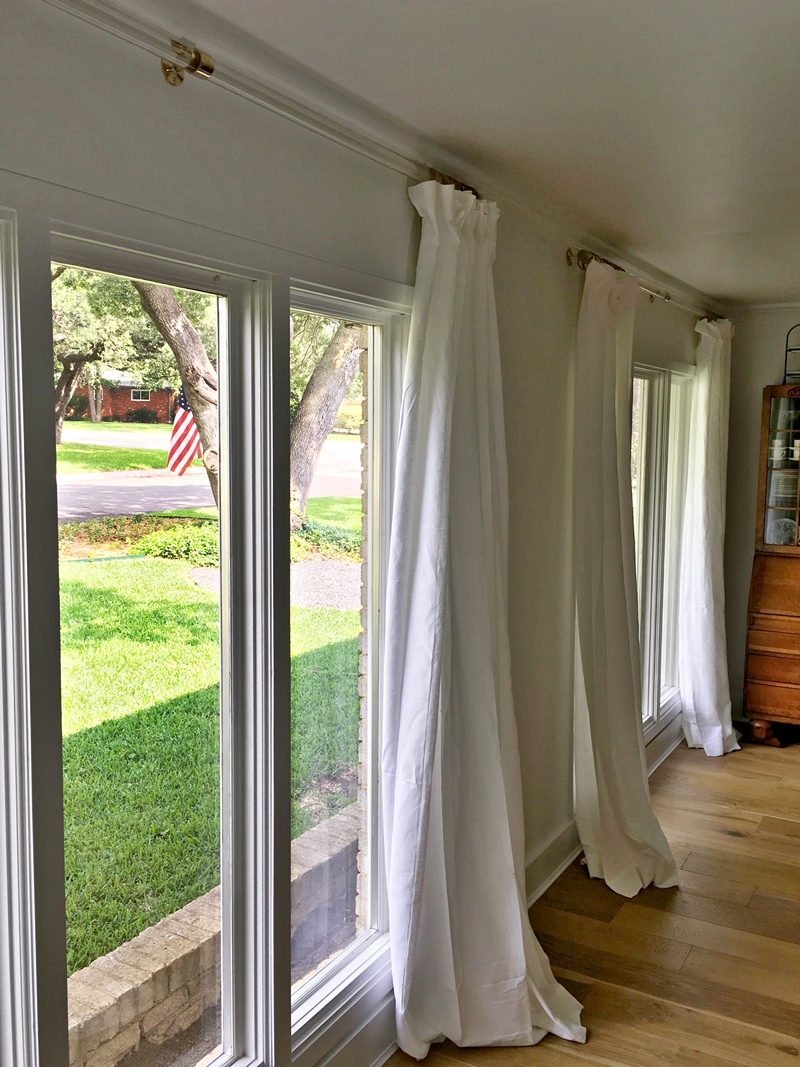 Hanging Around
Hanging mirrors and artwork is another part of the dressing process. For the powder, we found a kind of tortoise-shell framed cutie that fits the space as if it had been designed for it.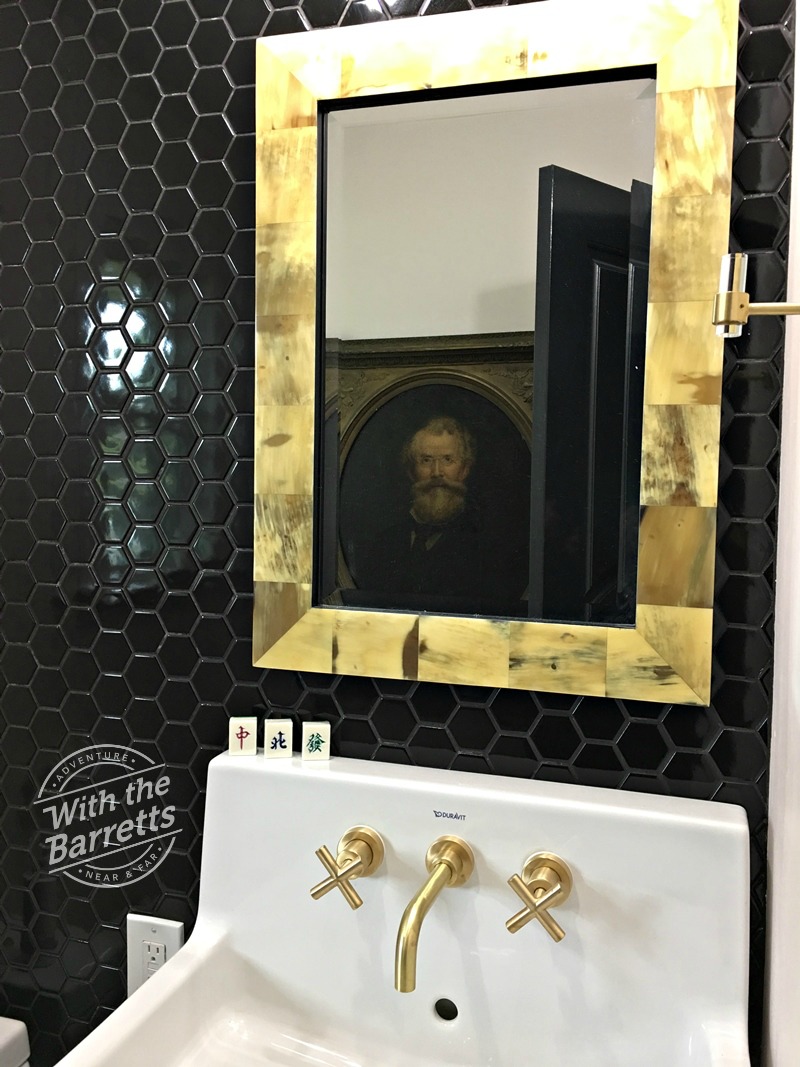 Let me tell you: that black tile is as hard as diamonds. I've drilled a lot of tile and even glass but this stuff was difficult. And Debra has some more accessories that she wants installed on the left side of the wall. I don't have a hammer drill but I'm thinking about borrowing, renting, or even buying one before attempting more holes in that stuff.
And, speaking of mirrors, we found this beauty at a Wisteria warehouse sale in Dallas.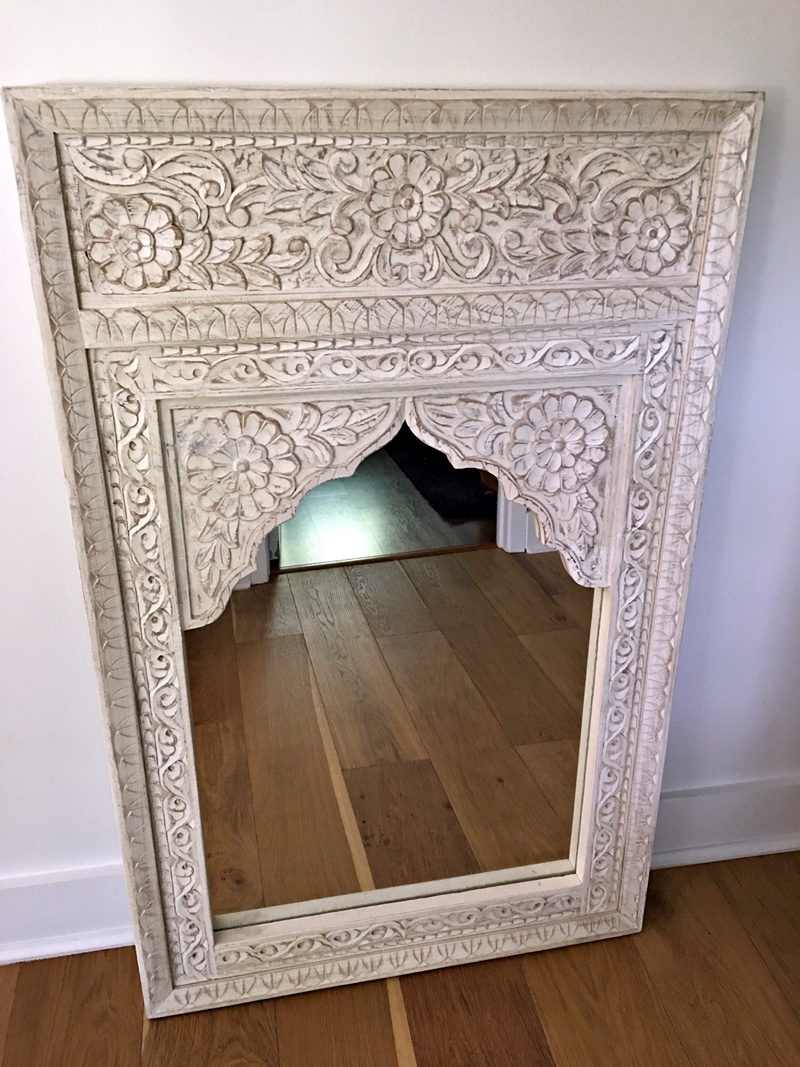 It's sitting on the floor because we're still debating where to hang it and it's heavy enough that, once it's on the wall, I don't want to move it.
In the family room, Debra tried several different things above the fireplace and finally settled on this arrangement, at least for now. I like it – it's a little different.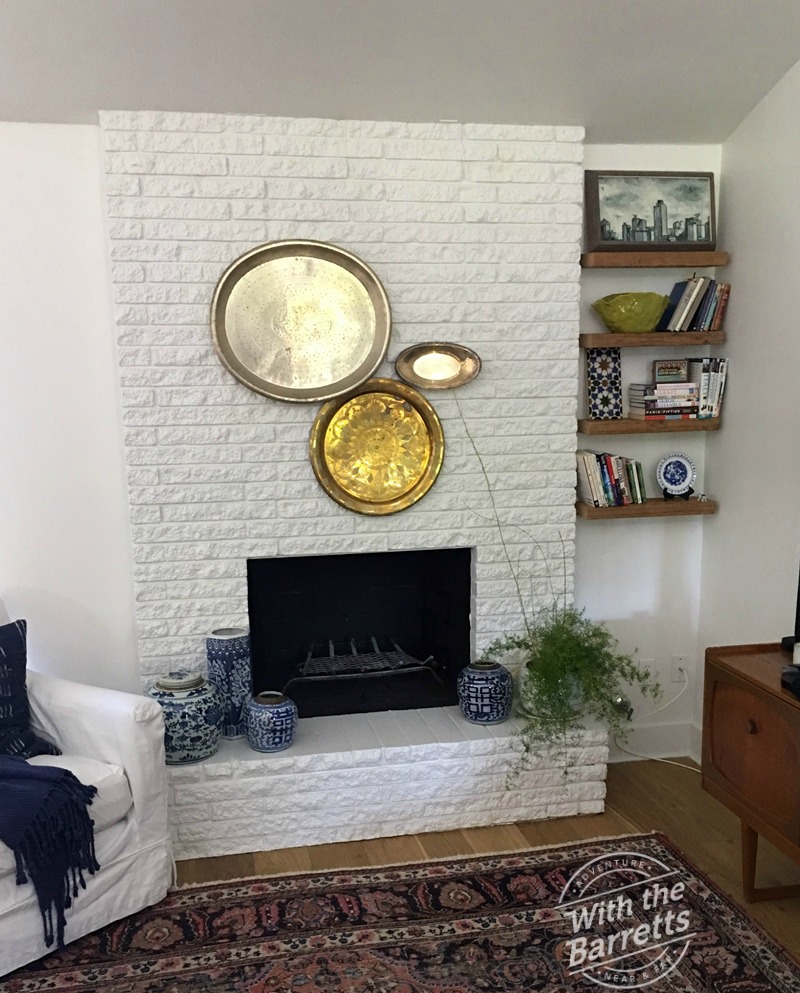 The shelves to the right of the fireplace are pieces that Debra got on Etsy. We use a lot of handmade things from lots of different sources. It's so nice to have unique pieces – and no matter what anyone says, craftsmanship is not dead in this country. As an example of that, you should go over to my friend Curt's blog, Misadventures in Remodeling. He's a real artist and it's a joy to see his projects come together.
Remember the big wall with the wall-washer lights on it? We decided to make it a gallery wall. Here is what it looks like right now: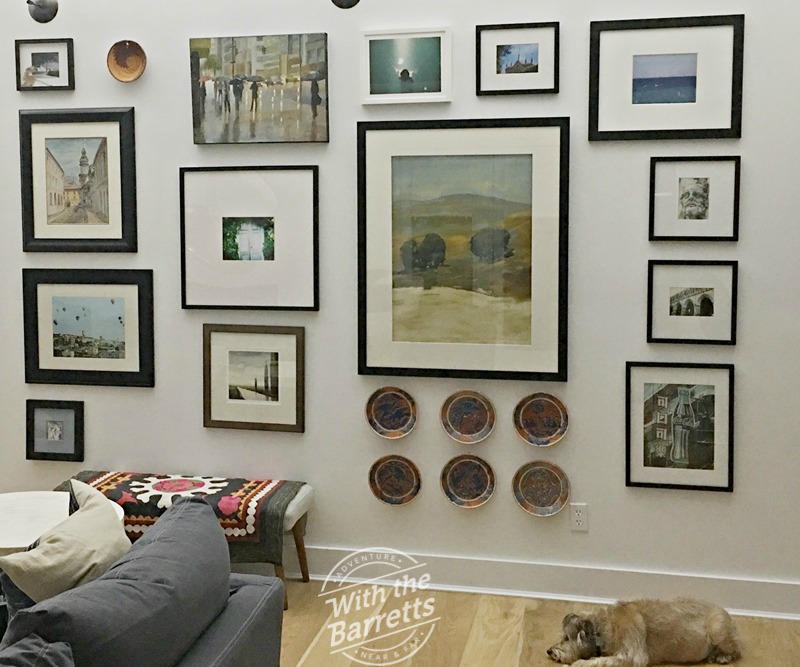 The thing about a gallery wall is that, kind of like exhibitions at a museum, it's likely to change. Stay tuned.
Another Mirror and a Little Light
Debra's been hunting for a light fixture for the entryway since even before we moved in. She finally found one and it pairs perfectly with a large mirror that we've been hauling around from house to house for years. What do you think?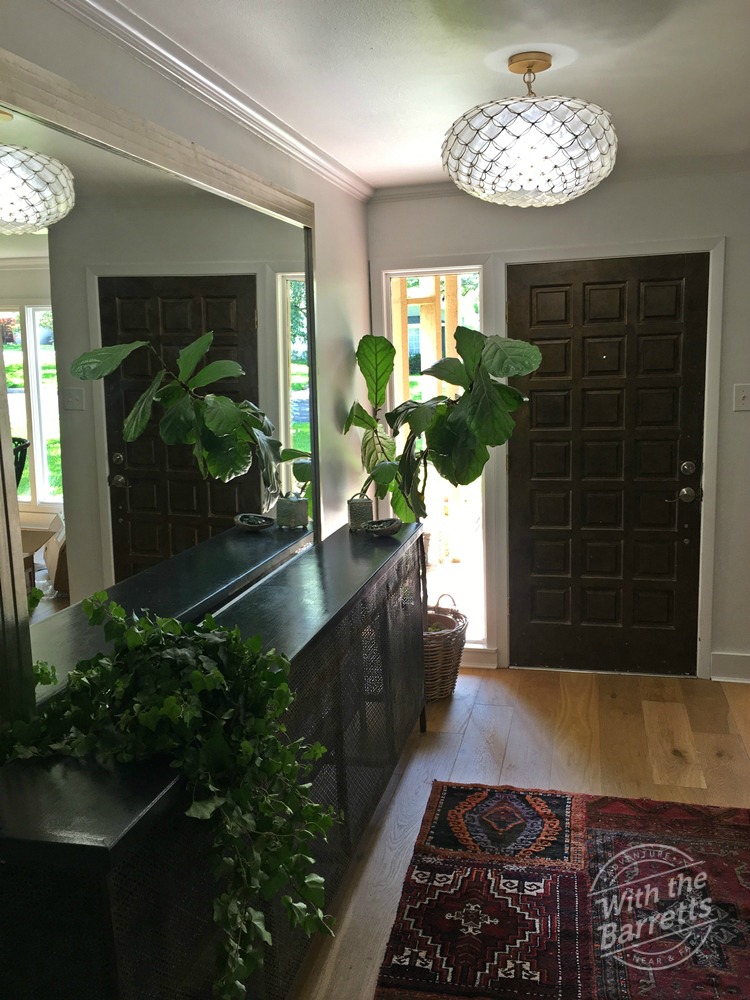 This space is by no means finished but with the light, the mirror, and the whatever-that-thing-is that we had a shelf/top built for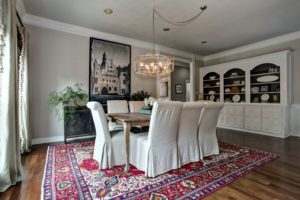 (you may remember that we had it in the dining room with plants in it at the SoMoToHo, shown in the pic at the right ), there is a good foundation.
So – like I said, Hildring House remodeling & design progress is being made. This house will take a long time to finish- once this phase is complete, there are three bathrooms to renovate, windows to add, exterior changes to be made, an office and a master bedroom to rework. So we hope you keep coming back and letting us know what you think.
If you've signed up to follow by email, a sincere thank you. If you haven't please do – it really helps.
Thanks so much for reading!
Dan