Our friend John Stuart over at Trade Up Kitchens – a UK-based kitchen supply company – has a guest post for us: "A Guide to Buying Kitchen Worktops." For those of us in the US, a "kitchen worktop" is a counter top. Actually, "worktop" makes more sense, doesn't it? In any event, here it is. I hope you enjoy it!
Buying Kitchen Worktops
Your choice of kitchen worktops will dramatically affect the whole aesthetic of your kitchen. Choosing your kitchen worktop is one aspect which should never be overlooked during the design process. Similar to your flooring, your kitchen worktops sit on a horizontal plane, making it a prominent feature in your kitchen.  With so many options available, choosing your kitchen worktop can seem like an impossible task but our guide is on hand to help you find the best option for you.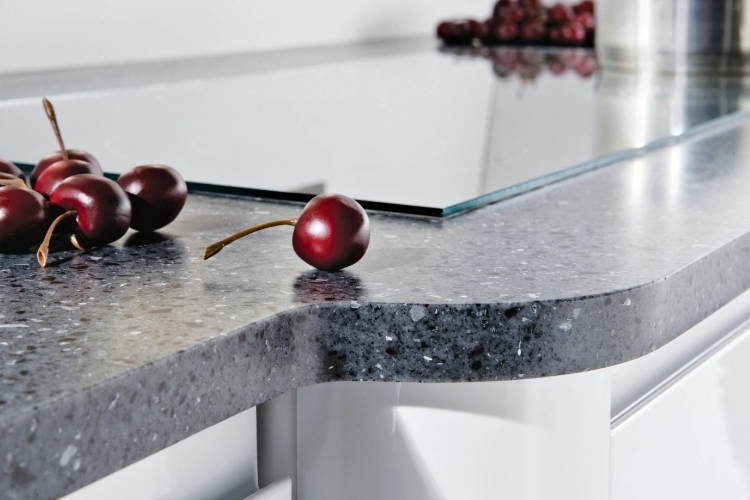 Before choosing your kitchen worktop, it's important to consider two things:
Your budget
Worktops come in a variety of materials, all at differing price points. Before you decide on a material for your kitchen worktop, it's important to assess your budget – this will dramatically influence your choice of worktop.
Your lifestyle
If you're choosing kitchen worktops for a student house or you've got a house full of children, then you'll need to consider a sturdy, low-maintenance worktop. Alternatively, if you're likely to clean up any spills immediately and don't mind dedicating a little time to its maintenance, then you've got a few more options when it comes to kitchen worktops.  
After you've taken these two things into consideration, you've got to choose from the following kitchen worktops:
 Laminate
Laminate is often considered to be the most budget-friendly material kitchen worktops. These worktops are available in a wide variety of colours and designs, so you're sure to be able to find the perfect laminate to fit with your current kitchen decor. Laminates are also non-porous and easy to clean and maintain, making them one of the most child-friendly options.
Pros :
Easy to maintain
Budget-friendly
Available in a range of styles
Easy to fit without a professional
Cons:
Particularly susceptible to water damage due to timber joints
Not resistant to heat or steam
Granite
Granite worktops are a fashionable choice of kitchen worktop due to its luxurious appearance, which can often become the focal point of the room. Strong, functional and durable, granite worktops are one of the most logical choices of kitchen worktops – if your budget will allow. Granite worktops are also a popular choice among keen cooks and bakers as its cold surface offers the ideal setting for pastry making, among other things.
Pros :
Not susceptible to scratches
Heat resistant
Long-lasting and not susceptible to stains if sealed correctly
Resistant to chemicals
Cons:
Can be stained easily if poorly sealed
Can harbour bacteria if it's not sealed properly
Needs sealing on a regular basis
Susceptible to chips
Not as budget-friendly as some other options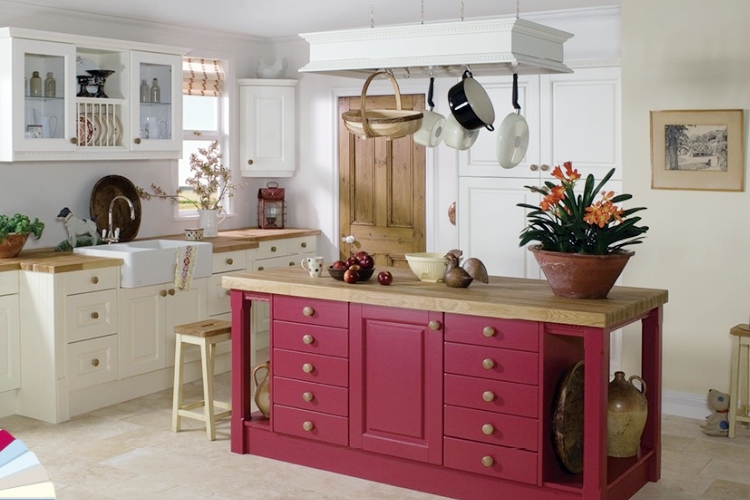 Wood
A solid wood worktop can truly transform your kitchen. Whether you've currently got a contemporary or traditional kitchen – a wooden worktop will seamlessly blend with your current decor. Even as it ages, wooden worktops still look incredibly warm and full of character. Some popular choices of wood for worktops include; oak, walnut and beech.
Pros :
Can be sanded down for maintenance
Warm, inviting appearance
Each piece of wood is unique
Naturally anti-bacterial
Cons:
Needs to be oiled regularly (every 12 weeks)
Extremely susceptible to water damage
Prone to staining
Vulnerable to scratches (especially on surfaces used for chopping)
Glass
Glass kitchen worktops can add a chic, contemporary feel to your kitchen. A glass worktop offers a sleek, glossy and stylish finish and can make a small kitchen feel larger due to its reflective surface. Available in a huge range of different colours and designs, glass worktops can help you to truly customise your kitchen.
Pros :
Extremely hygienic
Durable
Heat and water resistant
Scratch proof
Versatile
Highly customisable
Cons:
Visible joints
Expensive to repair
Not resistant to cracks and chips
Stainless Steel
Most commonly used in professional kitchens, stainless steel kitchen worktops offer many benefits. They're best suited to professional kitchens due to the fact that they're highly resilient and extremely hygienic. Similar to glass, stainless steel can create the appearance of a larger, brighter kitchen – especially with the use of strategically-placed lights.
Pros :
Waterproof
Hygienic
Heat resistant
Acid resistant
Low maintenance
Cons:
Prone to scratches
Susceptible to dents
Can create a cold, uninviting room
(Dan here – I can't resist an editorial comment. You may remember that in Debra's unfitted kitchen at Hildring House, we have two stainless steel worktables on either side of the range, in place of counters. We love them. You can revisit those posts here [the DesignSponge post] and here. The picture below is from our photoshoot by the wonderful Amber Shumake.)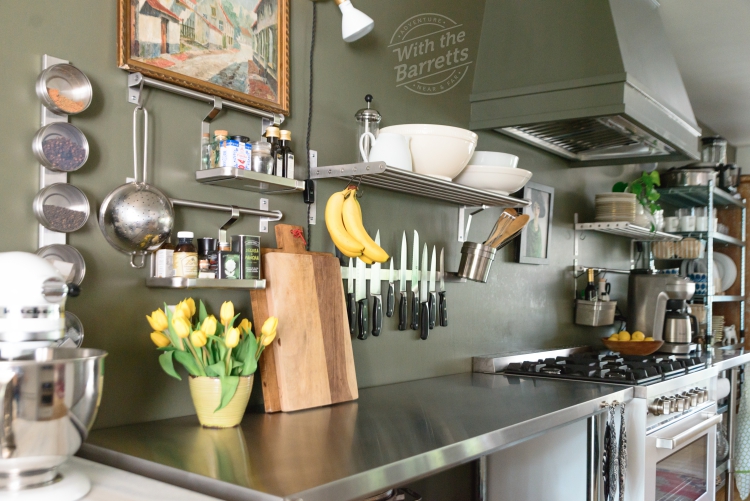 Solid Surface
Solid surface worktops are perfect for creating smooth, fluid shapes which can be customised according to your preference. These worktops are made from a combination of acrylic resin and natural minerals, which is what makes them so customisable.
Pros :
Hygienic
Non-porous
Easy to clean
Can be tailored to your tastes
Waterproof
Damage can be easily maintained
Cons:
Won't suit a more traditional kitchen
Can be more pricey than other materials
Will easily collect scratches and marks over time
Not resistant to heat
Quartz
Quartz kitchen worktops are made from a man-made granite and offer an array of benefits. They are highly customisable as they're available in a variety of styles and colours to suit any style of kitchen, although they're better suited to a more contemporary-style kitchen. As it is non-porous, Quartz is extremely hygienic, stain resistant and scratch resistant, although it can be easily damaged by heat.
Pros :
Durable
Scratch proof
Low maintenance
Highly customisable
Non-porous
Hygienic
Cons:
Not resistant to heat
Can be expensive when compared to other materials
Won't fit with a traditional-style kitchen
Choosing your kitchen worktop is an exciting process, but a huge investment. Take your time choosing your worktop to ensure you find the perfect worktop to suit your needs.
About the author: Trade up kitchens is a family-run kitchen supplier, providing all types of kitchenware including work surfaces, accessories, units and furniture to name just a few. They are passionate about providing their customers with the best possible prices to help them to create their dream kitchen.
So…there you have it. Many thanks to John Stuart from Tradeup Kitchens for this guest post on "kitchen worktops." Go take a look at their site – they do wonderful work. I know that some of With the Barretts' readers live in the UK. If you're in the market for a new worktop, give them a try. 
Many, many thanks for reading. We love having you along With the Barretts!
Here's hoping that your Holiday Season is safe, peaceful, and memorable in the best of ways – brimming with joy!
Best –
Dan