We closed on a new property yesterday. We're calling it Hildring House. It is a 1960 modern-ranch-style home. I guess you could call it Radern. Or Monch. For now, we'll stick with Hildring House. This will be a short post, just to introduce it and give a little feel for the massive amount of work that has to be done to bring it up to Debra's standards. The potential definitely is there, however, and we're looking forward to diving in. This first pic is ill-defined, to illustrate that it's in a kind of amorphous design state.
Let's bring it into sharper focus: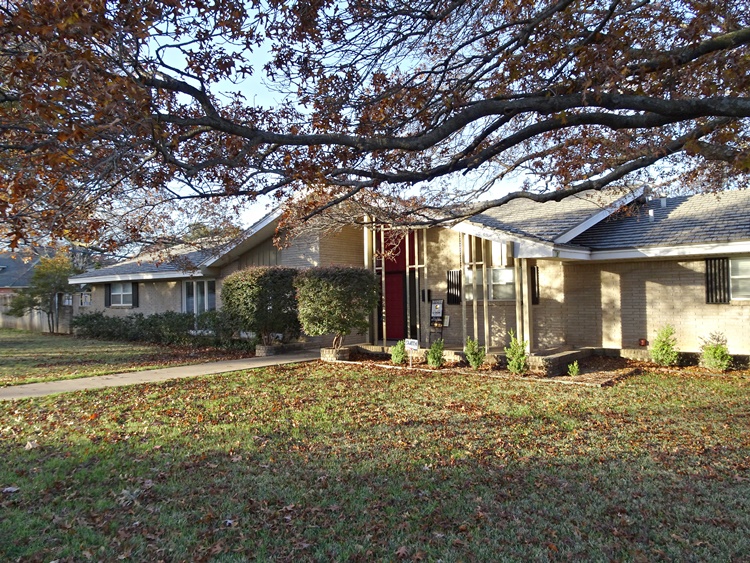 You can tell that it has some interesting lines. The entry area, for example, fairly sings with possibilities but it's difficult to hear through the two shades of red (you would think that they would at least match) and black trim – not to mention the overgrown fringe flower bushes.
Inside, there are interesting architectural elements that fail for lack of imagination. Take a look at the nice soaring ceiling in the family room that slams your eye into the wall of the galley kitchen.
As you might expect, that will change. And it will be really cool, I promise.
And check out the wretched faux-paint job on the brick of the fireplace:
Oh, yes – the original 1960 parquet flooring. We debated keeping it, to funk things up. Not going to happen, though.
If you've followed us, you know that we have a thing about coffee. Since we're going to live in this space, there absolutely has to be a coffee bar. But where? A coffee bar has to have a sink and that requires plumbing changes and since this is slab we're talking jack-hammering and then there is the drain and …… you get the idea. But I think we know where it's going.
The space shown above will be the dining-library. The door to the right goes into the kitchen. That door will be enlarged somewhat and the coffee bar will go right outside it on the wall that you're facing in this pic. And, yes, the carpet will be replaced with hardwood flooring.
Here's a particularly hideous example of necessary demolition –
I don't even know what to say about the inappropriately massive spa tub, complete with fake limestone tile decking, thrust out into the middle of the en suite master bath. What were they thinking?
In any event, we hope that you join us for the Hildring House project. Watching this metamorphosis should be both interesting and fun (and, hopefully, inspiring for your own projects!).
And so it begins –
Thanks for reading!