I don't know if things really are moving glacially on the Hildring House renovation or if it's just because we're living there while it's happening. Progress is being made, however. Let's take a look at some of the recent developments. Remember the Ikea Pax closets that I was putting in the grandboys' room? Here they are:
Two units, one for each boy. They'll be perfect for the occasions when they stay with us.
New Laundry and Powder Rooms
The new doors for the new laundry and powder have been painted and they're gorgeous! Here is the one on the laundry: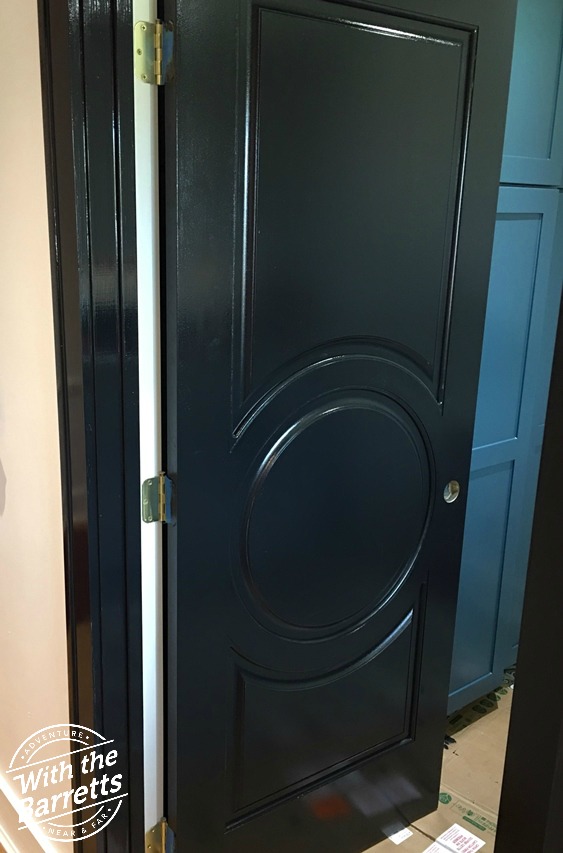 When the "jewelry" (handles) is installed, these doors will be just about perfect.
And speaking of the blue cabinets, they look great with those special floors: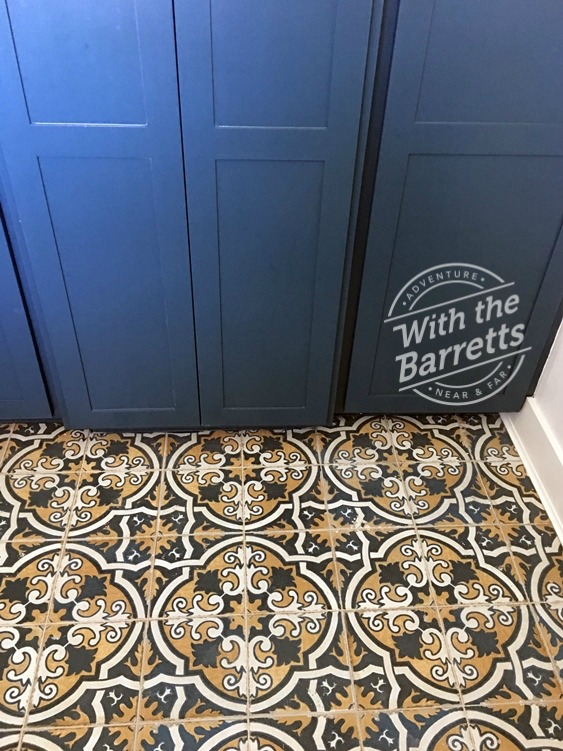 Debra found some ultra-cool handles for these cabinets that I'll show in a future post, after they're installed. Not having handles, however, hasn't stopped her from filling the cabinets (storage space is at a premium in Hildring House, especially compared with the SoMoToHo).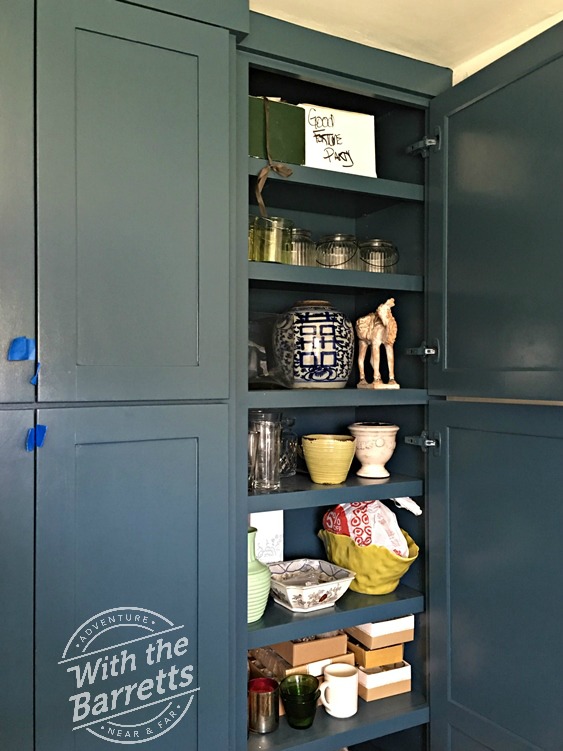 We ran into a problem in the new powder. Someone (I won't mention who, Shawn) miscalculated the amount of tile necessary for the wall behind the toilet and sink.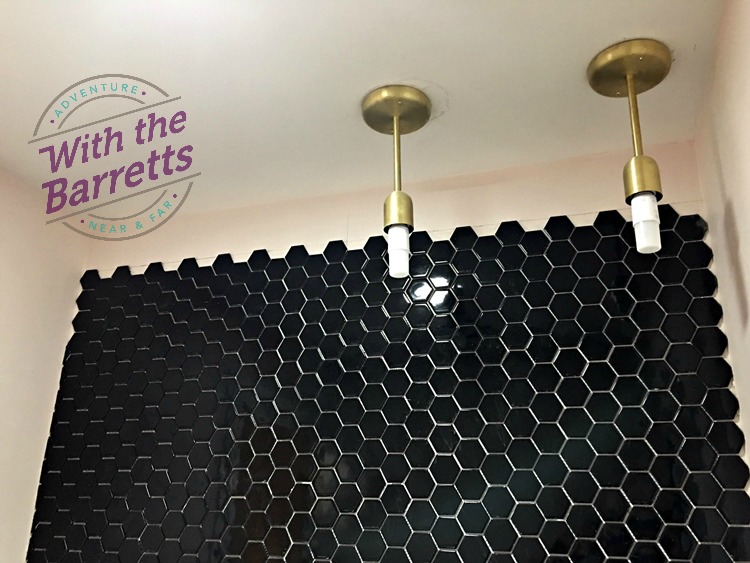 So. It will be a bit before that wall can be completely tiled and grouted, which is necessary before the toilet and sink can be installed. Good thing there are other options (albeit not nearly so cool).
Kitchen
Things have been happening in the kitchen, even if not as rapidly as we might like (do they ever?). The biggest change was paint. The island and refrigerator cabinet have been painted and the white appliances have been installed.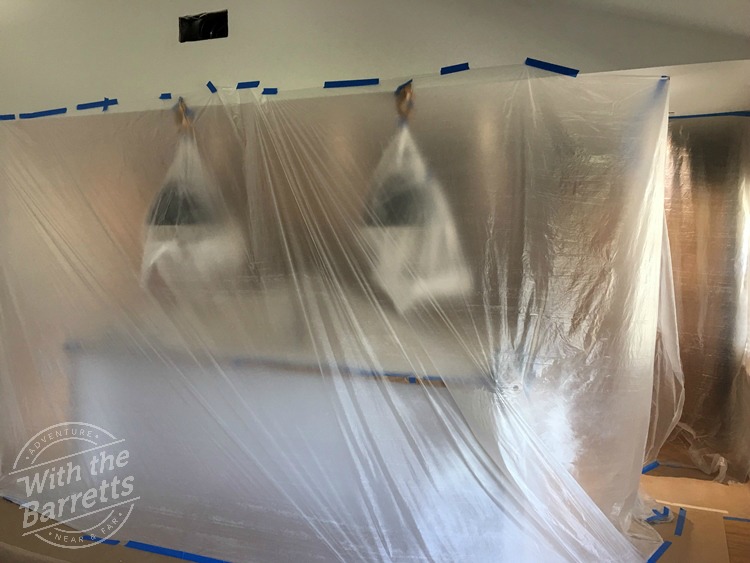 The painter – the wonderful Monte Burns – had this nifty gadget to help with masking for painting: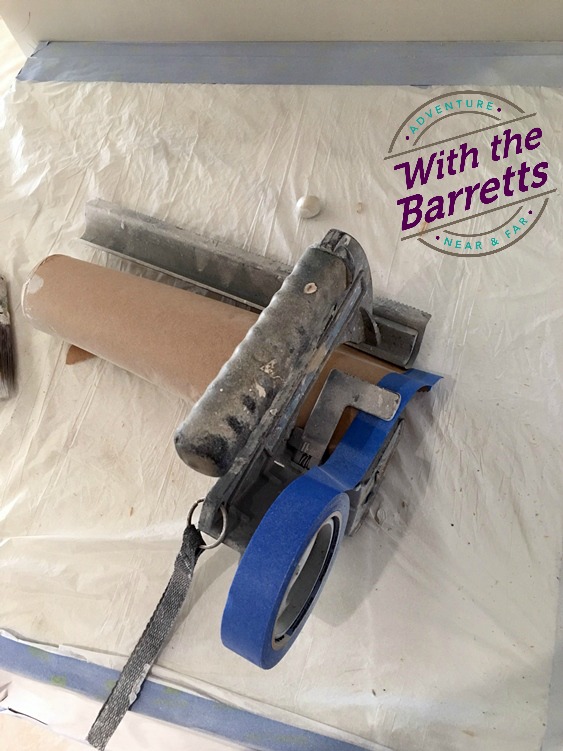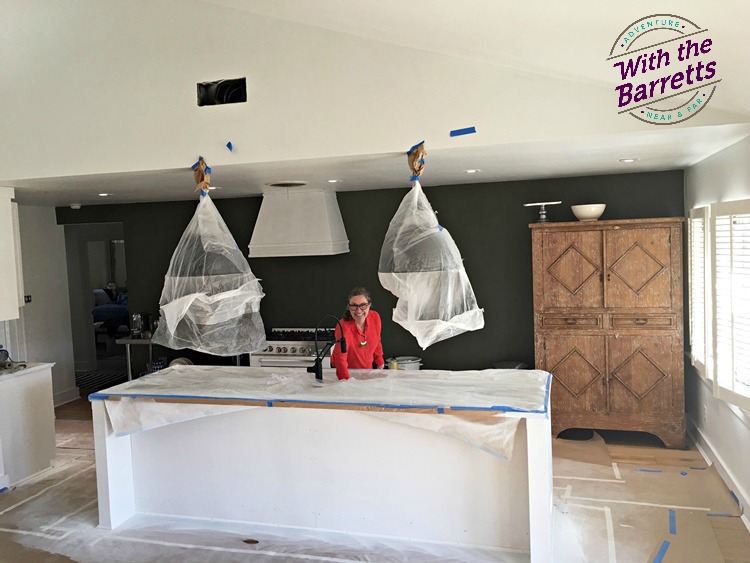 In the next pic, you can see the contrast of the white island with the dark olive back wall.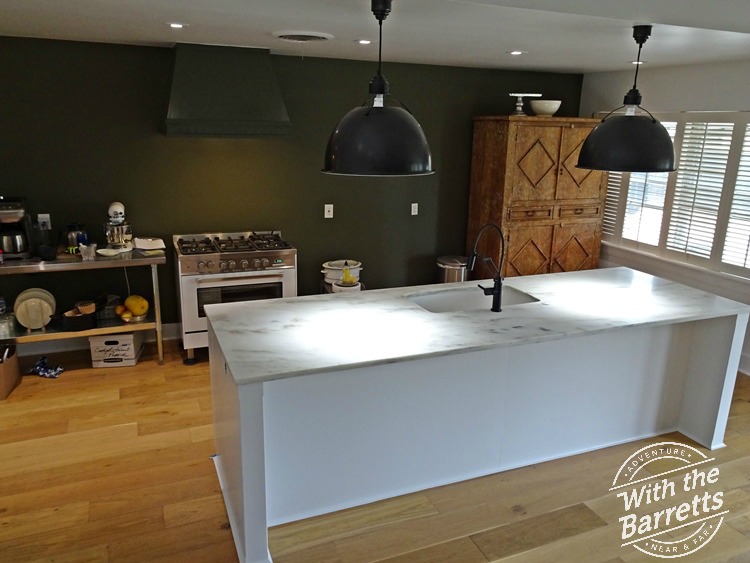 And here are the white refrigerator and dishwasher:
We (and I did actually have some input into this decision) decided to try an "unfitted" kitchen: open shelving, steel work tables, separate furniture pieces, rather than the typical, installed cabinets. More like a commercial kitchen. I'll close with a shot of the unfitted kitchen thus far. Additional shelves and LED adhesive strip lighting will be forthcoming. But we are pretty tickled with the results to this point.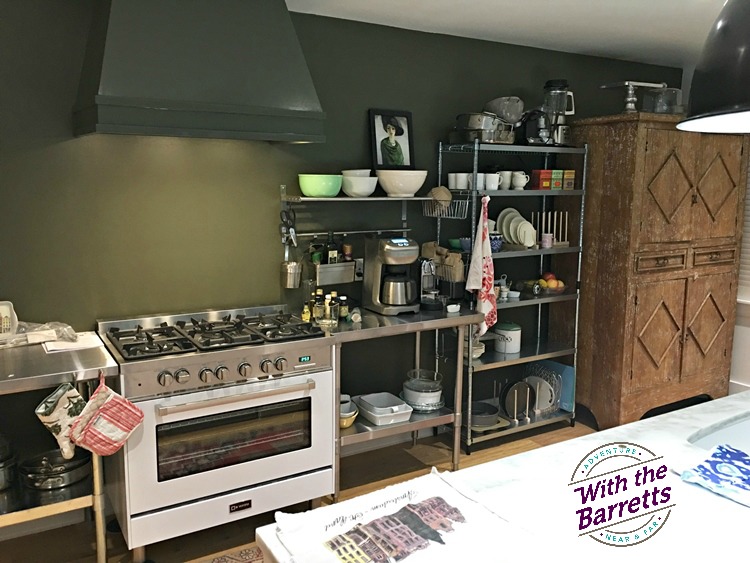 So. That's the news from Hildring House for today. One day it will be a sharp, comfortable space. We hope you'll come along With the Barretts and watch it happen!
Thanks so much for reading. If you haven't already, please sign up to follow us by email. We'll never give out your address – promise – and you can watch the changes as they happen.
And feel free to use the comment section below. We love hearing from folks!