Hildring House Riffing – A Place for Living
We're grandparents. It doesn't solely define us but it's an integral part of who we are. As grandparents, it's important to us that Hildring House – or anywhere we reside – be a place for living, not just staying. And if you read Debra's last post,  you know how one of the core purposes of design is to harmonize an environment with the people who exist in it.
A Place for Living – Inside and Out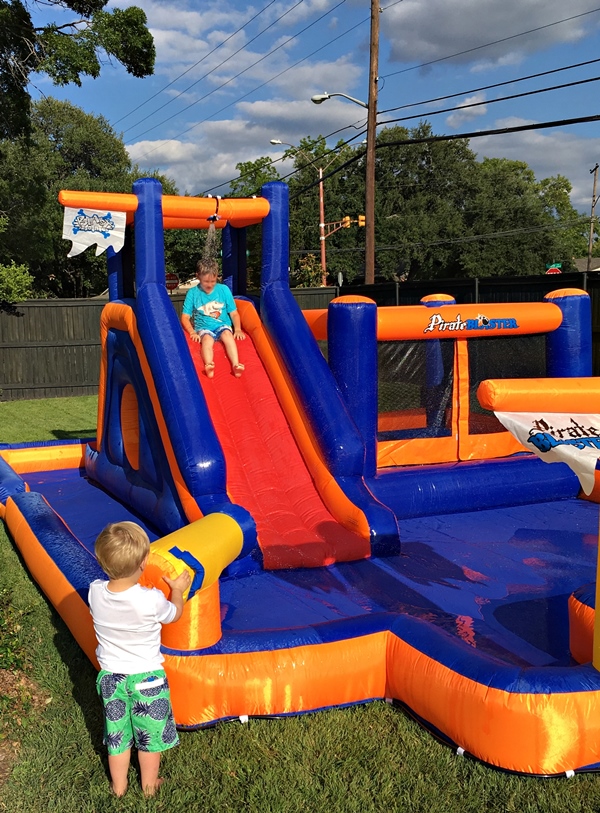 This represents some of the things going on outside at Hildring House, and some fun it is! A grandchild's laughter is some of life's most beautiful music. But let's move inside Hildring House for an update: We might as well start in the grandboys room. Our go-to finish carpenter, Justin Cowdin, installed a desk big enough for two.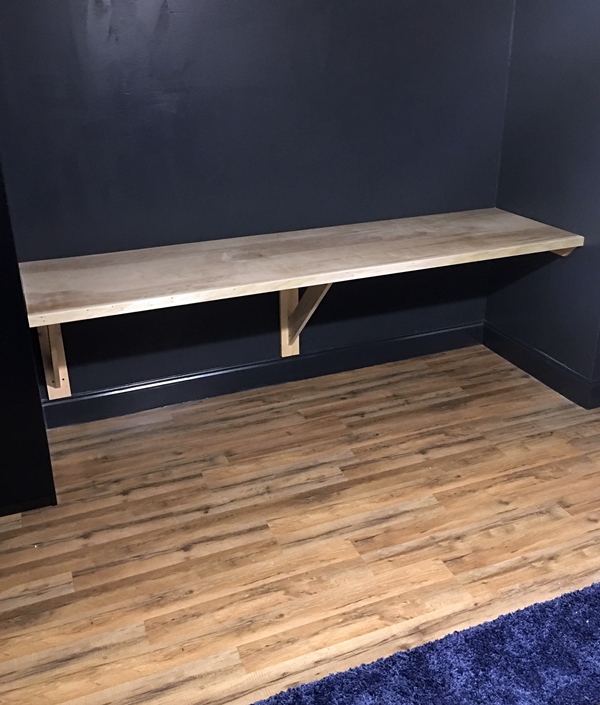 Our original thought was to paint it to match the wall but I believe that we'll just tung oil it, instead.
Now that the younger one is graduating to a big-boy bed, we can optimize the space with bunk beds. The ones below, from Wayfair, are sturdy and well-designed, although they would have been impossible to assemble with just the tools provided. If I hadn't had an allen wrench socket adapter, they would still be lying in pieces all over the floor.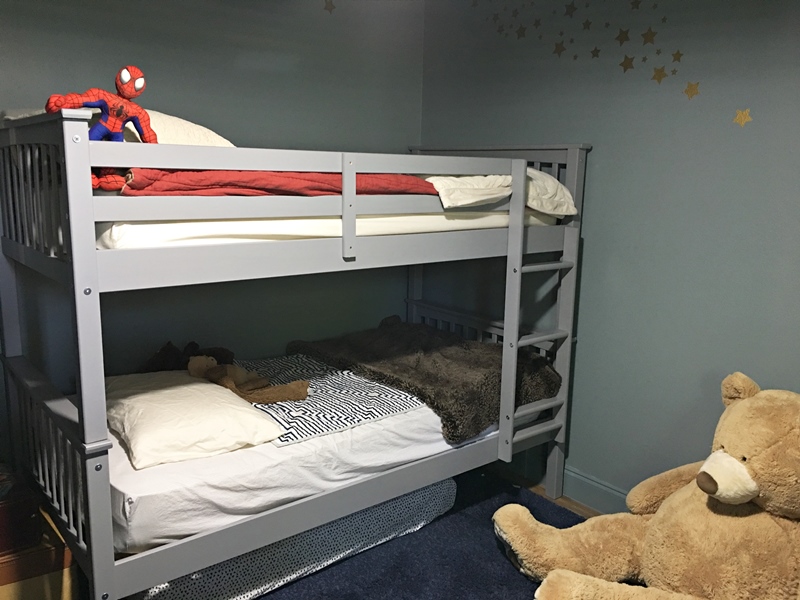 The paint on the walls, trim, and ceiling, by the way, is Benjamin Moore Cloudy Sky. It's lovely – deep and rich. You can see that Debra has started a swoosh of stars that goes up onto the ceiling. It will be really special when it's done.
There is a Jack-and-Jill bath that connects the grandboys' room to the office and Debra found this applique for the door: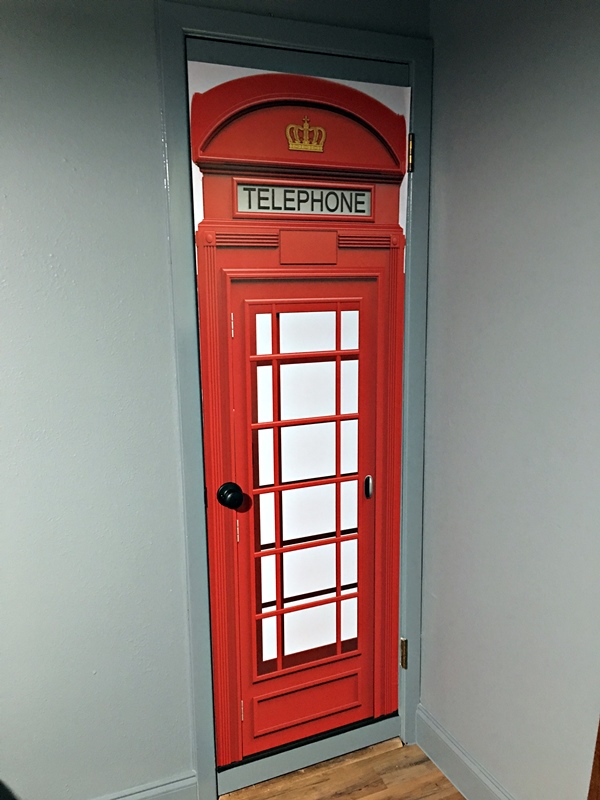 Cute, huh? A word of advice, though: if you want to use peel-and-stick appliques, don't paint the intended surface first. We're not wallpaper professionals, by any means, and every time we removed it to re-position, the paint came off with it. Oh well, we finally got it done.
And In Other Areas
Some more of Justin's handiwork can be found in the laundry room.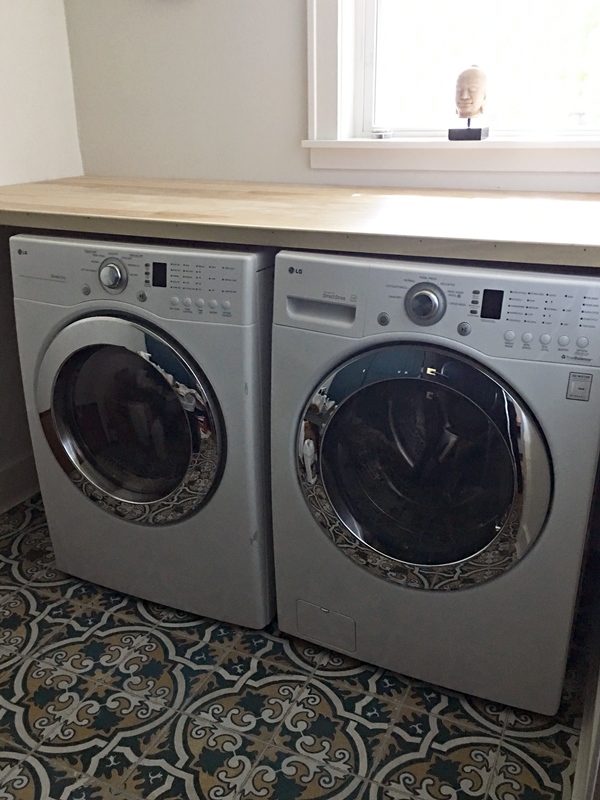 I think tung oil may be the ticket in here, as well. I think it will look really good with the tile, don't you?
One of the things that Debra does is arrange little vignettes to get a feel for how a space functions as a place for living. I've learned that they're (usually) not permanent and don't mind re-arranging the furniture, as long as it's not too heavy. This one will be easy to dismantle but it's kind of fun for now: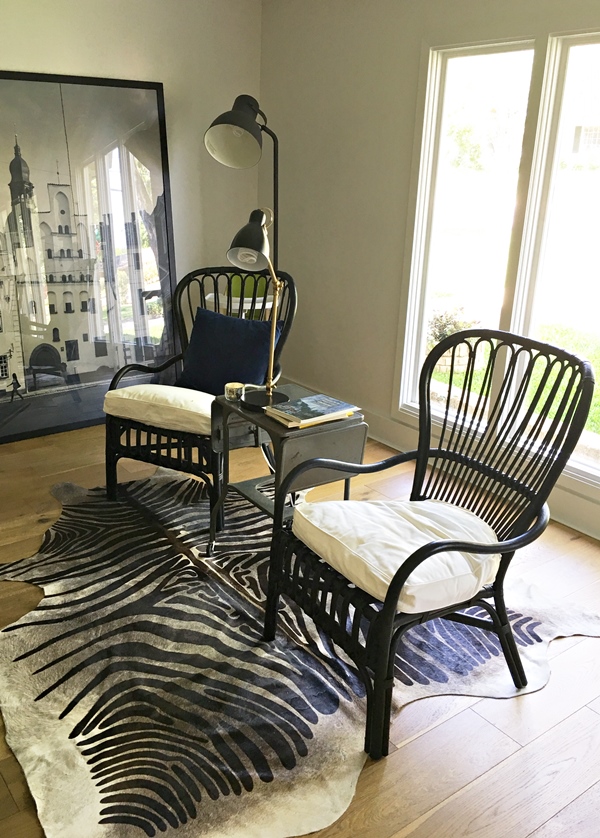 The Library area is adjacent to this space. You may recall that the accent walls in the Library were painted with Farrow & Ball Almost Black. We toyed with several ideas for shelves in the space but ended up opting for a simple but functional arrangement. But it required quite a bit of paint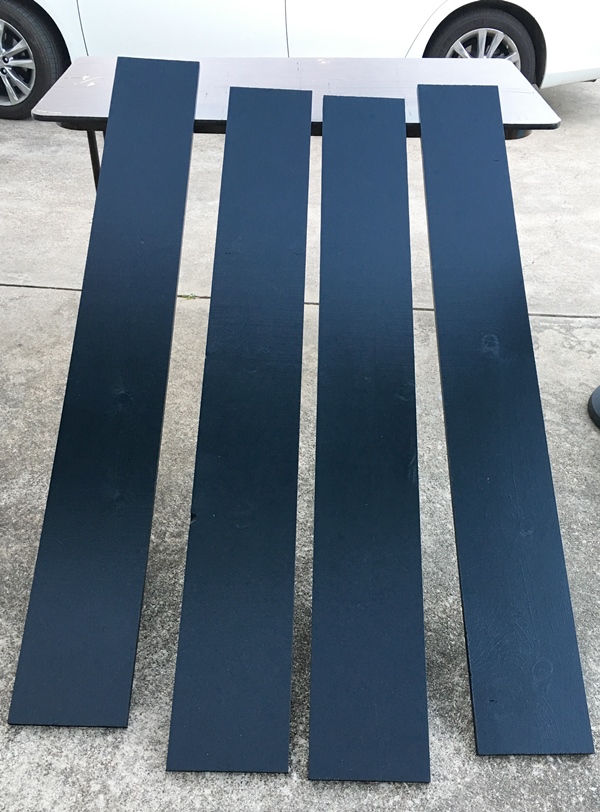 and lots of screws for stanchions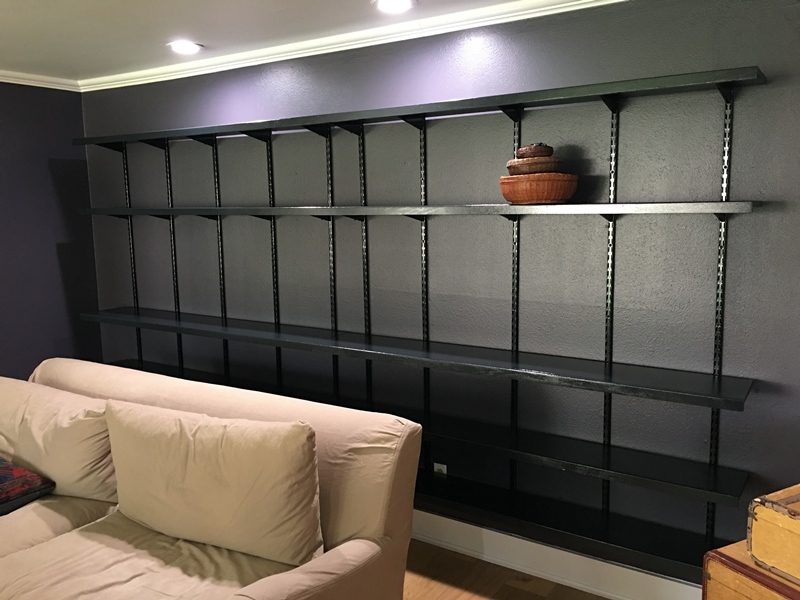 but they're going to work quite well, I believe: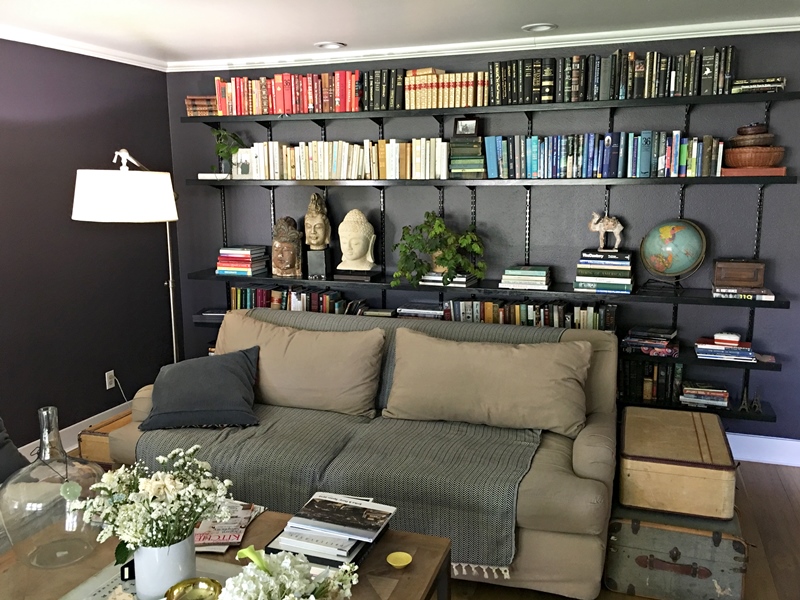 The furniture arrangement is not permanent. The sofa, for instance, is too big for the space and will have to go. Debra is thinking about twin facing love seats perpendicular to the bookshelves and I'm lobbying for that. But we'll see.
A Little Wow Factor
The sink in the powder bath is finally functional! (That's not the "wow," by the way.)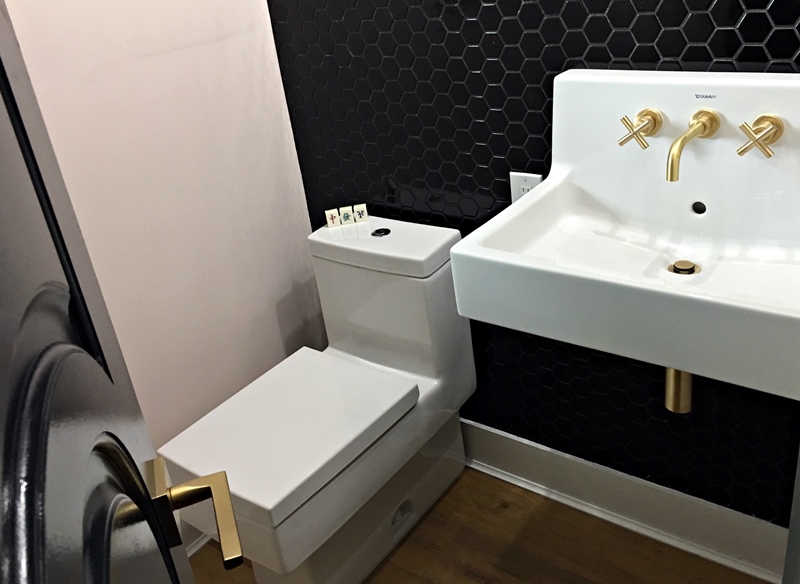 We still need to install the mirror, as well as the bath hardware – towel hook, toilet paper holder, etc. – but at least we now have a guest powder that guests can actually use.
Coming out of the powder into the hall, you get this: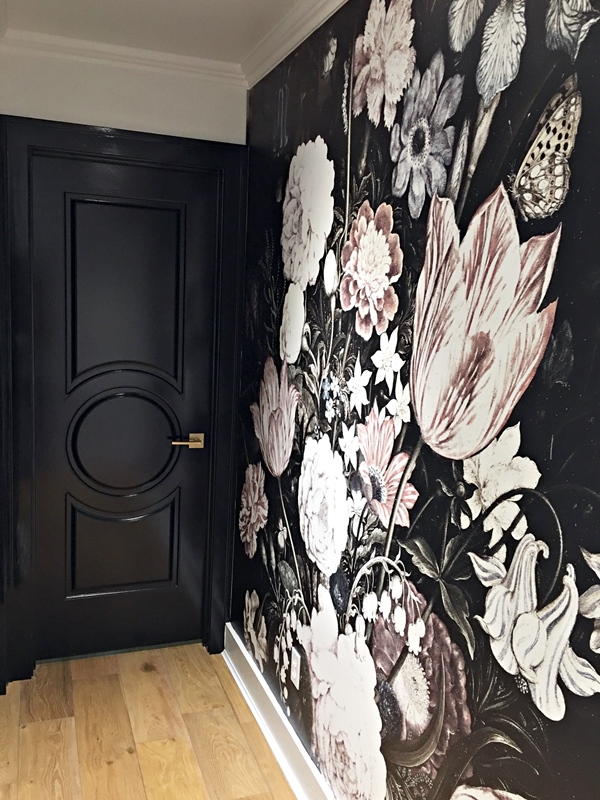 And this is how it looks from the family room: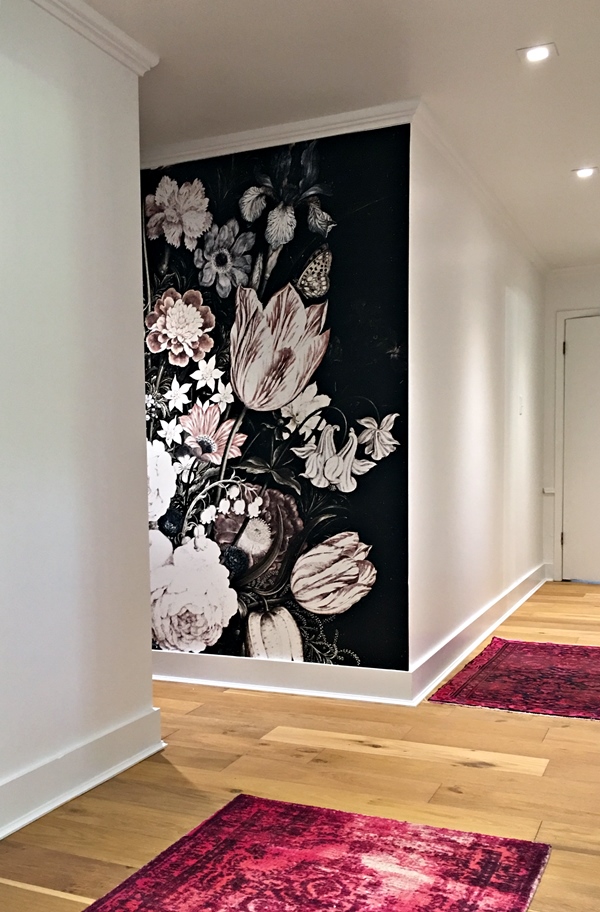 I mentioned that we are not wallpaper professionals. True, but we installed this. It was a pain and required much cussing. But we did it. I'm pretty proud of us.
That's the news from Hildring House this week. I'm very excited about Debra's upcoming posts on Why Design Matters but I'm even more excited about seeing her design taking shape at Hildring House (I'm a little selfish that way). I hope you'll come along for the rest of the journey!
Thanks so much for reading – you make it so much more fun!
Dan