Crete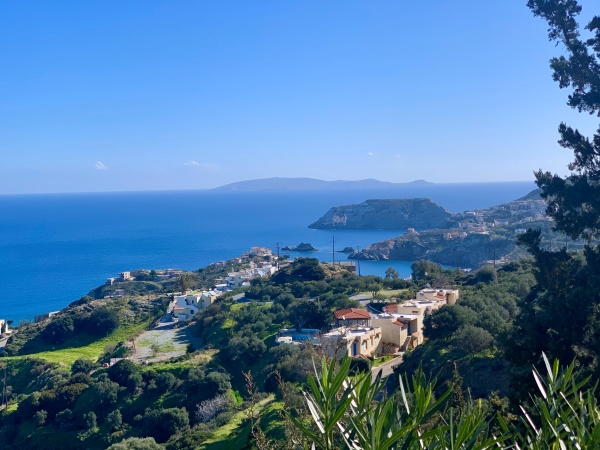 As a boy, the name "Crete" conjured for me a dry and dusty adventure, swirling with images of kings and minotaurs and mythical heroes.
When presented with the opportunity to see it for real, in person, I said, "Yes, let's do it!"
So, Debra, who does almost all of the planning on our trips (Notice how I steadfastly refuse to use the past tense? We will one day be welcome in other countries and we will travel again. I refuse to believe differently.), added a side trip to the largest of the Greek islands during our visit to Athens at the end of February 2020.
Not at all as I imagined it
I don't know why my reveries of Crete – and Greece, in general, for that matter – were dry and dusty. Chances are, I saw a B-movie as a child that was filmed in some dry and dusty locale and involved something that I associated with Greek mythology. Presto! Greece became arid and thirsty in my mind's eye.
Boy, was I mistaken.
I'll talk about mainland Greece in a different post – particularly Athens and Delphi. This one is about Crete. And Crete is lush and gorgeous.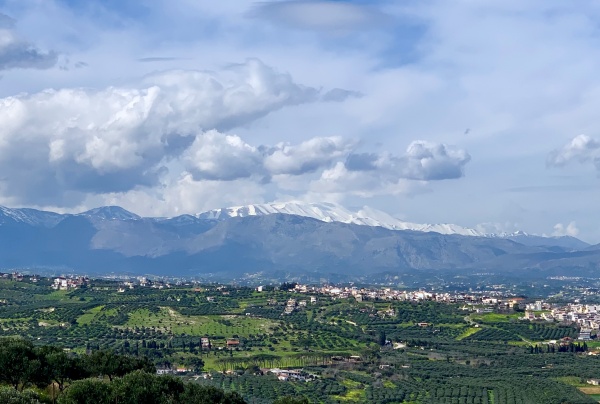 Heraklion
We flew into Heraklion, a port and the capital, as well as the largest city on Crete, with a population somewhere over 215,000.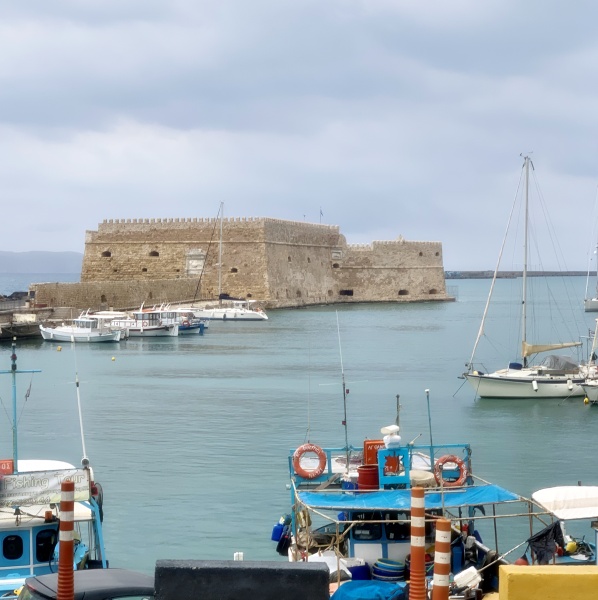 Our hotel looked out onto a 13th-century Venetian fortress, built during the time Crete was known as the Kingdom of Candia. Venice ruled Crete for some four hundred years, until the mid-1600s.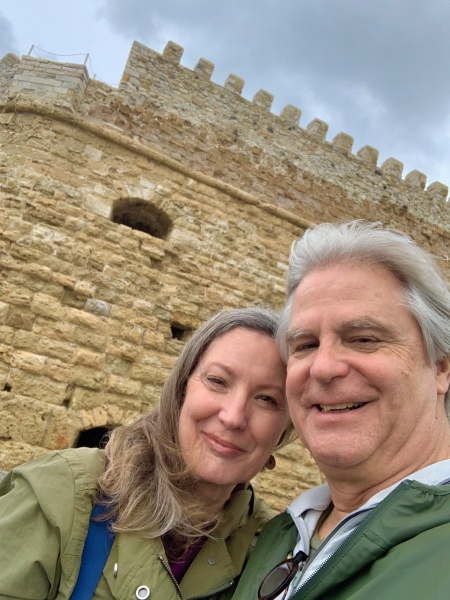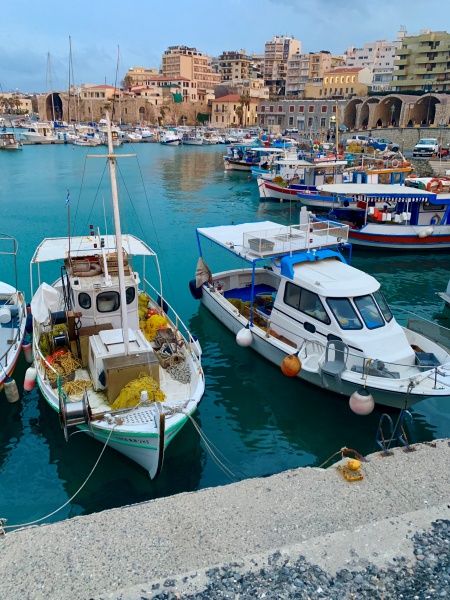 Knossos
Since our time in Crete was limited – we only stayed four days – we had to make the most of it. After spending our first evening exploring Heraklion, we hired a driver for an excursion to the Palace of Knossos the next day.
Knossos is not far outside Heraklion, but the drive was lovely, and our driver was proud of his island and eager to show us things somewhat off of the beaten path, like a twelfth-century aqueduct.
When traveling in Europe, we often acutely feel the, shall we say, immaturity of the United States from a historical standpoint. Nowhere is that perception more intense than in Greece.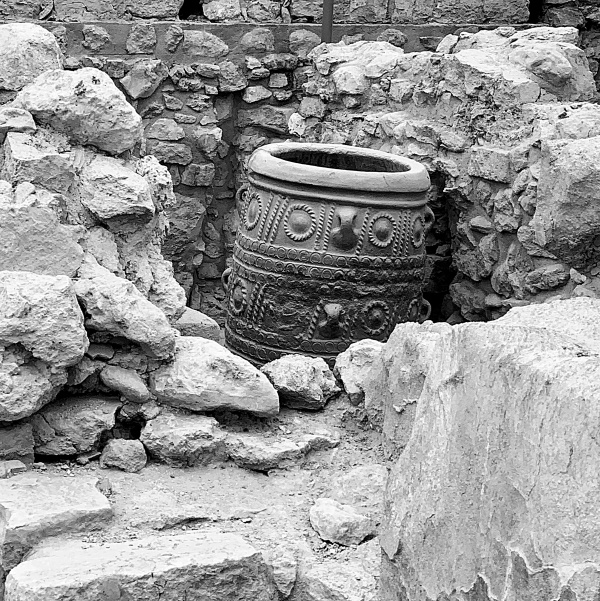 People started living at the site of Knossos in the Neolithic period, roughly 7,000 BCE. That's right – nine thousand years ago. Known as Europe's oldest city, it was inhabited continuously for approximately six thousand years until the Palace of Knossos was abandoned sometime around the end of the Late Bronze Age, or about 1,100 BCE.
The current archeological site is stunning. The Palace was the seat of the Minoan civilization, and even if you're not inclined toward the mystical, you can almost feel the spirits the ancients as you stroll through the ruins. It's not to be missed.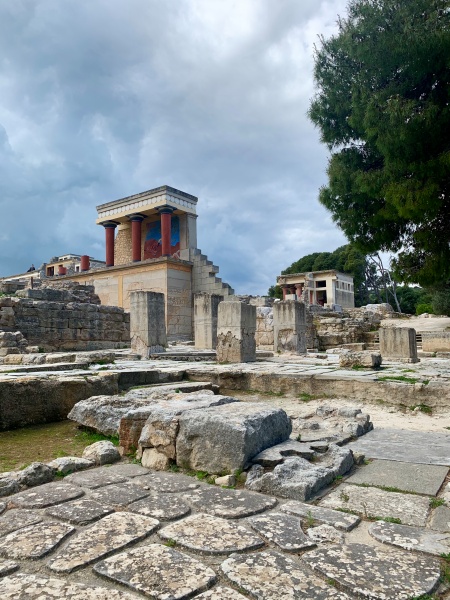 On to Chania
During the planning of our Crete adventure, we were torn between staying in Heraklion or in Chania, a smaller coastal town at the other (western) end of the island. Chania was the capital of modern Crete until 1971. It boasts a younger, hipper crowd than Heraklion. Even though we do not concede that being in one's sixth decade prevents one from being both young and hip, we opted for Heraklion. But we really wanted to see Chania.
So we arranged with our driver for a trip to Chania and back the following day.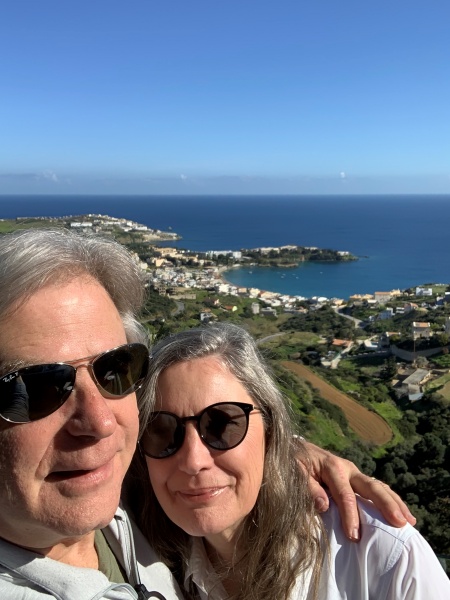 It was a full day – about seven hours in the car – but it also was an excellent opportunity to see the island.
Fodele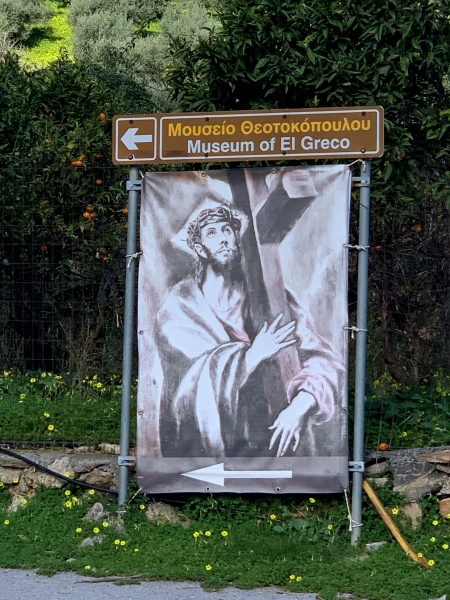 One particularly picturesque stop was the village of Fodele, where the painter El Greco (Doménikos Theotokópoulos) was born and spent much of his childhood.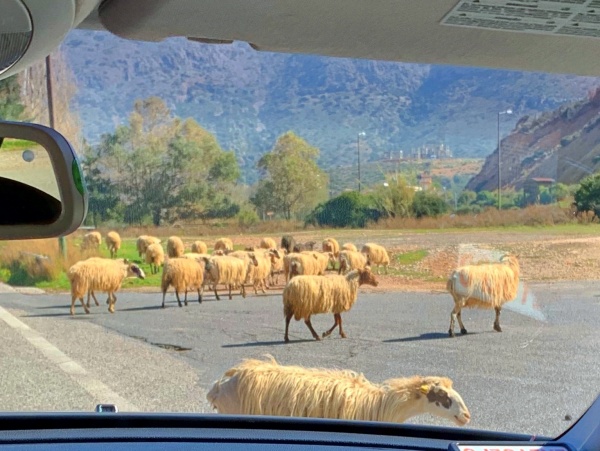 Chania
Chania was lovely and charming and, unfortunately, only about 30% open. Since it is smaller than Heraklion, I suspect that it is much more dependent upon the tourist trade, and we were there during the first week of March. The weather was cool and breezy, particularly by the water. We loved it, but it wouldn't have been the ticket for someone looking to soak up the sun and sip ouzo in an Aegean seaside café.
Had we known how beautiful Crete would be, we might have spent a week or two conducting a more leisurely exploration. But it was back to Athens for us, just in time to receive notification on our smartphones (like you receive an Amber alert in the states) that the Greek government was declaring a state of emergency due to the spread of the novel coronavirus.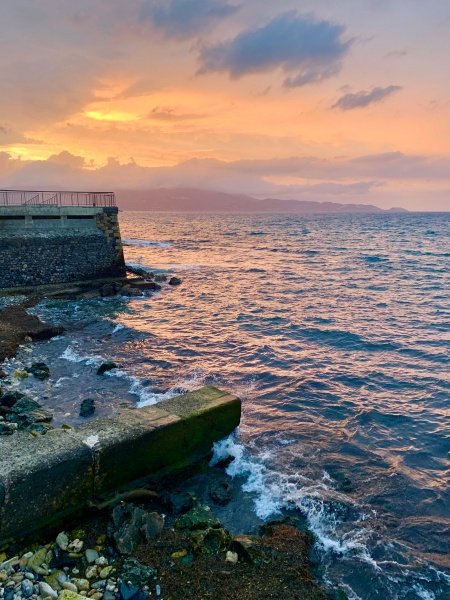 But that is another – and continuing – story. For now, we're just grateful that we took the opportunity to visit the lovely island of Crete when we did.
You would think that with coronavirus adjustments, I would have more time to post adventures With the Barretts. I would think so, too. I'll try to do better.
In the meantime, thanks for sharing our side trip to Crete. It was a blast to have you with us!
Best –
Dan