Lao Tzu was dead-on when he said, "A good traveler has no fixed plans and is not intent on arriving." So, when during an atypical (for the Barretts, anyway) driving trip in Europe we saw some signs for Rheinfall in Switzerland (which, by the way, is the largest waterfall in Europe, according to both the Wikipedia site and the Swiss site dedicated to the falls), we decided to check it out.
At the risk of rendering the rest of the post somewhat anticlimactic, let's go ahead and take a look at the massive rush of water: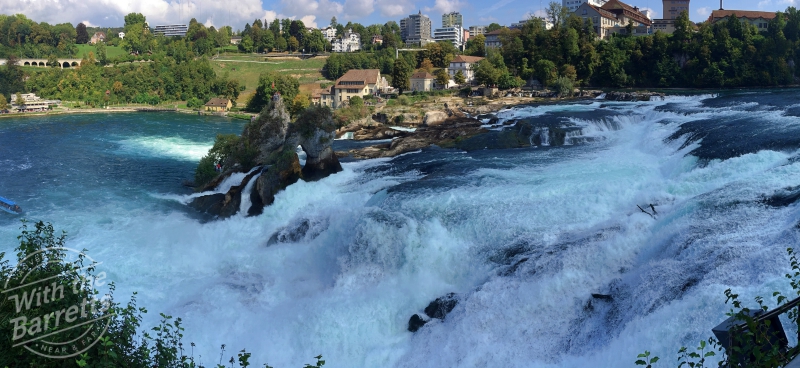 There's more, so don't go away just yet. 
As with pretty much any natural attraction, there are several ways to approach Rheinfall. We arrived on the Schloss Laufen side.
Schloss Laufen is a lovely structure – dating back to 858 C.E. (no digits missing – that's 858) and a Swiss national heritage site – and I'm sure is worth the time to explore on its own merit. That wasn't an option when we were there, however, as we arrived after it had closed for the day.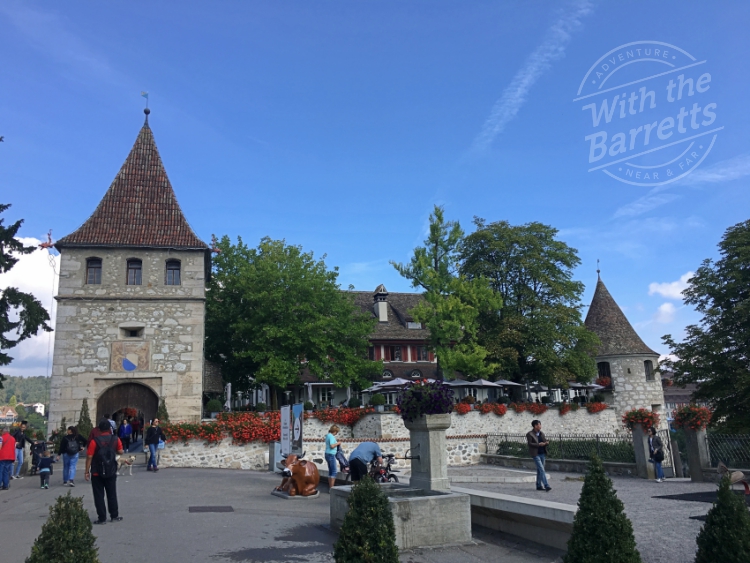 Walking around the back side of the castle and down a short flight of stairs gave us our first good view of Rheinfall.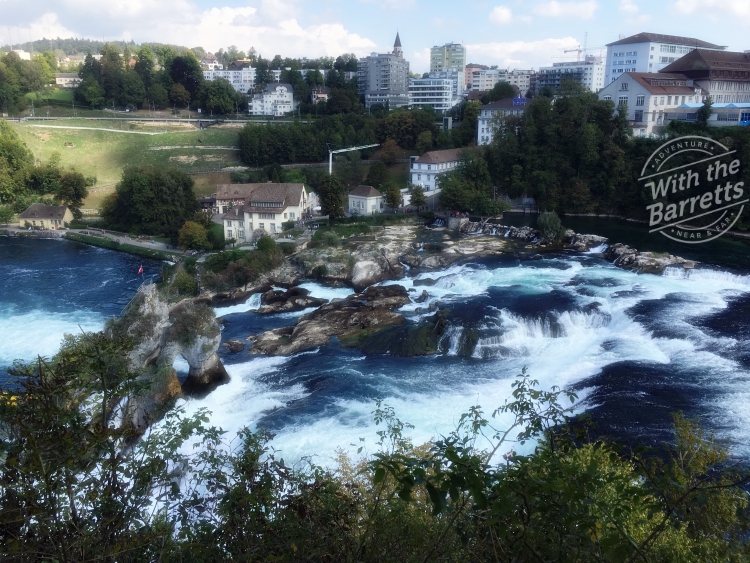 Rheinfall, by the way, is a stop along the Grand Tour of Switzerland, a course that covers over 1600 kilometers and, apparently, boasts an astounding number and array of sights.  We first encountered a Grand Tour vista in Lucerne, but that's a subject for a different post.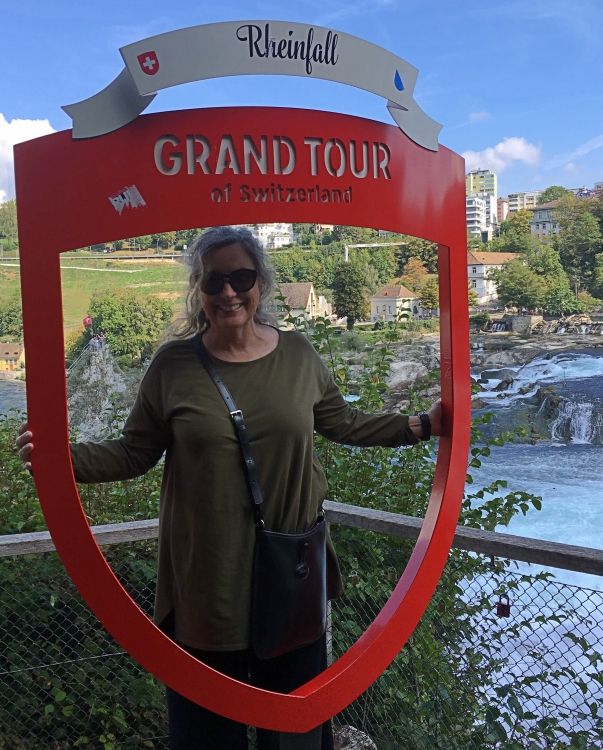 We walked on down the steps behind the castle to get a bit closer view – after all, you haven't really visited a waterfall until you can feel the mist on your face, right?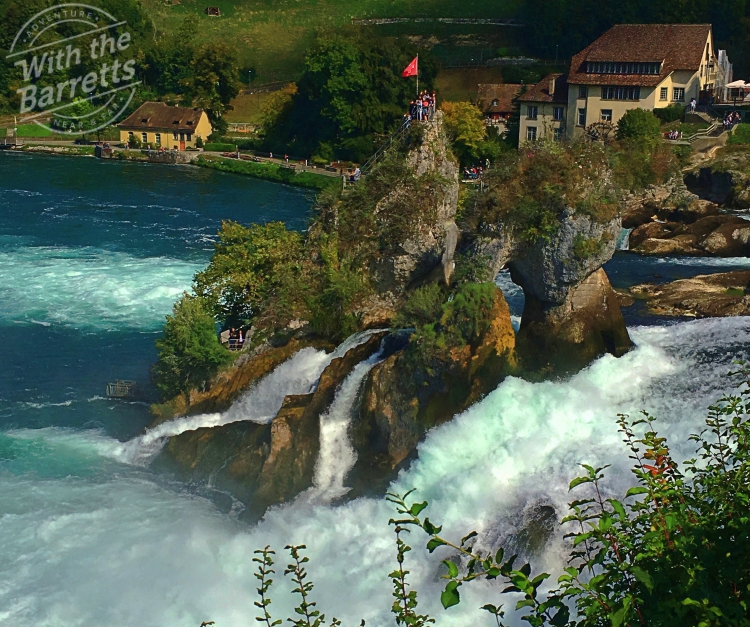 The observation deck on the peak in the center of the Rhine wasn't accessible from our side of the river. Despite the wisdom of Lao Tzu's advice, and as magnificent as Rheinfall is, we were en route from Lucerne to Rothenburg ob der Tauber in Germany and wanted to arrive before dark.
So, rather than try to drive around to the other side, after the obligatory silly selfie,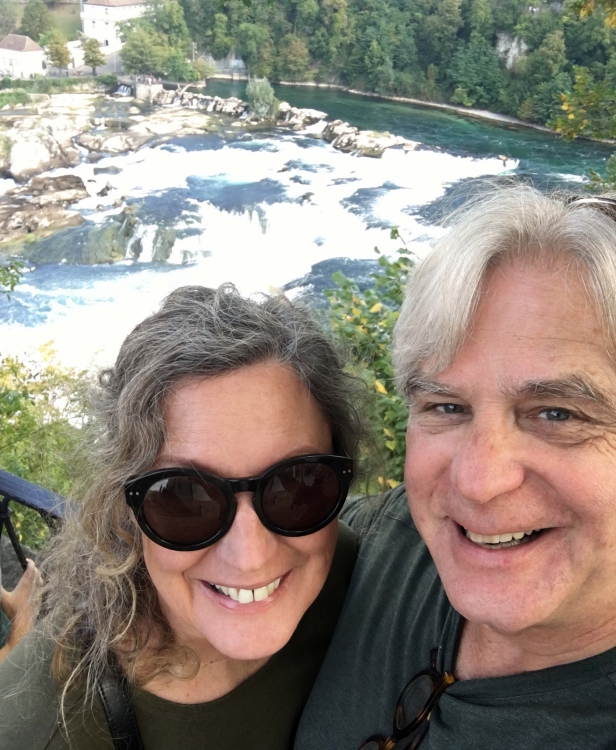 we made our way back toward Schloss Laufen.
The view downriver from Rheinfall is pretty spectacular in its own right.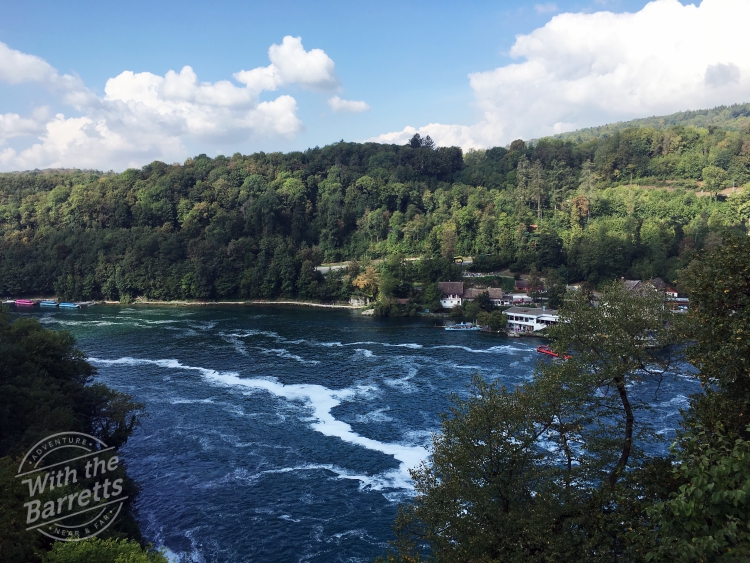 We lingered for just a little while on the Schloss Laufen grounds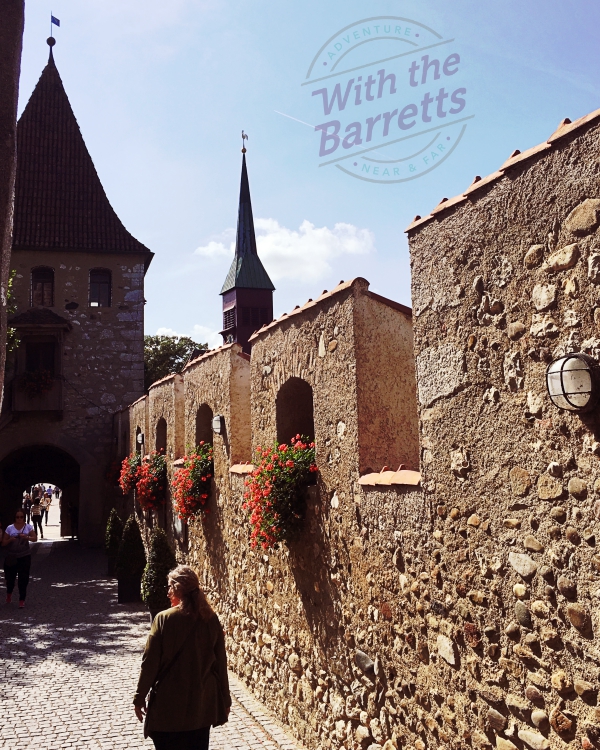 and then hit the road toward the almost unbelievably charming town of Rothenburg (remember the "taste" in the last post?).
Thanks, so much, for taking this detour with us!
There is a lot more in store, so please keep checking back. Better yet, sign up to get email notices of new adventures – we love your company.
Until next time, may all of your journeys be safe and enriching.
Best –
Dan