As promised, Debra is here with one of a couple of posts that she'll do about the conclusion of the Hildring House Adventure – the re-do of the little bitty bath in Debra's Domain. I'll be throwing in some before shots for context – they're easy to distinguish from Amber's lovely after shots. As usual, when I just can't resist chiming in, I'll do so in italics.
We may have a new contender for the title of the tiniest bath at an upcoming project, but now, let's just enjoy the lovely photographs from my wildly talented friend Amber Shumake.
The light fixture (@hudson valley) looks so great in here! I'm happy with the all-brass decision, but it's always sad to leave the "finds" behind- gotta keep that warehouse full of things for future projects so I can move on peacefully ?.
Let there be light
The solar tube installed over the tub (now the shower) brings in much needed natural light- it's really amazing how much it brightens the space. (thanks to the sweet son for the installation)
This project did not run smoothly by any stretch of the imagination- every trade had to make a minimum of three visits. The painter used the wrong paint- I specified Seattle Gray and he used …. Luckily I've blocked it. (Seattle Mist) It was a brownish gray and looked awful with the marble.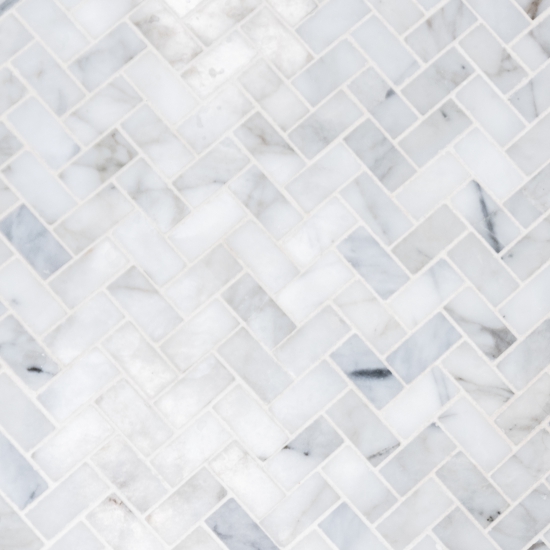 When the floor came out, they discovered some strange, random, leftover plumbing part that required additional jackhammering (ohhhh, I detest jackhammering- NOISE! DUST! I've blocked the rest of the info about that incident).
Speaking of the floor coming out – we discovered during demo that it had been double-tiled. Two layers of tile, one on top of the other. Shoddy construction techniques aren't limited to recent decades. What a mess. You can see the double tile in the pics below. I've circled the area where the old, sub-surface, lead P-trap had to be removed.
I can't remember what the electrical issue was, only that it happened. Renovation memory is sort of like childbirth- you eventually forget all the pain and only the joy remains.
A Storage Solution
This awesome cabinet (below) makes such a huge storage difference in this bathroom- I hope I find another one someday. I hope you find one, too ?
I'm going to throw in some before pictures here, just to give some contrast to how this bath looked before – and how the cabinet shown above changed the storage situation.
House Jewelry
I have really enjoyed this little bath- isn't the hardware pretty? Hardware is one of my favorite things – (when we travel, I always want to visit the hardware stores) it's like jewelry for your house.
The vanity cabinet choice was an ordeal, I may have spent eleventysevenhundredhours on the search, but it is perfect in the space. It came with chrome hardware, which was easily remedied (thanks, Etsy!). Great storage, and just the right size. Oh yeah, there may have been some advanced carpentry involved in getting it to work with the plumbing….
And the tile.
Sigh. Isn't it pretty? Well, it didn't go up without problems, either.
The 1960 walls were not level and after tile installation, there was an uneven grout (HUGE) line all along the top. Some extra trim saved the day- and I think it really adds to the design, too. Win-win.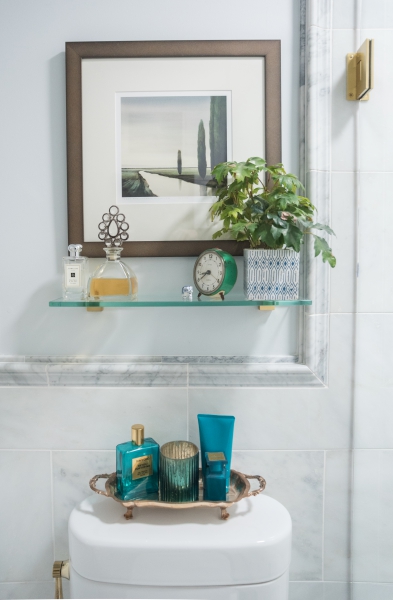 As much as I love this space, I am looking forward to starting on the new one….. the next house has some "interesting" bathrooms.
Xo,
Debra
Well, there you have it – the Hildring House Tiniest Bath. Pretty much a success, don't you think?
The next post Debra has promised will cover Debra's Domain at Hildring House – one of my favorite rooms, even though it's her space. And everyone needs a little of their own space.
Until next time – here's hoping that all of your adventures bring you happiness!
Best –
Dan