Renovation of the Littlest Bathroom in Hildring House
Hi! Dan here, kibitzing at the beginning of Debra's post. As you know, (go here for the first inspiration post)  the bath in Debra's Domain was sorely in need of a re-do. Hence, we continue with the Hildring House littlest bathroom renovation. This is actually the second inspiration post. I may be chiming in (who am I kidding? Of course I'll be chiming in!) in italics.
Just because it's tiny doesn't lessen the work load. For me, every decision feels even MORE important because there is no room for mistakes in 35 square feet!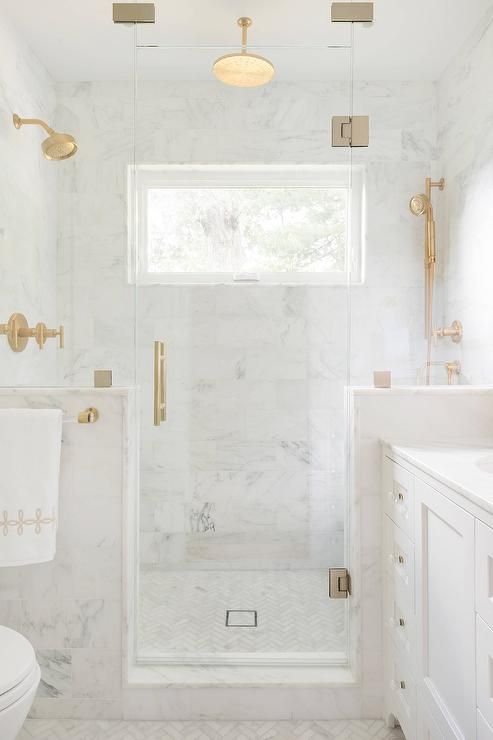 I've spent some time (okay, LOTS of time) [days and days] looking at vanities. The easy (well, easier) part: size. Unless we moved walls, nothing bigger than 33 inches is going to fit. While I love the look of a console or pedestal sink in small spaces, I actually use this bathroom daily.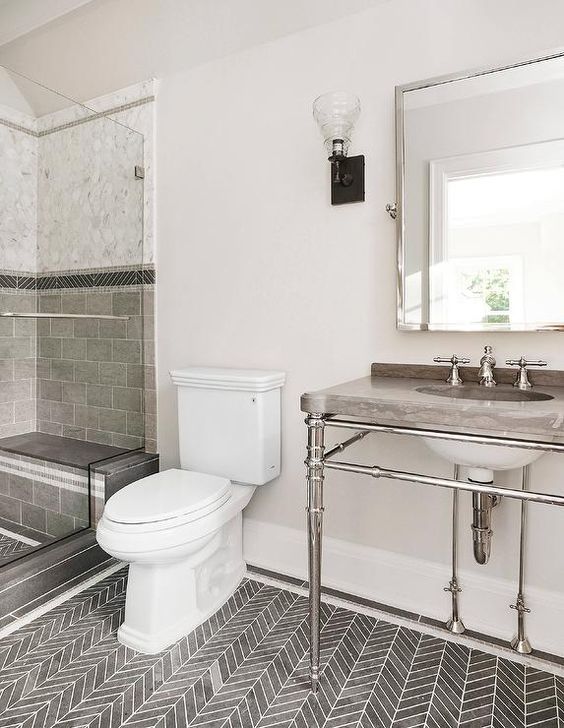 Translation: "I NEED STORAGE"! So a vanity is a requirement- and one with a drawer or two would be most useful.
I love the bath above, but where does the hair dryer go? And all that other 'stuff' necessary to my daily life? Nope, not an option for the littlest bathroom renovation.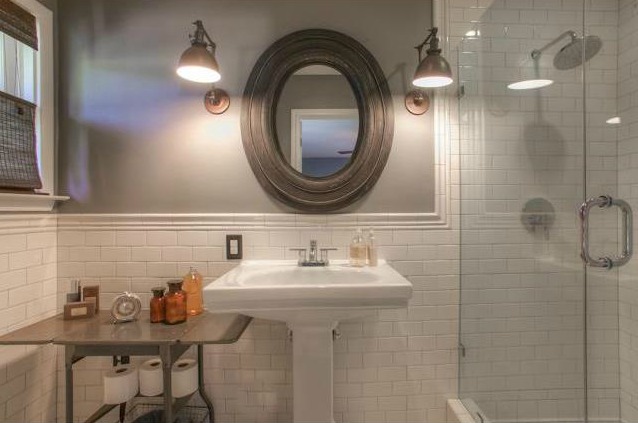 This is a little bath we did a few houses ago, and even though it had a pedestal sink, there was space for a small table (it wasn't usually that bare…) and there's a basket underneath with a tangle of hair dryers, etc. I loved this bath- and – it had a window!
Sigh. A window is not an option (damn budget) in the littlest bath.
So let's review the vanity options, shall we?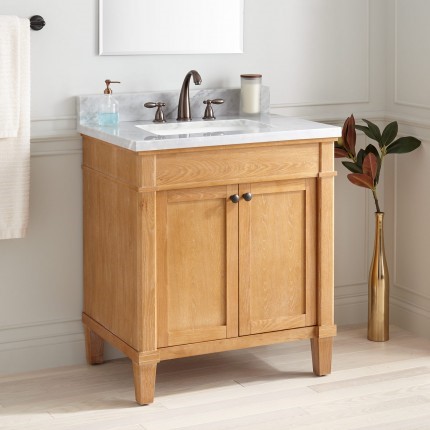 Love the wood – but no drawer….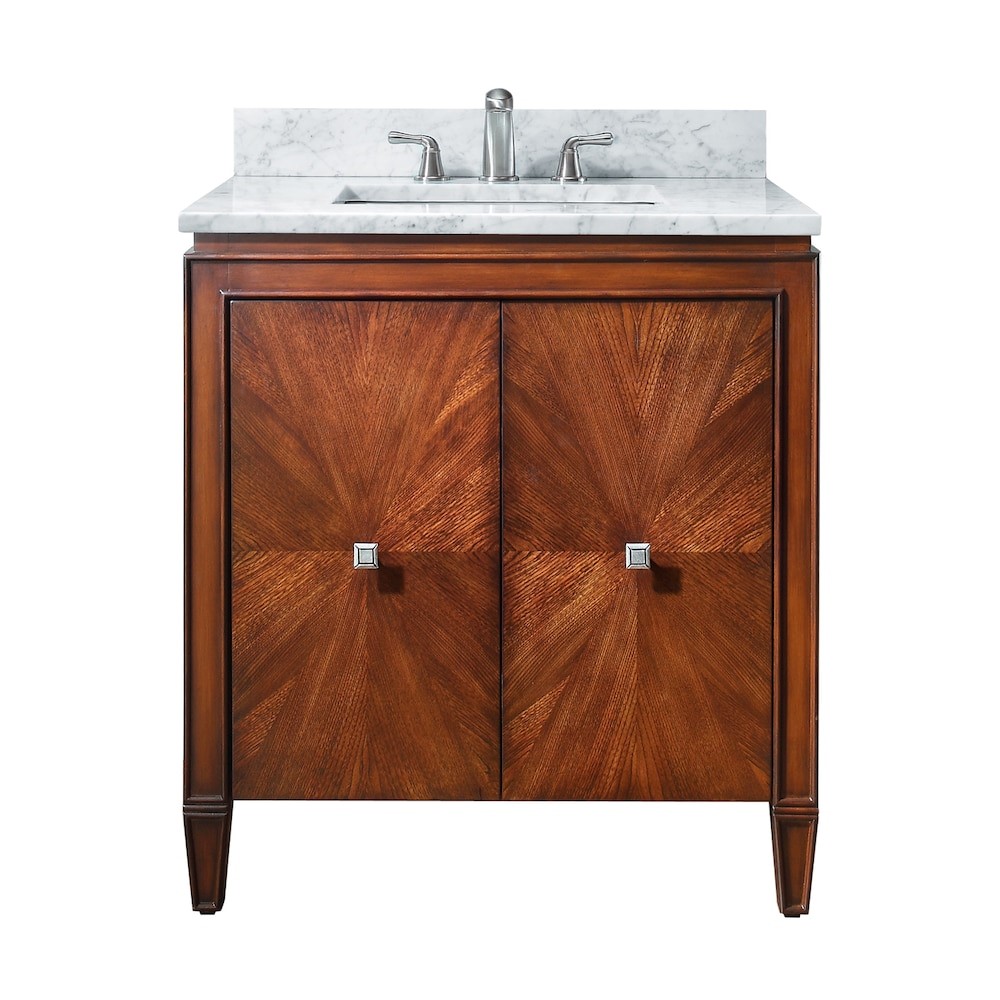 Pretty.. maybe a little too formal for this room (yeah, but it's gorgeous)… and no drawer.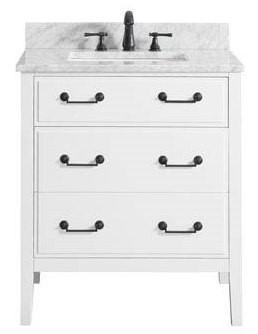 This was a top contender… but the top drawer is a flip down, and for some reason which I can't quite articulate, I am not a fan. (Of course, it's virtually impossible to have a real top drawer because the sink bowl is behind there. But ……..)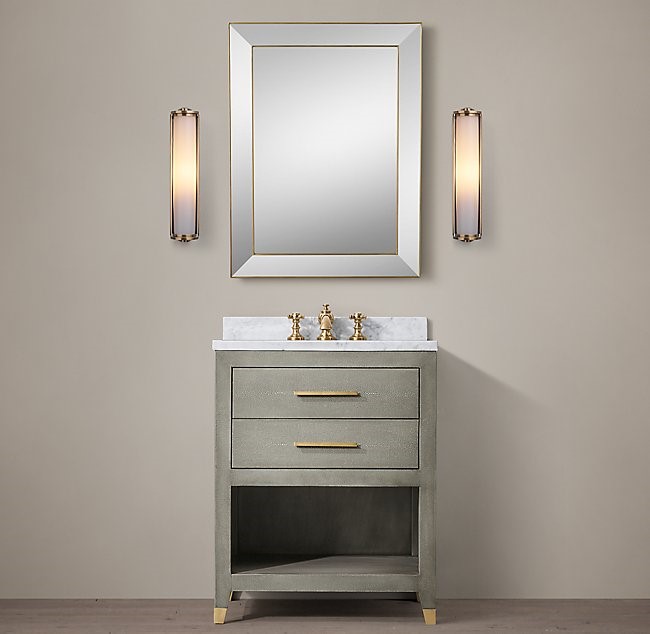 OMG. Isn't this gorgeous? But it's only 24″ wide and ALLTHEMONIES. So, sadly, no.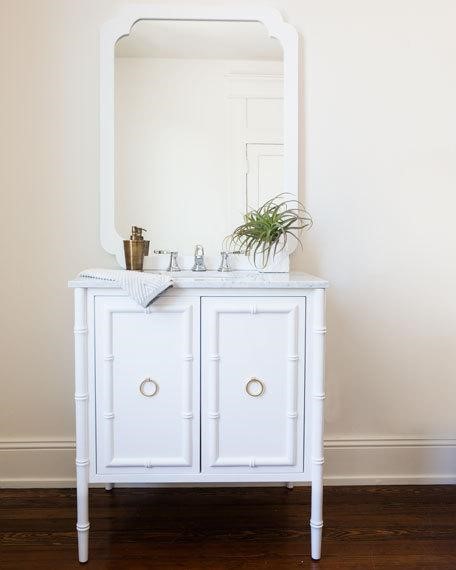 This one from World's Away- SO PRETTY. But pricey, and no drawer. But did I mention how pretty it is?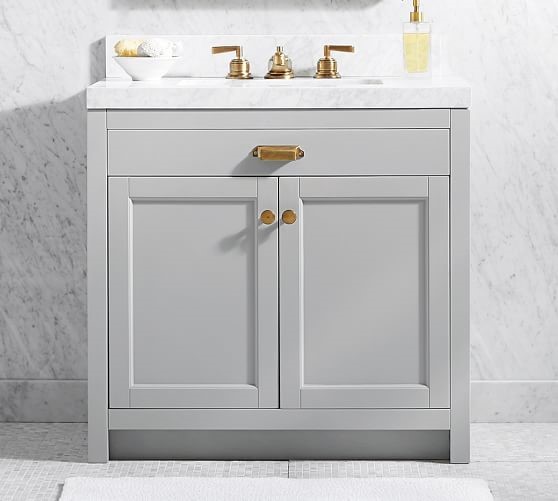 Very pretty – you can choose your hardware finish (win!), but no drawer.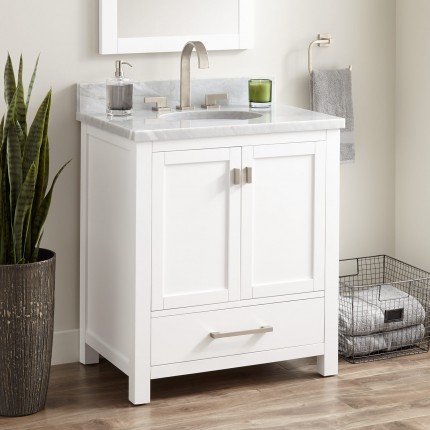 And the winner is…. this one. Solid wood, reasonably priced, quickly shipped. I will have to change out the hardware for brass… and there is a chance I may want to paint it (and when I say "I," I mean an actual painting professional). (Note the position of the drawer in relation to the sink bowl. Just sayin'.)
She is arriving today. (She has arrived.) Demo has begun – expect some ugly pictures of that process soon. And now we are going on vacation! (No better time than during demo, don't you agree?) I'd love to tell you that it will be all finished when we get home, but since I haven't ordered the tile or faucets, that's not gonna happen.
But, hey, who cares? We are going to Portugal- do you think I'm going to be blowing up Instagram with tile photos? Yep. Watch that space.
xo
Debra
That's a wrap for this inspiration post for the littlest bathroom renovation. As Debra said, we're headed to Portugal. There's a travel post in the making.
I want to shout out to our house/dog sitter (it should come as no surprise that a kennel is NOT an option for Effie the Wonder Dog). He will be starting graduate school in architecture at Rice University – on a full tuition scholarship, no less – in the fall. A spectacular accomplishment and we're very proud of him. 
It does, however, leave us without a dog/house sitter. So we're taking applications. Must be dependable, responsible, etc. And must not mind construction activities.
Oh, yes – and must love spoiled rotten dogs.
Thanks, so much, for joining us on these adventures – it means the world to us!
Best –
Dan