Real School Gardens – Adventure in Education
Sometimes, you come across an organization that makes your heart happy with hope. Real School Gardens is one of those.
Here at With the Barretts, we've always believed that education is the greatest adventure. Nothing enriches life more than learning. While it's important for learning to continue throughout your lifetime, a quality education for every child is the promise upon which all of our futures rests. Real School Gardens serves that promise in a big way.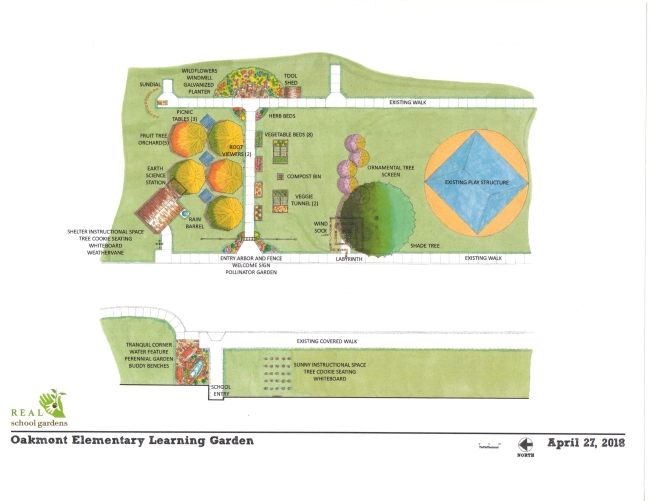 A New Learning Paradigm
Well, it's not really new. Anyone who knows kids is aware that the way they learn best is through experience. But public educational systems have lost sight of that simple truth in their race to perform on standardized tests. Real School Gardens provides a path to let kids learn by doing. Outside. With hands on and brains engaged.
The picture above is the plan for a Real School Gardens installation at Oakmont Elementary school in south Fort Worth, Texas. I was privileged to attend the ground-breaking a couple of weeks ago.
Here is a shot of some of the dozens of volunteers from several business organizations in the Fort Worth area – from banks to construction companies to foundations to grocery stores to retail outlets.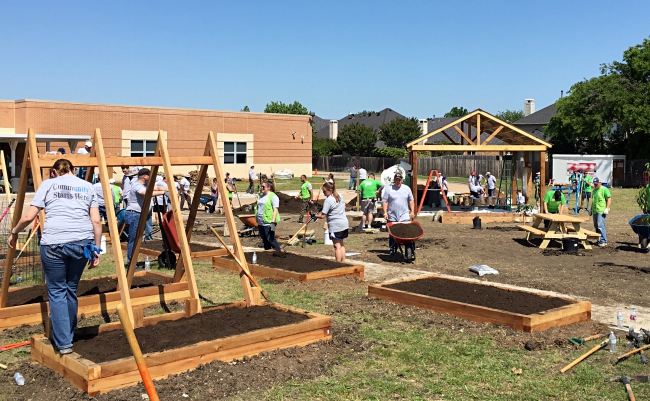 Businesses support this effort because they recognize that the economic and social future of our society depends upon a well-educated, well-rounded workforce. It's inspiring. And foresighted.
And Experiential Learning Works
Lest you think that giving kids the opportunity to learn by doing is an ineffective, "touchy, feel-y" progressive pipe dream, consider that schools partnering with Real School Gardens demonstrate a 12-15% overall increase in standardized test scores.  Regression analysis demonstrates that a third of that increase is due to Real School Gardens.
Outdoor, experiential learning is particularly suited to STEM proficiency. Kids suddenly have real-life applications for math and science. Determining which fertilizers work best on particular plants is an introduction to statistical analysis, not to mention chemistry. Figuring out how much dirt you need for a given raised bed is practical solid geometry.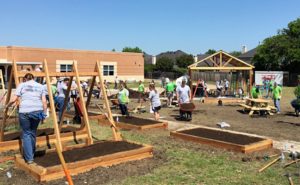 Best of all, experiential learning rewards participation and curiosity, and puts wonder and awe back into the educational process.
It's a Partnership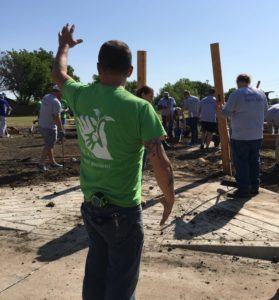 Real School Gardens doesn't just install the vegetable gardens, flower beds, and outdoor classrooms and leave. It's a truly collaborative program with the school, in which the focus is on training teachers – and giving them the tools – to engage students in the experiential learning process.
Real School Gardens commits to the long haul. Their Instructional Coaches visit partner schools often over a 2+ year cycle to hold group and individual training sessions.
So the digging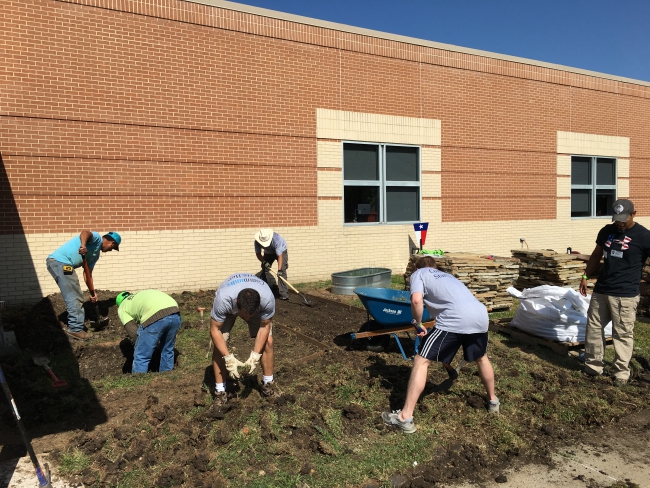 and the building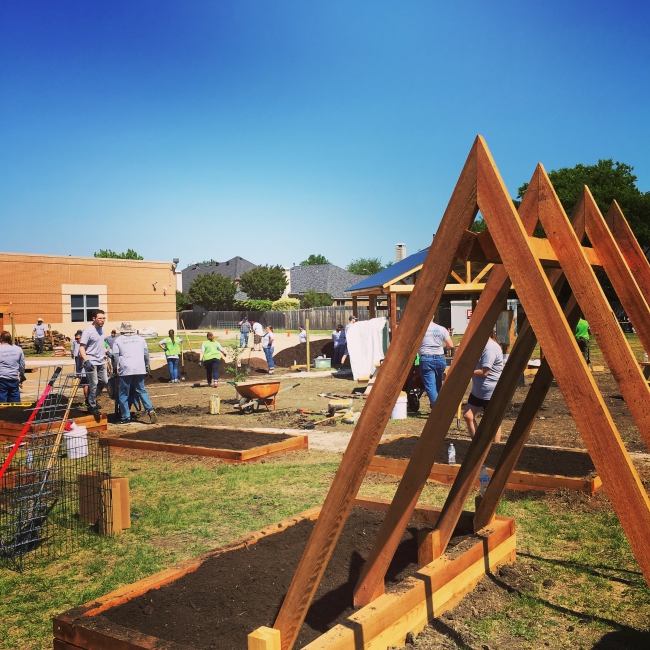 are just the beginning.
Real School Gardens currently operates in the original Texas Region, the Mid-Atlantic Region, and the Carolinas Region, but they're in an expansion mode. Their goal is to bring experiential learning programs to all areas of the nation.
You, Too, Can Step Up
Real School Gardens has an impressive array of corporate sponsors. But, like any non-profit, it needs and welcomes individual support. Please take the opportunity today to go to their website (click on any "Real School Gardens" in this post – they're all links) and help a child experience the wonder in learning. It's a good thing.
Thanks for sharing this education adventure With the Barretts. There's lots more Hildring House and travel on the way – promise!
Dan