It's the first thing you see when you come in the house – as a guest, that is. In this post, Debra talks about the entryway renovation at Hildring House. It has been through several iterations and, I have a feeling, isn't done yet. But it's miles better than it was. Here we go:
Inspiration
Let's start with some entries that I admire: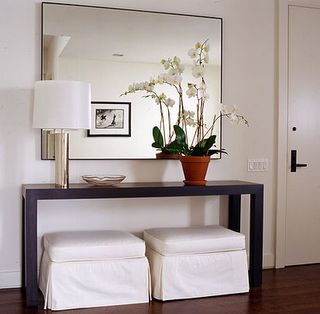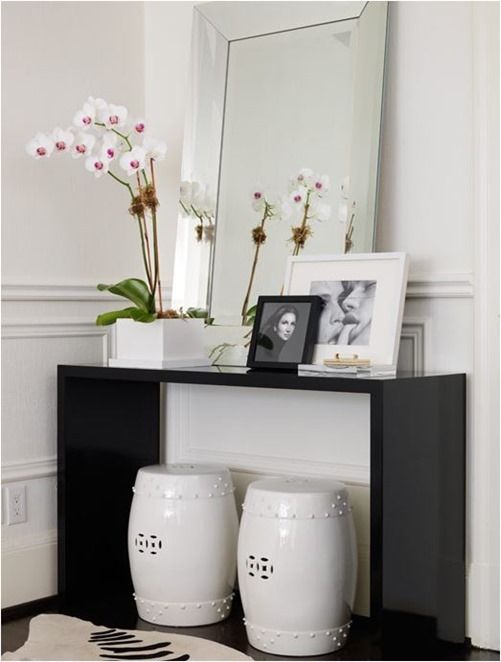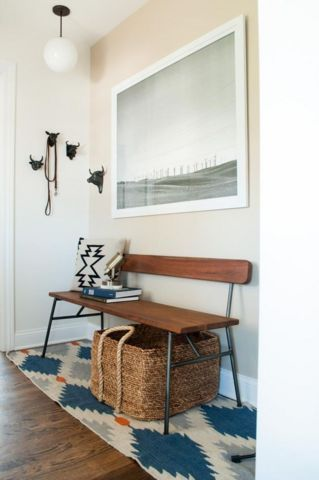 At Hildring House, we enter from the back- our garage is in back, and we are lucky enough to have a small entry hall at the garage entrance… Someday I'll show it to you, but, very much like the front entrance, it has gone through a lot of changes and I've not hit on the "perfect" arrangement as of yet. Today, I'm going to show you the many versions of the front entry.
Where We Started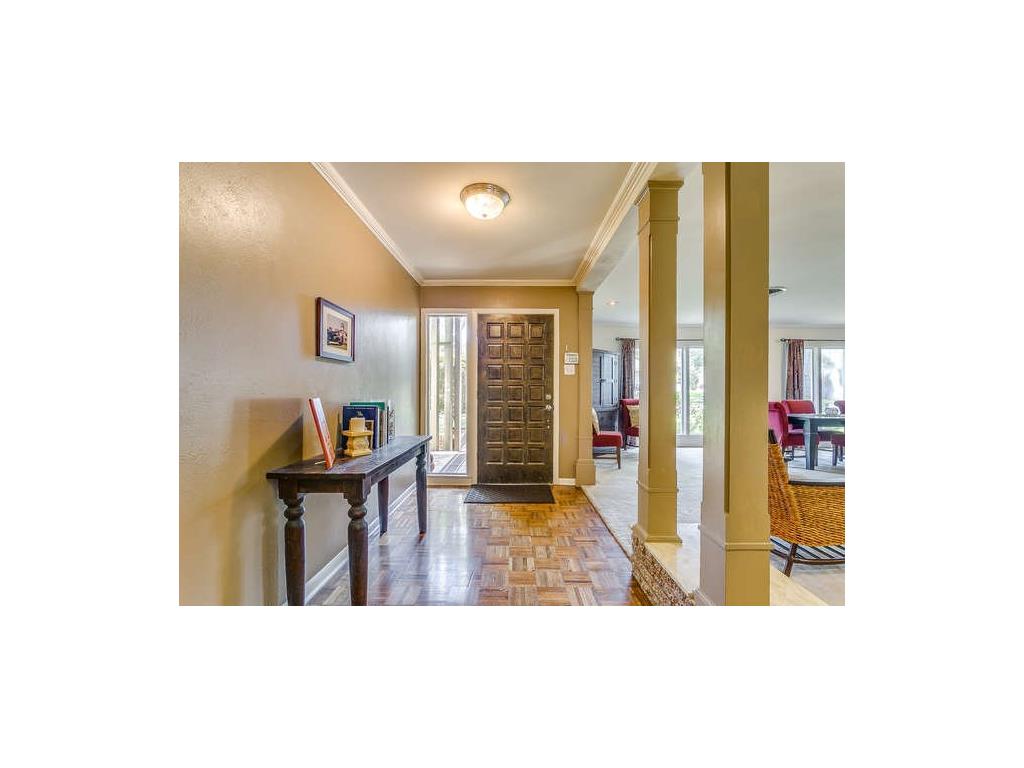 This is where all guests enter. It's also on view from our main living area – so I want it to make a statement without overpowering the areas around it.
As part of the initial entryway renovation, the posts and that weird little brick piece were removed (what were they about, anyway?),  new floors were installed, walls were skimmed and painted, and that hideous 'boob' light was removed.
Entryway Renovation – First Version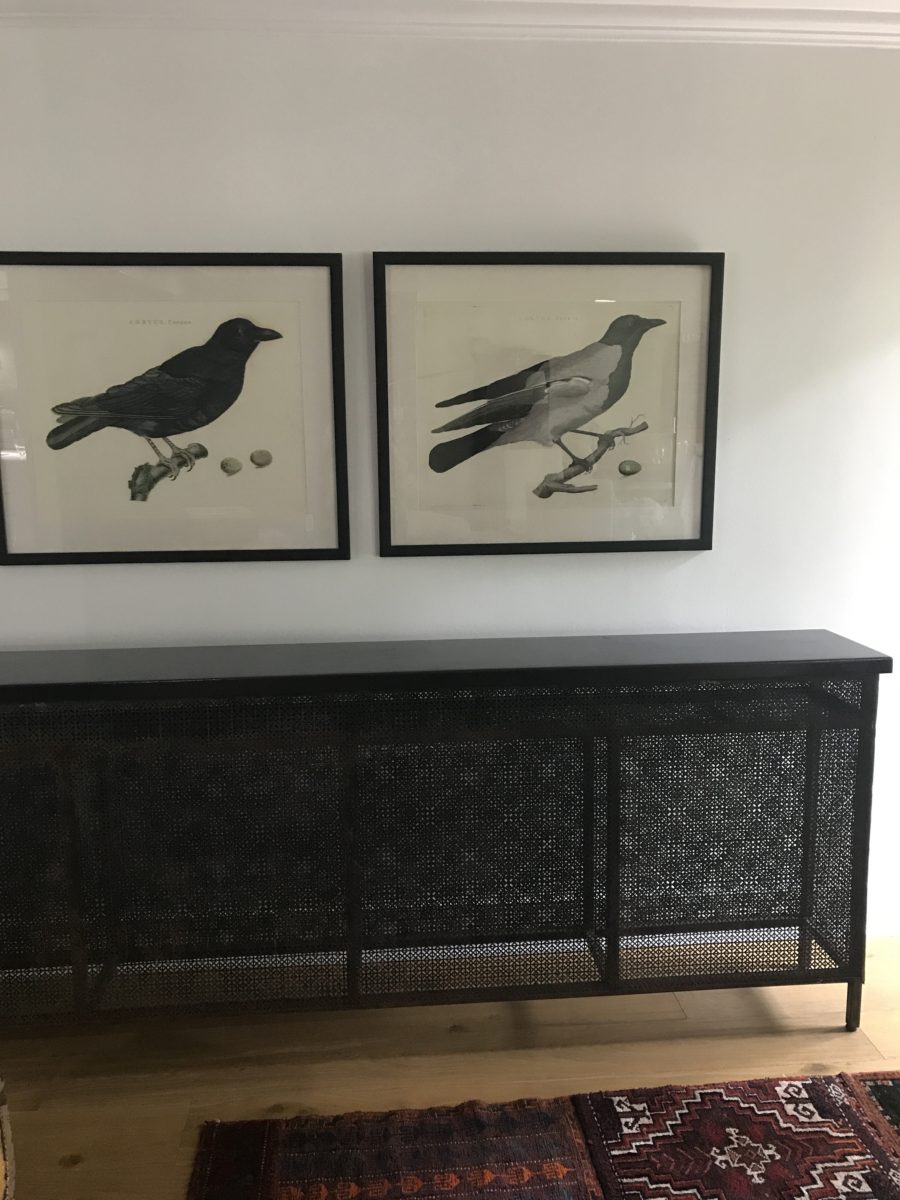 I have this awesome piece of iron that I picked up at Old Home Supply some years ago- it weighs a ton and has great texture and presence. We had our carpenter put a top on it so we could use it as a console table (I originally considered stone, but the expense quickly changed my mind!)
I love the birds, but they didn't feel quite right here. So –
Next Version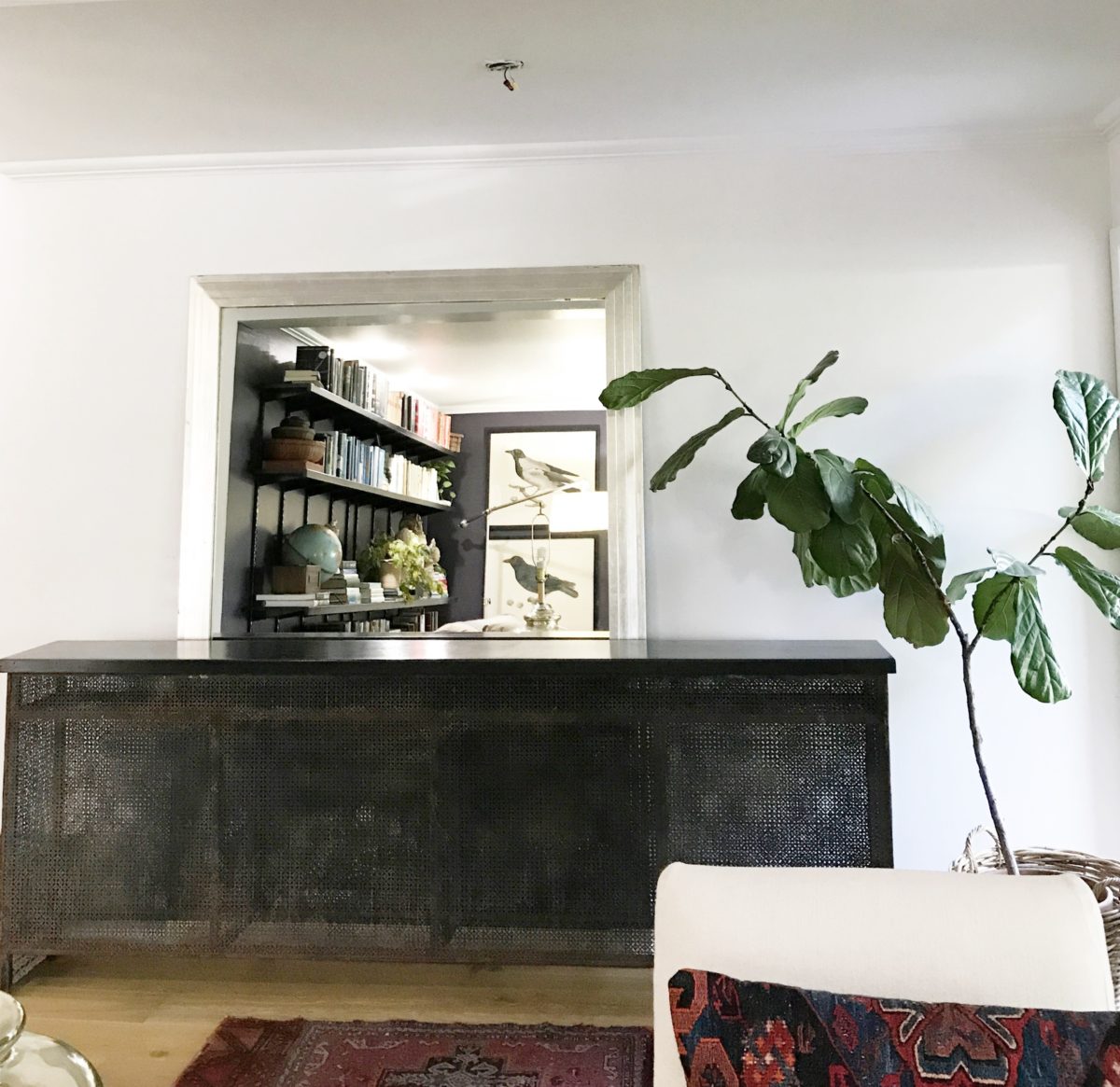 I like the birds on the opposite wall, and this mirror- it's an awesome mirror. But, obviously, it can't go this way. It's going to have to hang. We've had it for years and always had it leaning – never hanging. (It's very heavy. Very.)
Several More Versions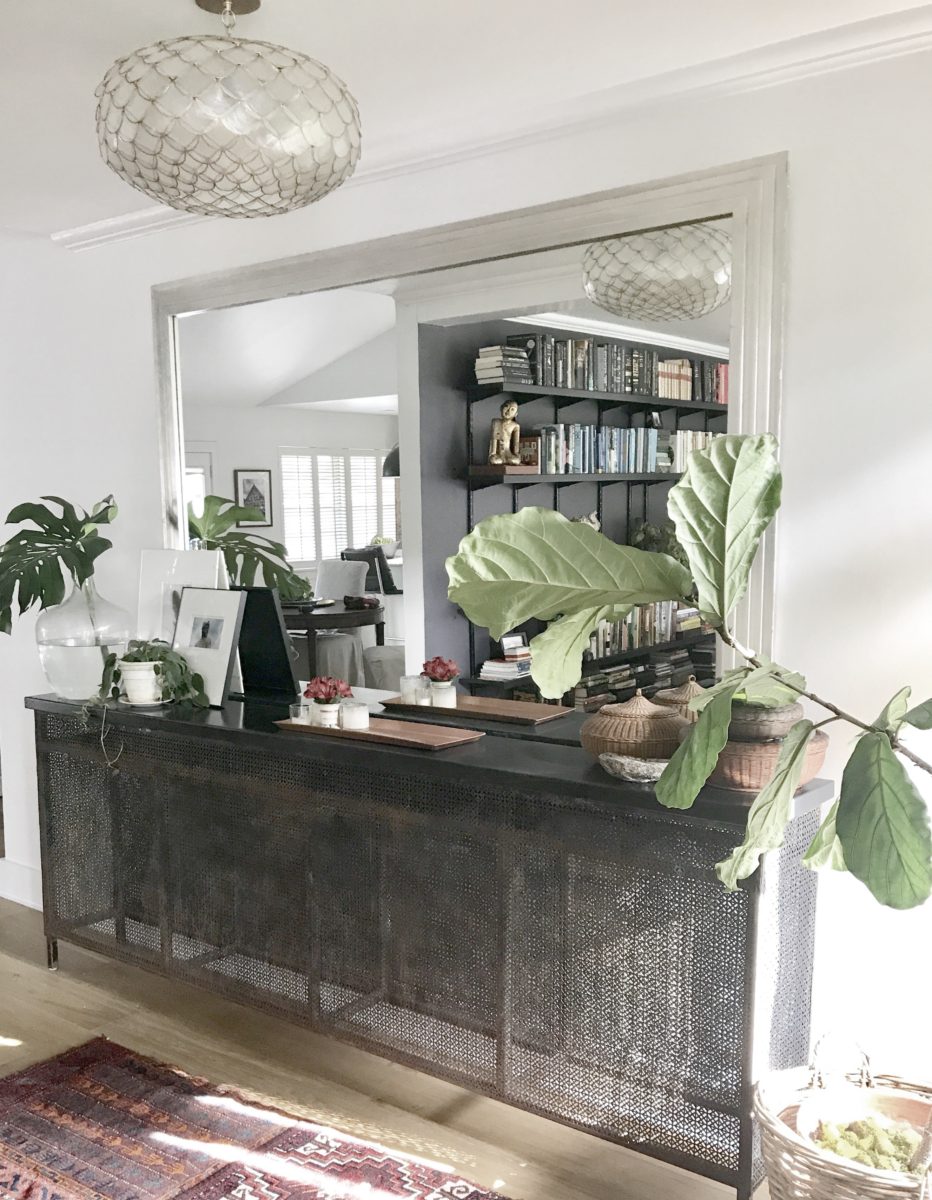 You can see in the photo above that we've added a new light fixture from Serena & Lily– I love it!  I am liking this furniture, but the stuff on top is questionable, and the rug is too small.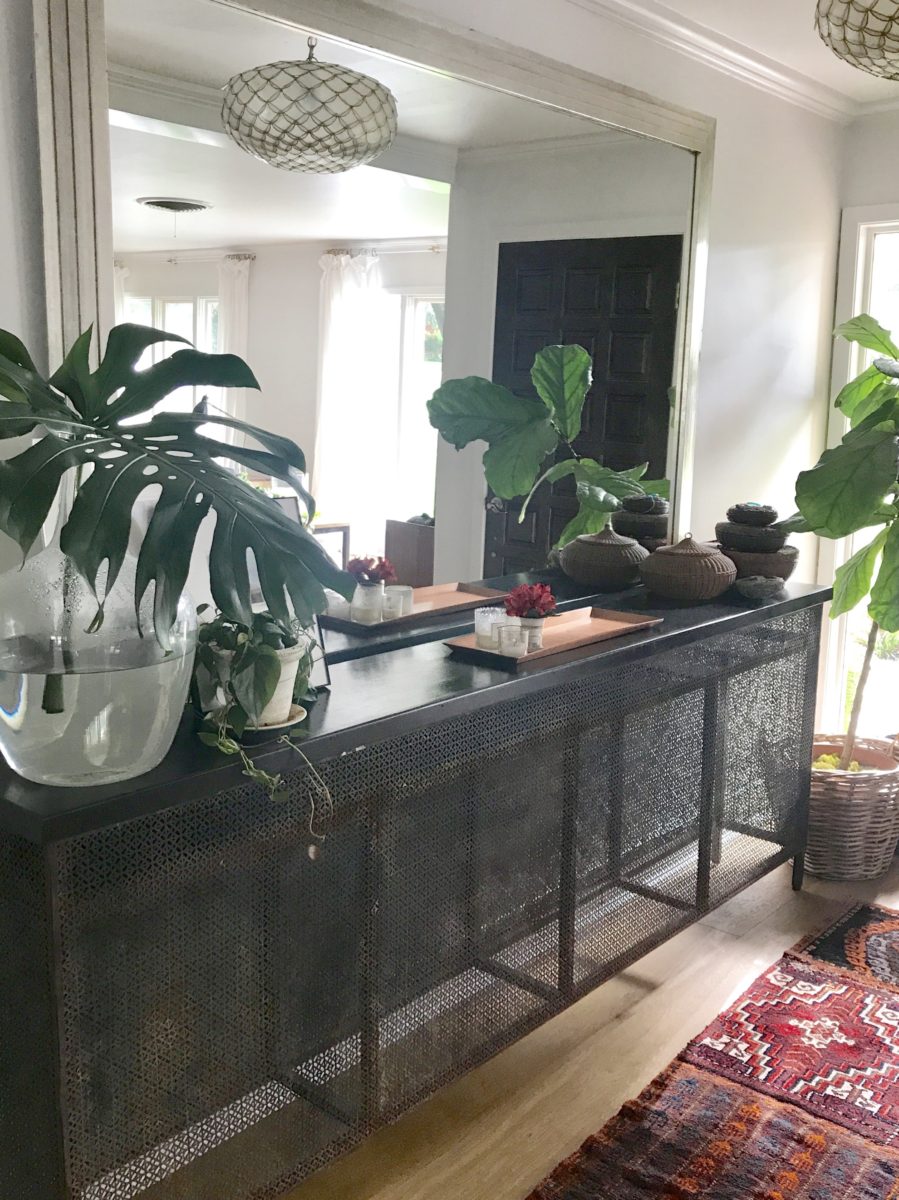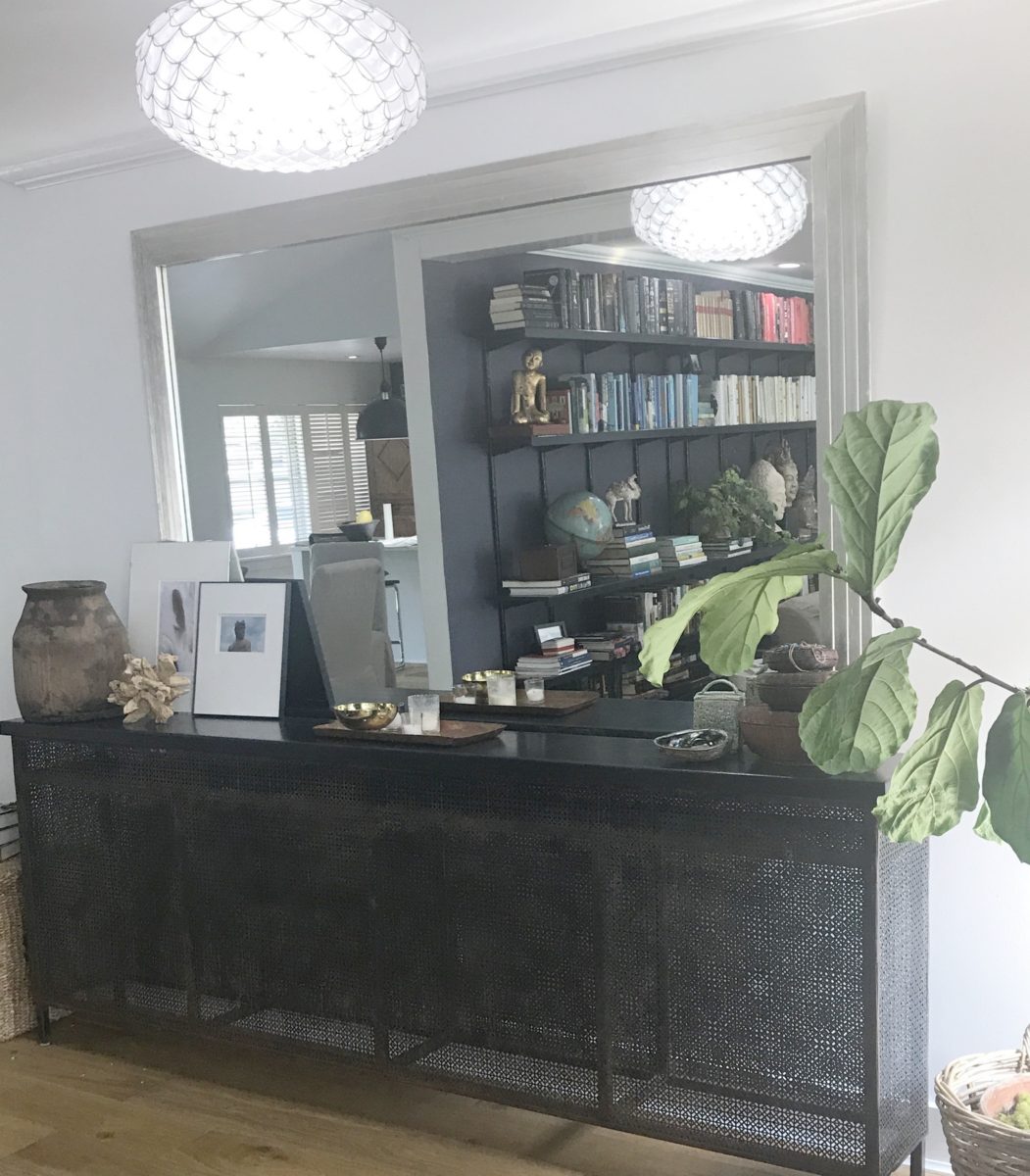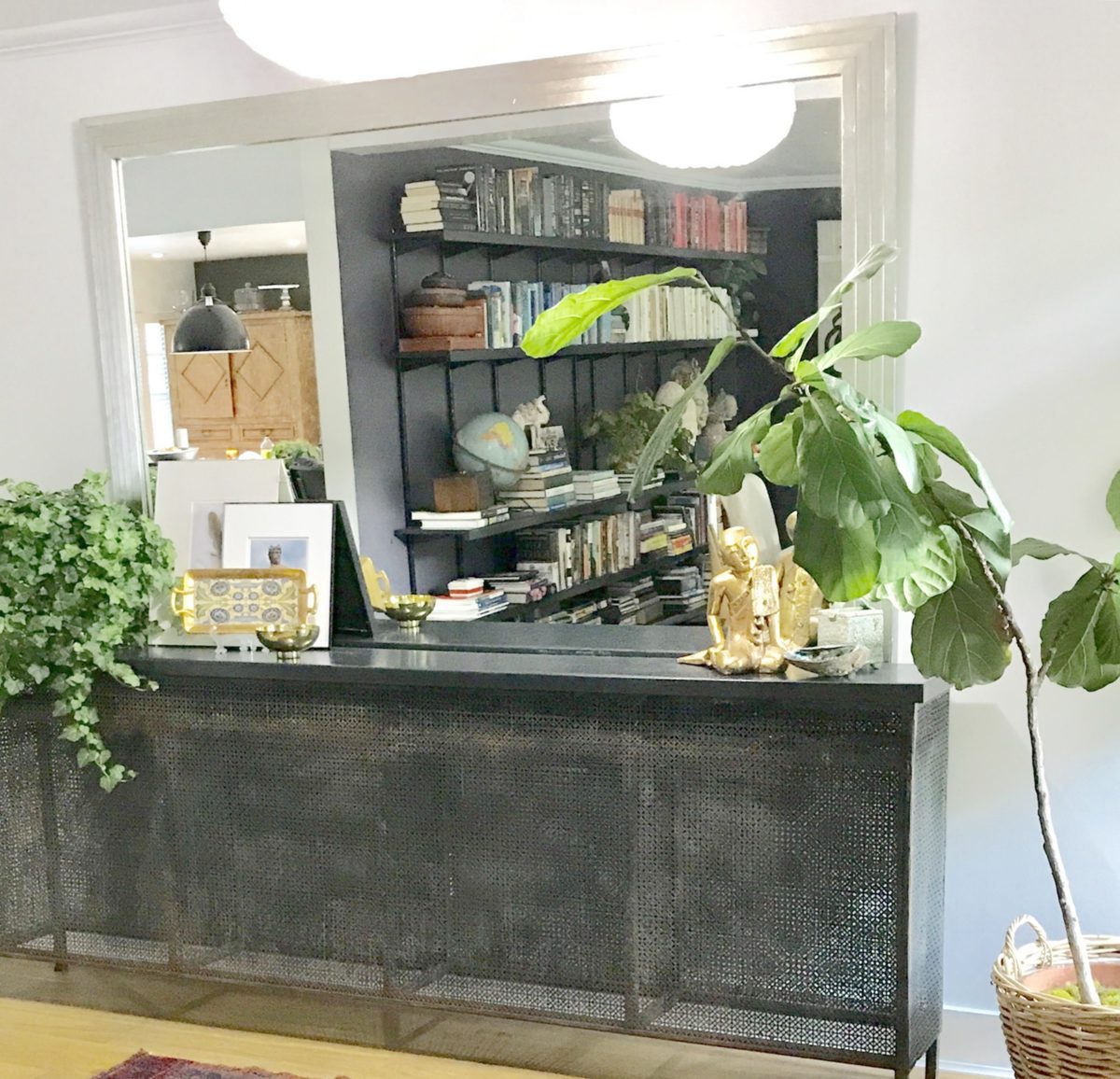 Some random photos of different accessories on the console.
Shattering Development
And then, disaster: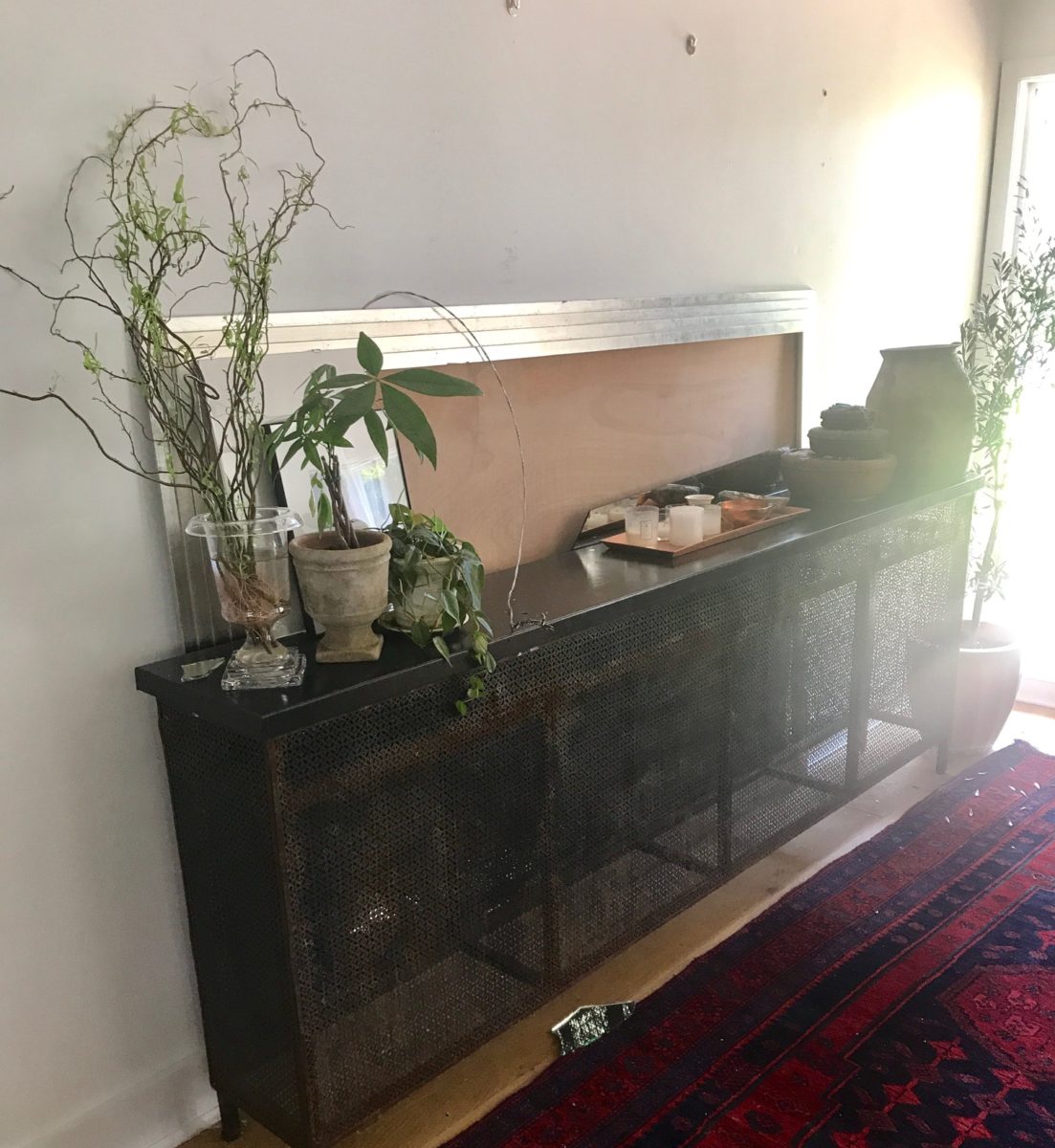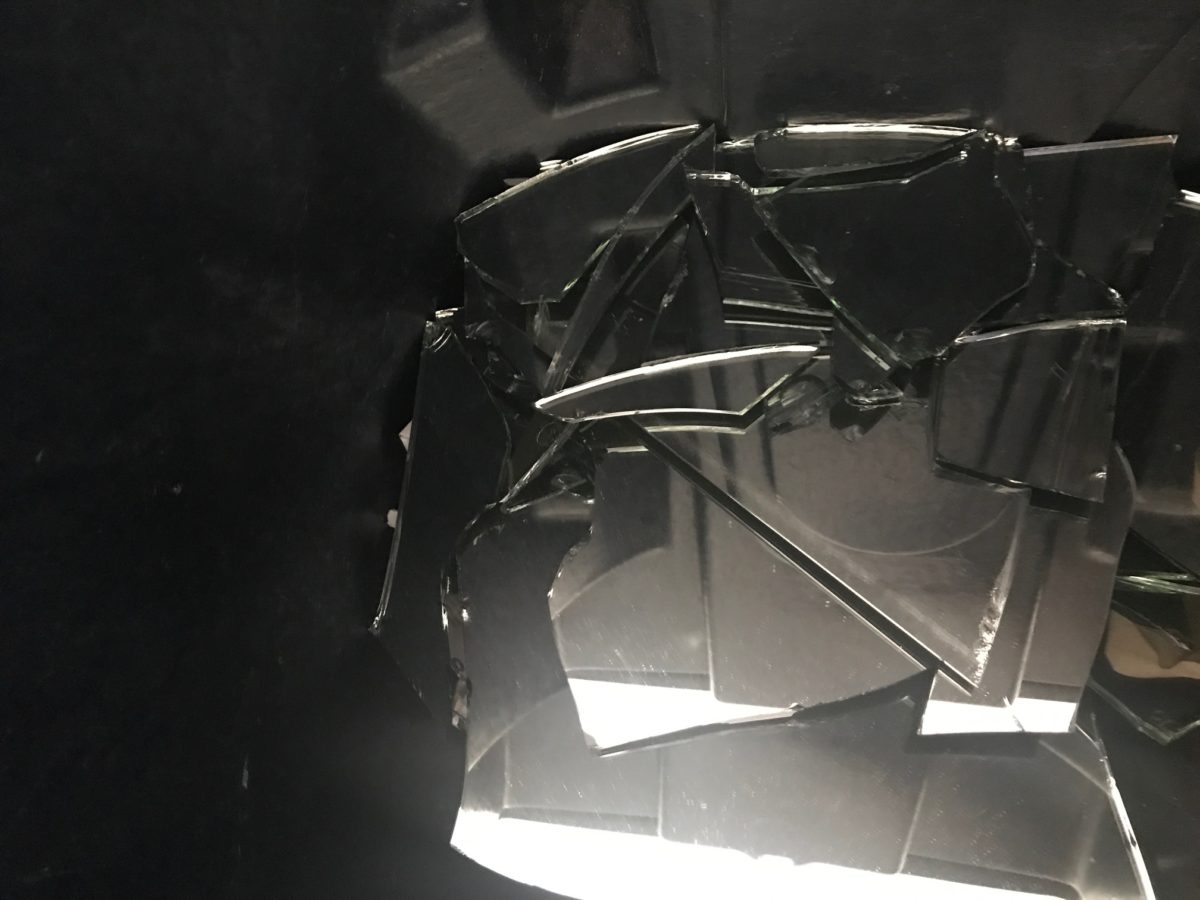 The mirror fell off the wall. (sad face).
We briefly considered alternatives, then decided to get the mirror fixed-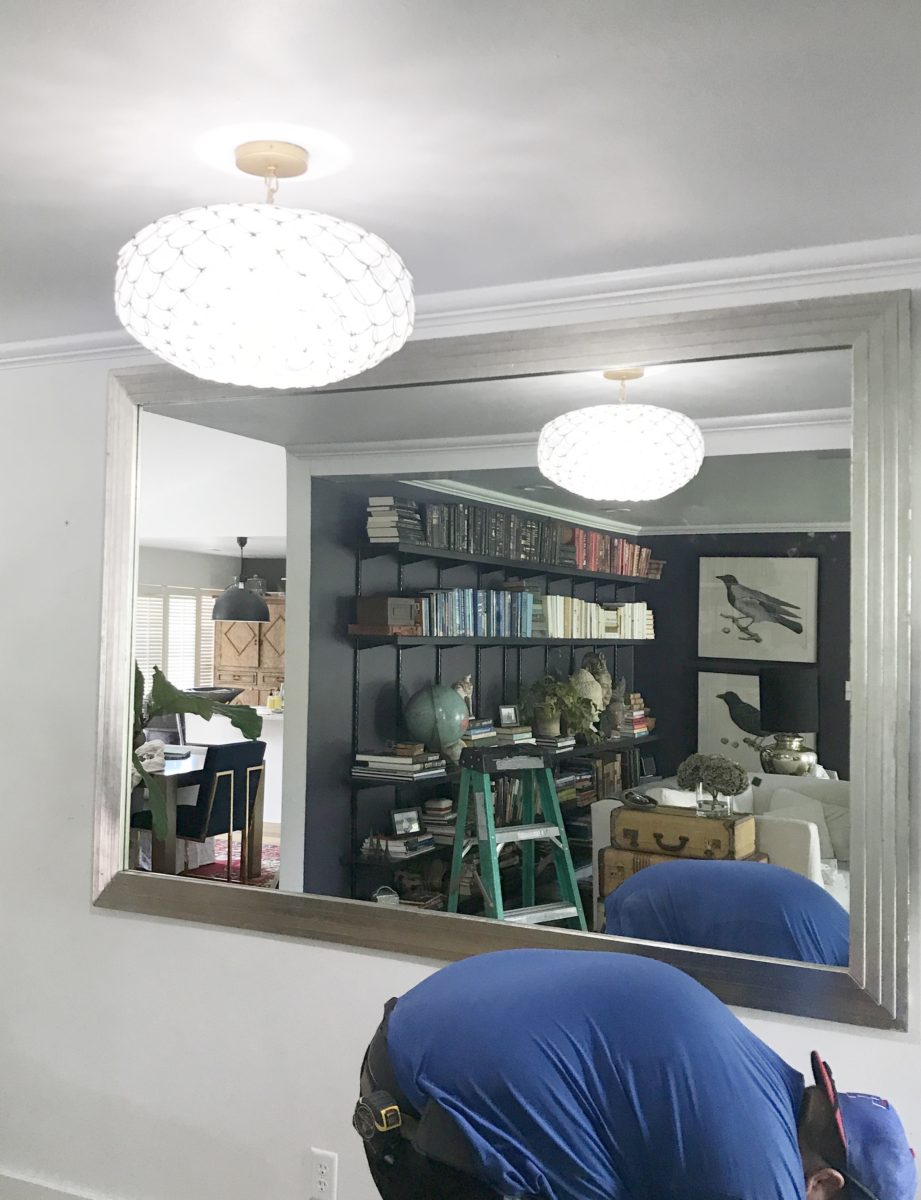 and professionally hung. This means that the mirror is "permanent," you know, not moving unless I hire these guys again.
While the mirror was gone, I moved the black iron thing into the living area to hold the television. I really like it there-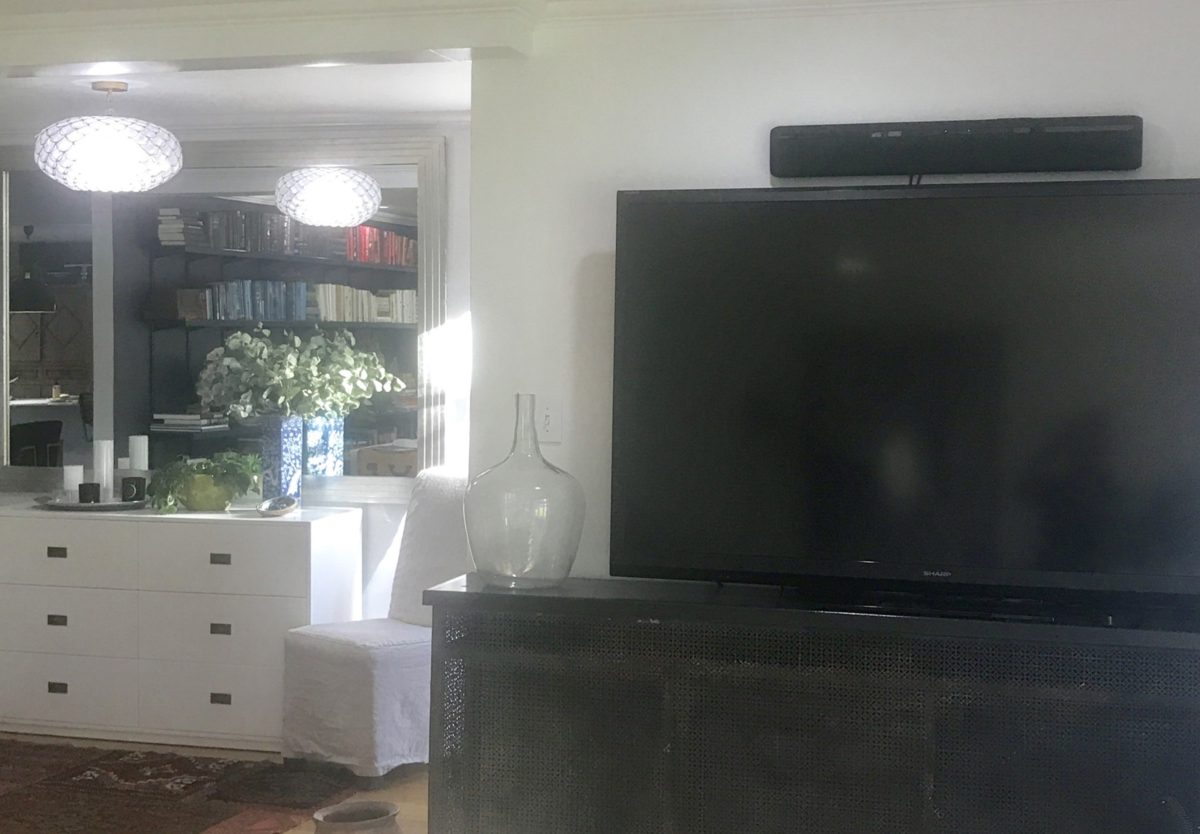 so I moved this dresser into the entry. I like having the storage, but it's not quite right… and the rug is still too small.
Back to Experimenting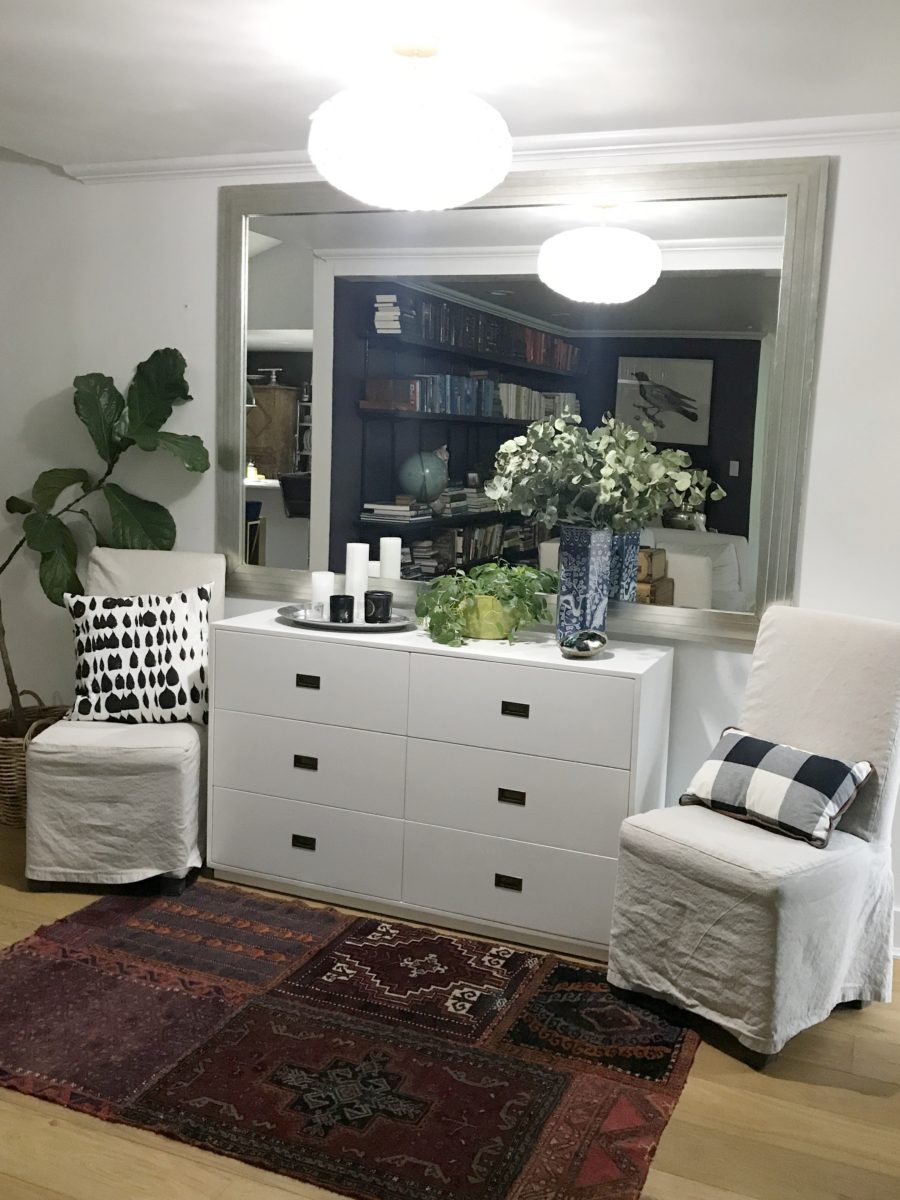 Latest Version
Current situation: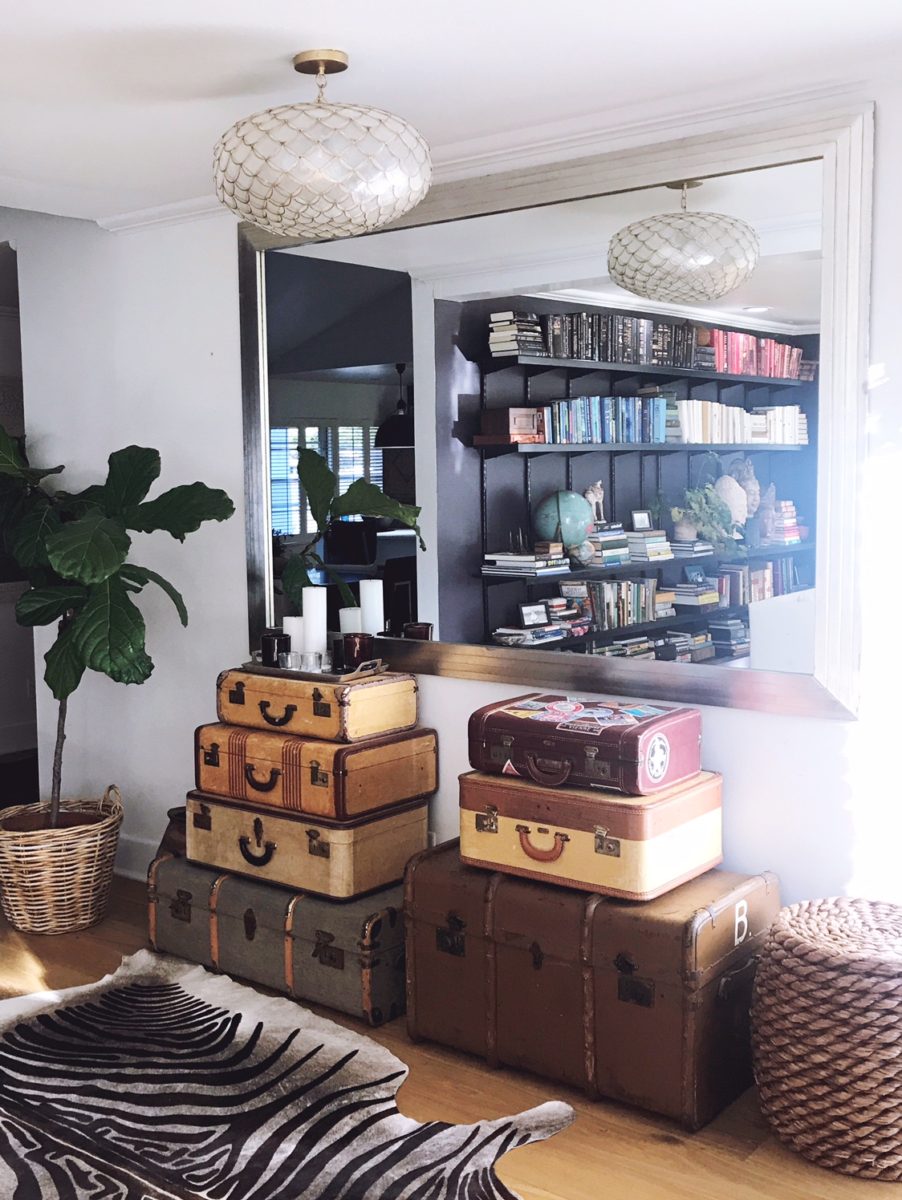 These suitcases make me happy – they bring together my loves for vintage and travel. It's a nice temporary situation, but it's just a lot going on – especially when you consider the bookcases across the way.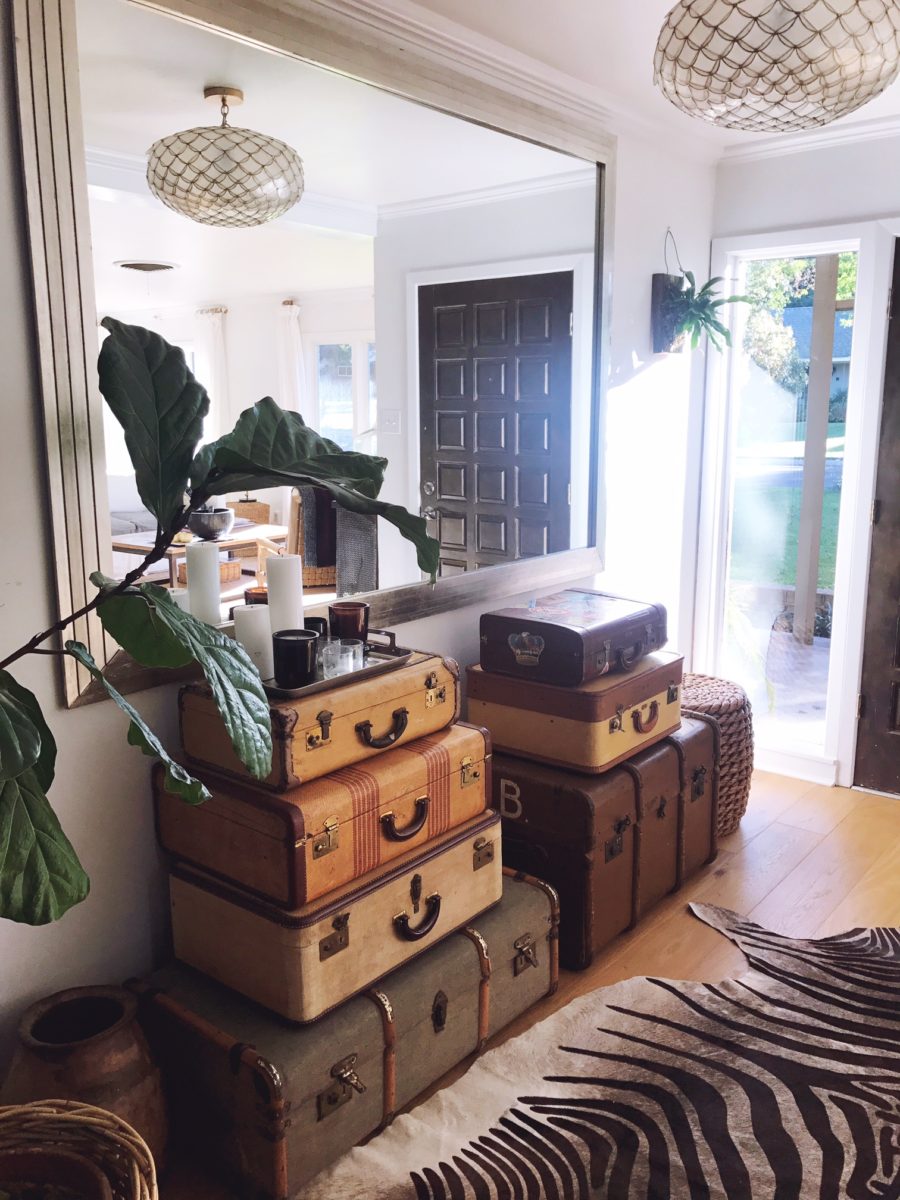 The zebra rug is a better fit but he's going into storage soon; I've ordered a new rug for this space.
I'm hoping Santa will bring one of these awesome new televisions: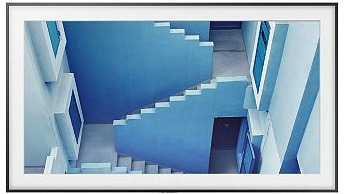 (It's the Samsung Frame TV. Pretty cool, actually. Santa's probably a reader, so …)
And then the black iron piece will move back to entry… and then…. who knows?
(Hildring House photos by me- with iPhone- so not great- sorry) (I think she did very well, actually.)
xo
Debra
Things keep changing at Hildring House – from entryway renovation to (upcoming post alert!) roofing, exterior paint, and backyard living area. We'll keep updating you as they do. In the meantime, we hope that all of your changes are welcome and for the better – thanks for sharing the adventures with us!
Best –
Dan